Fortress Charge Review
Fortress Charge is a brand new medieval-themed slot from Microgaming in partnership with Crazy Tooth Studio
Features an exciting mechanic named Reel Quest
Win up to 16,000x your stake!
Fortress Charge is one of the latest creations from Microgaming in partnership with Crazy Tooth Studio, set to be released at selected online casinos in Canada on 11 June 2020. The game incorporates a mythical, medieval setting that takes a fresh outlook on the popular fantasy genre.
Fortress Charge slot features a unique mechanic called "Reel Quest" that allows you to face off against numerous characters on your fight to reach the fortress. You can also earn multipliers as high as 16x, along with the ultimate prize of 16,000x your bet. Keep reading our Fortress Charge review below to find out more about this adventure-filled slot!
Fortress Charge Slot Information
Provider
Microgaming
Volatility
High
RTP
96.45%
Features

Multipliers

Reel Quest feature

Paylines
3
Reels
6
Min. Bet
CAD$0.10
Max. Bet
CAD$15
Max Win
16,000x
Fortress Charge Info
Where to play Fortress Charge slot in Canada
To play this new game from Canada, we suggest you look for it at the below Microgaming casinos as from the 11th of June 2020.
Fortress Charge slot symbols and payouts
Fortress Charge isn't your typical slot game and doesn't come with the paytable that we're used to see. It features 6 reels and only 3 paylines, which consist of 3 rows of symbols.
Once you spin the reels, one or more heroes can land on the left reel, while three fortresses with varying prizes appear on the 6th reel. The hero begins his quest and moves across the reel, encountering various obstacles on each reel, with the ultimate aim of reaching the treasure inside the fortress. This may seem confusing right now, but we'll elaborate more on this later.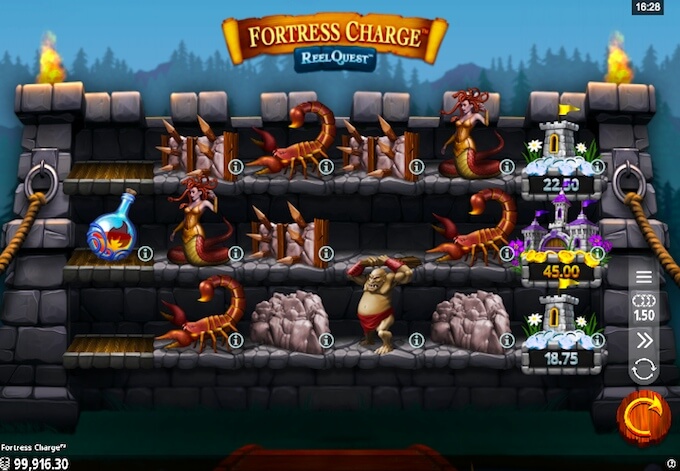 Symbols
Fortress Charge features a fantasy world full of medieval elements. There are monsters, heroes, epic battles, and lots of magic to discover along the way. The slot's background depicts a three-level castle constructed out of stone, along with a murky world in the distance.
The slot's symbols consist of heroes, villains, and accessories. Each of these symbols plays a role in either helping or preventing the hero from reaching the fortress.
There are five heroes to look out for – a dragon, a beast, an elf, a knight, and a dwarf. There are also five types of villains you can encounter, including scorpions, ogres, spikes, snakes, and boulders. Accessory icons consist of spears, potions, metal shields, wooden shields, and magic wands.
Paytable
Fortress Charge does not feature a traditional paytable, as the aim is not to match identical symbols on a payline here. Instead, the payouts are to be had for each villain defeated and for reaching the fortresses on the 6th reel.
If your hero defeats a villain, you receive a prize of up to 1.35x, multiplied by the corresponding reel number. Chests reward up to 15x, while the highest paying fortress can earn you up to 1,500x your stake.
Fortress Charge slot min / max bets
To participate in the mythical quest, you need to bet between CAD$0.10 and CAD$15. This is a relatively low betting range, so players with smaller bankrolls can join in on the action as well. Every bet plays with all three paylines active.
Fortress Charge RTP, volatility & hit frequency
This slot game comes with an RTP is 96.45%, whereas the hit frequency is set to 12.32%. This slot has high volatility, so don't expect a hero to land on every spin nor win most of their battles. However, if the heroes do their job, you can produce some substantial wins as you play Fortress Charge slot.
Fortress Charge Jackpot
You can win a maximum of 16,000x your stake if you land four 2x multipliers as you play Fortress Charge slot.
Fortress Charge slot features
This slot revolves around one specific and unique feature: the Reel Quest. This feature offers a fresh take on slot games, allowing you to change up your gameplay a little.
Reel Quest feature
Once you spin the reels in Fortress Charage, one or more heroes can appear on the leftmost reels. If a hero does land on a reel, you want them to move all six spaces across to the right to enter the fortress and reward you with lucrative wins. However, there are numerous obstacles you may encounter on your hero's journey.
An empty platform allows the hero to advance, although no win occurs. If a chest appears, it also advances the hero, along with a credit prize. A 2x multiplier can also appear up to a maximum of four times, awarding any subsequent prizes with the applicable multiplier.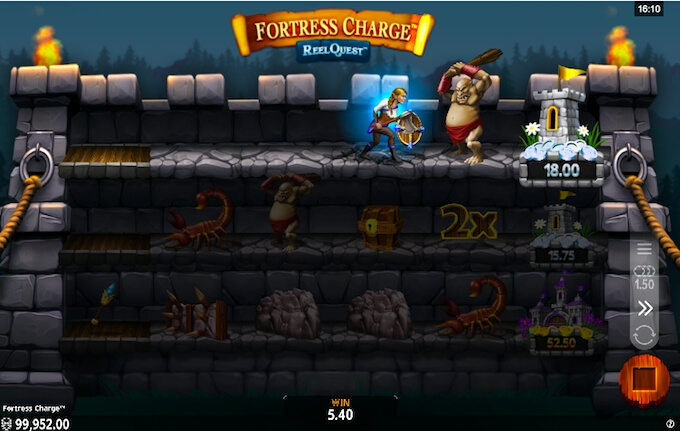 If you encounter an accessory, it's collected and used to defeat further villains. A fire potion defeats the spikes villain, a spear defeats the ogre, a wooden shield defeats the scorpion, a metal shield defeats the scorpion, and snake villains, while the magic wand can defeat any villain. Additionally, the game can randomly trigger fireballs that rain down and crush any obstacle in the hero's way.
If a hero encounters a villain, they may or may not defeat them, depending on the hero's power and the accessories you've collected. If the hero does defeat the villain, they move one space to the right, and you win a prize multiplied by two, three, or four times on reels three, four, and five. If they lose the battle, the round ends.
A beast hero beats the ogre villain, the dragon hero beats the ogre and spikes villains, the elf hero beats the scorpion villain, the dwarf beats the boulder villain, and the knight beats the scorpion and snake villains.
Graphics and Sound
The graphics and animations in this slot are impressive. Each hero and villain has a unique movement and sound that offers an immersive medieval experience. In addition to this, the audio is fun and upbeat, keeping you on your toes as you accompany your hero on their epic quest.
Other Slots to Play If You Like Fortress Charge (Microgaming)
Here are some other slots that incorporate a medieval theme that you can try your hand at:
Golden Knight
Excalibur
Robin Hood Shifting Riches
Coat of Arms
Sir Winsalot
Fortress Charge slot review – our Conclusion
Fortress Charge offers a twist on the classic slot experience through its reel quest approach, which allows you to accompany your heroes on epic battles to riches as high as 16,000x your stake. If you're betting at the maximum, this means you can net up to CAD$240,000. Admittedly though, it is quite hard for a villain to get across all the obstacles and make it to the fortress, and hit frequency is not the game's best asset!
Additionally, the slot features excellent production value and high-quality graphics that will keep you entertained for hours. So, why not make your fantasy world dreams come alive in this adventure-filled medieval-themed slot?