Technology has made it possible to enjoy the thrills of casino gaming right from the comfort of our homes or literally anywhere; since most slots and live games are mobile-casino-optimized.
Still, the vibrant red colours of fabric, the wide playing tables surrounded by the watchful players waiting in suspense, and the clicking sounds of a typical slot machine continue to make land-based casinos a favourite activity by both casual and seasoned casino players in Canada.
If you're seeking to indulge in this experience, we at CanadaCasino have shortlisted the best and safest land-based casinos in the country.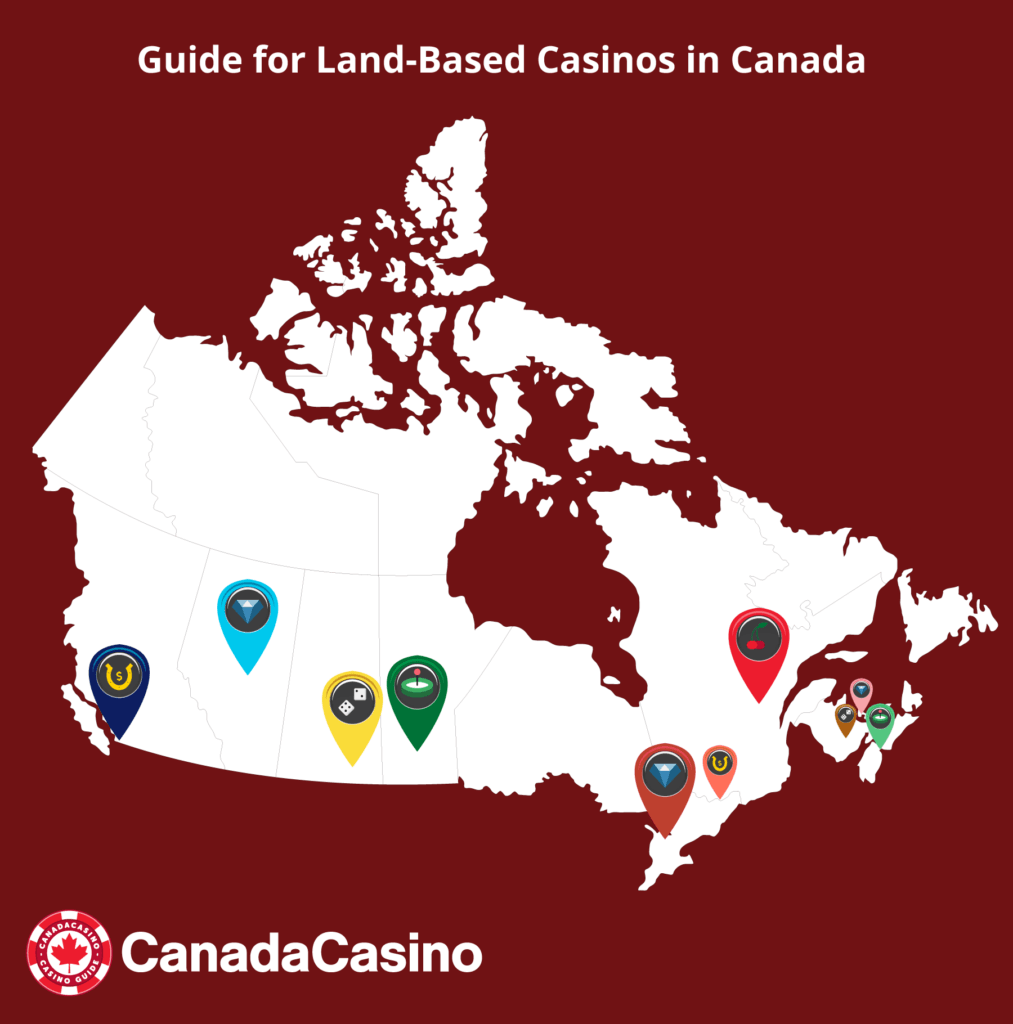 The Biggest Land-based casinos in Canada
Spoilt for choice? With over 80 land-based casinos in Canada, we have thought it's best to shortlist the best five in five different provinces in Canada.
We have prioritized the casino's reputation and the type and range of games offered to our players.
1. Casino New Brunswick | New Brunswick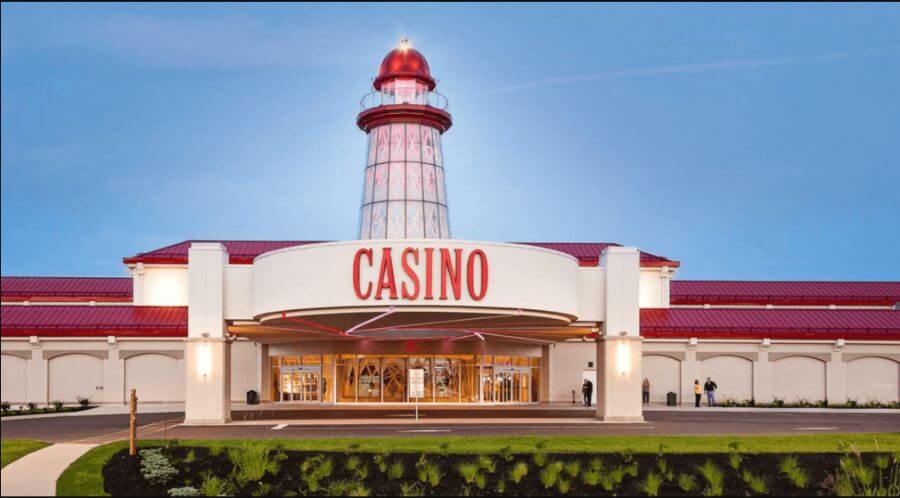 Situated in New Brunswick, this huge casino has only been around since 2010 but is one of the most popular, not just in this province but also throughout Canada. The casino is known for the high entertainment it provides, including music and a vast range of games.
Location: 21 Casino Dr in Moncton, New Brunswick
Built: 2010
Size: 24,000 square feet
Slot machines: 600+
Table games: 26+
Is New Brunswick too far?
No problem! Would about an online casino that matches up to the range of casino games offered by Casino New Brunswick? Zinkra Casino is a good option for you!
2. Casino Nova Scotia | Nova Scotia
This picturesque province of Canada is a maritime province. Also, it houses the beautiful Casino Nova Scotia where the level of entertainers here goes up a notch – including singers, performers, as well as … lo and behold! Hypnotists.
Location: 1983 Upper Water St in Halifax, Nova Scotia
Built: 1995
Size: 34,900 square feet
Slot machines: 500+
Table games: 32+
Can't make it to the Nova Scotian coast?
We also enjoy visiting Halifax from time to time, but if you can't do so now, we recommend trying Casino UNLIMITED. This online casino in Canada is quite popular with Bluenosers!
3. Casino de Charlevoix | Quebec
Also, a 5-star hotel, this famous casino in Canada is situated in one of the most land-based casino-hectic provinces – Quebec. It also happens to be one of the biggest land-based casinos in Canada. This popular casino features over 800 slot machines that players in the province can enjoy.
Location: 183 Rue Richelieu, La Malbaie, Quebec
Built: 1994
Size: 70,000 square feet
Slot machines: 800+
Table games: 125+
Love slots, but not in Quebec?
We, too, would be very happy for a visit to Casino de Charlevoix, but if this is not possible, there is an alternative. Videoslots has the largest online slot portfolio that players in Canada can access from the comfort of their home!
4. Casino Regina & Moose Jaw | Saskatchewan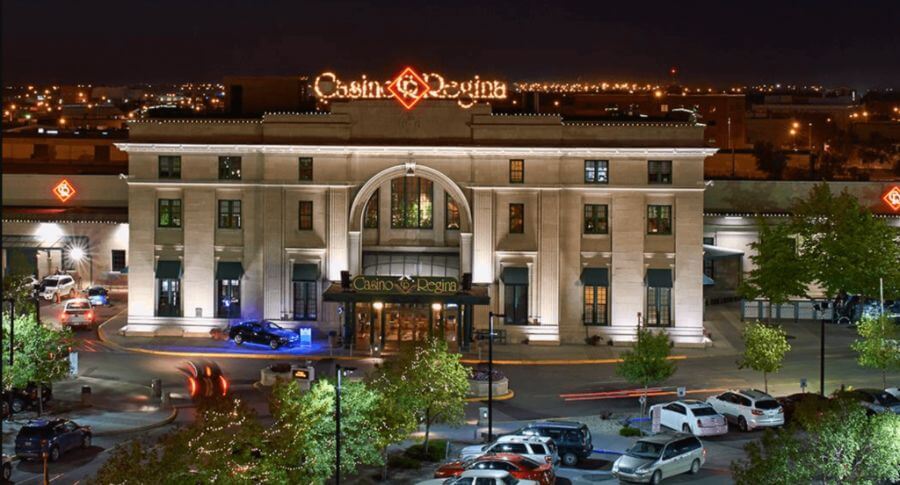 Saskatchewan is one of the most restricted provinces for providing online casinos, where it legally only allows one casino – PlayNow.com. Still, what it lacks in online gaming, it compensates with Casino Regina land-based casino – which definitely ranks amongst the largest casinos from all Canadian provinces.
Location: 1880 Dr, Regina, Saskatchewan. SK S4P 0B2
Built: 1996
Size: 100,000 square feet
Slot machines: 750+
Table games: 41+
Looking for a trusted online casino in Canada?
If it's a solid reputation that you're after when looking for an online casino in Canada, then we recommend that you check out Mr Green. Launched in 2007, Mr Green is one of the oldest and most trusted online casinos that is a favourite among our players in Camada.
5. Red Shores Racetrack & Casino | Prince Edward Island
The smallest in size yet the oldest in years – Red Shores Racetrack & Casino was at the very forefront of land-based casinos in Canada. Being around since 1889, it now stands as a reputable casino frequented by specific audiences who generally also appreciate horse racing.
Location: Charlottetown Driving Park, Prince Edward Island
Built: 1889
Size: 5,700 square feet
Slot machines: 210+
Table games: 6+
Is Prince Edward Island out of your way?
Even though Prince Edward Island is a pretty attractive place to visit, the journey can take quite some time. While you're planning your trip, you should visit Winstoria – a rising star when it comes to online casinos in Canada.
Land-based casinos vs. Online casinos
We are comparing the favourite features of casinos in general – both online and land-based. We will seek to understand the perks.
Furthermore, we shall be looking at top features as prioritized by our players in Canada when seeking their casino experience. We shall compare and contrast these features in relation to land-based casinos vs online casinos.
Online slots and slot machines
Online slots are digital – therefore the possibilities are endless. Featuring different bonus features, higher RTPs and flexible paylines and moveable grids, online slots feature thousands of variations.
Slot machines on the other hand are more straightforward and generally have a common theme – featuring fruits and a suspenseful, retro soundtrack. The 3×4 grid is the most classic layout, but the grid layout varies with more modern slot machines.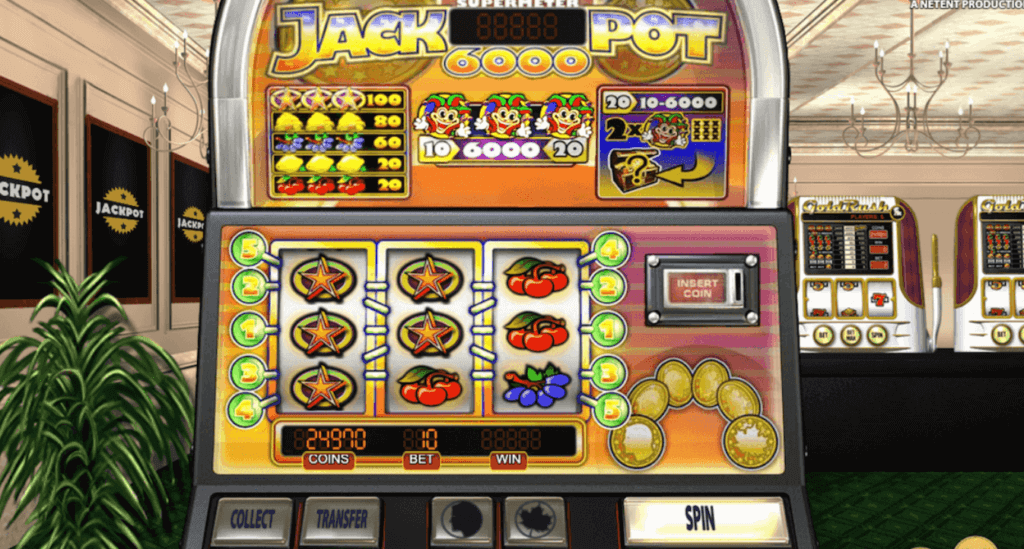 Table games
One of the best things about a land-based casino is definitely the table game experience. From anything to Roulette, Poker and Blackjack, the thrills of experiencing a table game at a physical casino are incomparable to any other experience.
When it comes to online casinos, table games can be experienced through live dealing that is streamed digitally. One can also play against a computerized system through RNG technology.
Bonuses
Bonuses are something exclusive to online slots and online games in general. Why? They work with complex mechanics and algorithms that can only be featured through digital complexities and not through slot machines.
Comparing online casinos vs land-based casinos
What are the perks of an online casino vis-à-vis a land-based casino? We have prepared the below concise table.
| Land-based casinos | Online casinos |
| --- | --- |
| Real-life experience | Have multiple bonus features |
| Interact with actual croupiers | Play from anywhere through the desktop or mobile casino |
| Meet players in real life | Wide choice of games |
| Indulging atmosphere | Wider payment options, sometimes even crypto |
| | Constantly implementing Innovative features. |
| | promotional offers for loyal players |
Requirements for land-based casinos to operate legally
Most provinces in Canada can operate land-based casinos. Here are some basic points on the legalities of how land-based casinos operate in Canada.
Overall, Canadian law stipulates that each of the ten provincial governments is permitted to set its laws regarding gambling.
Therefore, all land-based casinos in Canada must be registered within their own province.
Each province has its Gambling Commission that stipulates specific gambling laws.
All land-based gambling operators in all provinces need proper registration, which requires constant and thorough scrutiny to ensure the safety of players.
All provinces allow land-based casinos to operate, except for Newfoundland and Labrador. Provinces.
Requirements for online casinos to operate legally
For most provinces in Canada, online casinos operate through foreign-acclaimed licences and have certain standards to follow. Check out the list we have prepared for easy reference.
Did you know?
Alberta Province is on its way to creating a gambling commission model that is similar to Ontario.
History of casinos in Canada
In 1985, Canada issued a Criminal Code on Gambling to counteract the illegalities happening because of unregulated gaming.
This body of law also stipulated that each of Canada's ten provinces had the authority to create and manage their own respective gambling laws. This means that provinces could set their own bodies of gambling law commissions – each with its specific rules.
Each province in Canada tackles gambling differently, and each province constantly updates the body of laws. You can refer to our Gambling Licences Page – where we constantly update the new Gambling regulations.
The situation of land-based casinos in Canada now
Land-based casinos are still well-attended by players in Canada. Still, new generations are reverting more and more to the digital world, and subscribing to new online casino sites has become increasingly popular – and not just with the younger generation.
The fact that you can play anytime, anywhere, makes online casinos in Canada more accessible. Plus, all online games are mobile-optimized, with some casino operators even investing in casino apps, to take your gaming experience literally everywhere.
To experience the thrills of land-based casinos
The online casino world in Canada is expanding – and it's happening fast – with hundreds of new casinos joining the market every year. Still, Land-based casinos are a classical choice that most casino players appreciate, and that is why they are still very popular in Canada.
The thrills of enjoying a live table game, packed with cheer and suspenseful energy and surrounded by like-minded people, can never be replaceable. It's the real thing.
Frequently Asked Questions
Over 80 land-based casinos are operating in Canada.
Online slots have higher RTPs, include bonuses and offer features and feature thousands of games with all sorts of themes. Land-based slot machines are generally all fruit-themed, have static reels, fixed paylines and have no bonus.
All ten provinces allow land-based casinos except for Newfoundland and Labrador.
The thrills of experiencing an actual casino, as well as meeting with like-minded people are the main attractions as to why players in Canada opt for playing at land-based casinos.
No. Each province has the authority to set its body of legislation regarding gambling. Therefore, different provinces have different gambling commissions, with their own specific laws.
Before 1985, gambling was illegal in Canada. In 1985, the law in Canada allowed different provinces to control their own jurisdiction on gambling.
Author
Casino Content Writer
Lara thinks that being happy is all about sipping beer by the sea with her favourite peeps. She understands people through conversation and tries to laugh her way through life. Cooking and writing are at the core of her being, and finds casino reviews to be the most interesting part of her job.