iDebit Review – Safety first!
iDebit is an operator that allows you to make payments straight from your online banking account to online casinos. The casino payment provider acts as an intermediary, ensuring you don't share your banking information with the Canadian online casino. Once you initiate a payment, iDebit assesses the information before you confirm the transaction from your bank.

iDebit casinos further ensure you are safe using SSL encryption to safeguard your data while the payment provider users 128-bit encryption to protect your data. Additional security measures like two-factor authentication and compulsory KYC verification will also be found. You can check out our review page for the best iDebit casinos in Canada. We recommend only licensed and secure online casinos, so you don't need to worry about your safety.
Did You Know?
iDebit originated from the Canadian-focused payment method, InstaDebit; in fact, there are many similarities between the two payment methods. While InstaDebit is more Canadian-focused (you must be a Canadian citizen to open an account), iDebit was created to become more widely available.
How to use iDebit at Online Casinos?
During our iDebit casinos review, we found out that the payment method is very simple to use in Canadian online casinos. Simply log in to your preferred iDebit casino and pick iDebit from the available payment options.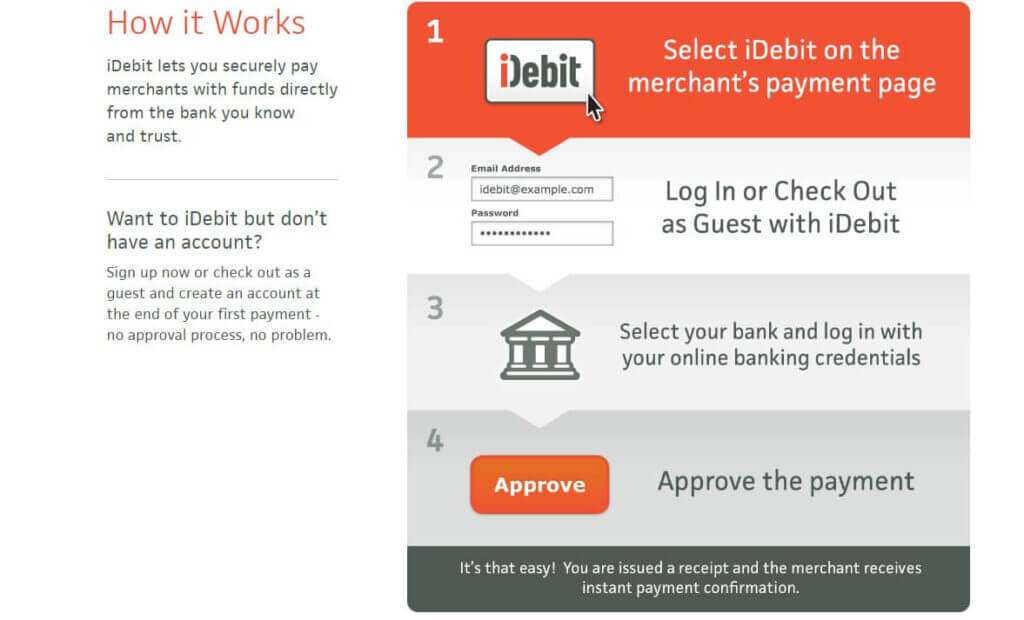 Then log in to your iDebit account and pick your financial institution. Next, confirm your transaction, and your account should instantly be funded.
Are there any fees when depositing and withdrawing at iDebit Casino?
iDebit will charge a $1.50 fee when you are making a payment directly from your bank account. This means you'll need to pay this amount when depositing in online casinos. Withdrawals from online casinos don't attract fees, but you'll be charged $2 to move the funds from your iDebit account to your bank account.
How to place a deposit and withdraw your winnings using iDebit
Making payments on iDebits casinos isn't difficult. We have compiled how you can do this below, starting from deposits.
Making deposits with iDebit
Head to our iDebit casino list and choose an option
Sign up or log in to the casino
Go to the banking/cashier section
Click on "Deposit" and pick iDebit from the list of payment options
Input your deposit amount and authenticate the transaction from your bank
You should instantly receive the funds in your account
Making Withdrawals with iDebit
Withdrawing your funds using iDebit on online casinos is similar to making deposits. If you have accumulated enough cash, follow the steps to withdraw:
Make sure you are logged in to the iDebit casino
Head to the banking/cashier section
Click on "Withdraw" and choose iDebit from the available options
Input the amount you want to withdraw
Confirm the transaction
Wait for the cash to reflect in your account
Did You Know?
Funds may take up to 5 days to reflect in your iDebit account. While this is slower than deposits, it is on par with most payment options – with the added benefit of improved security.
Solutions to common issues when using iDebit at Online Casinos
Like other online casino payment methods in Canada, we noticed during our iDebit casinos review that the payment option is prone to issues. Fortunately, we have compiled a list of common problems you may experience with this payment option and how to address them.
iDebit is available on the list of payment methods on the online casino. Is something wrong?
If you can't find iDebit among the list of payment options on the casino you settled for, then it might be that it is not accepted on the online casino. To be certain, we recommend you contact the casino's customer support team to find out. If the payment option does not support iDebit, need to use other Canadian alternatives like Interac, iDebit, Visa or Paysafecard.
I am unable to sign up for iDebit. Am I doing something wrong?
If you cannot sign up for an iDebit account, this might mean that you are not up to 18 years of age. You can also check to make sure you have an account with one of the supported banks.
There are suspicious charges on my iDebit account. Who should I contact?
If you are having fraud issues, you can contact the iDebit security team at [email protected].
Did You Know?
iDebit has processed gambling transactions worth tens of millions between its two major services – InstaDebit and iDebit. It has now become a core payment option for gamblers in Canada.
Pros and cons of using iDebit at Online Casinos
| Pros | Cons |
| --- | --- |
| It is highly secure | Deposits have a $1.50 fee attached |
| Deposits are instant | |
| No fees attached to withdrawals | |
| No need to input your banking information | |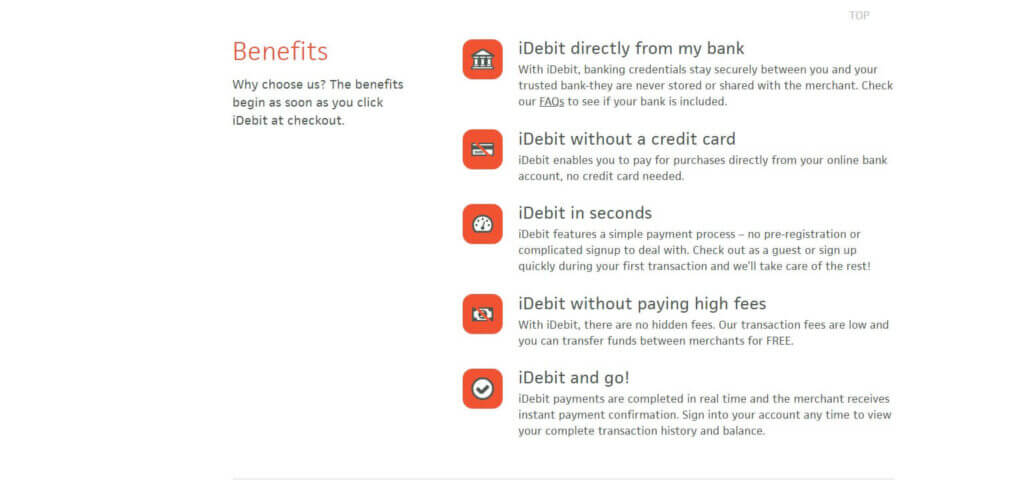 iDebit vs. Other Payment Methods
iDebit supports instant payment and does not require you to input your bank details in the online casino. This is different from other payment options like Visa. Check the table below to see how iDebit stands out from other popular Canadian payment methods.
| Features | iDebit | Apple Pay | Paysafecard | Visa |
| --- | --- | --- | --- | --- |
| Instant deposits | ✔ | ✔ | ✔ | ✔ |
| Widely Accepted for withdrawals | ✔ | ✔ | ✖ | ✔ |
| Does not need sensitive information | ✔ | ✔ | ✔ | ✖ |
| Payments are secure | ✔ | ✔ | ✔ | ✔ |
| Not Linked to your Bank Account | ✖ | ✔ | ✔ | ✖ |
Did You Know?
You can use iDebit from any location worldwide so long as you have a Canadian account number from one of the supported banks.
Enjoy Instant Deposits with iDebit
iDebit has become one of the popular payment options in Canadian online casinos for many reasons. It is fast, secure, and broadly supported in online casinos. Moreover, you benefit from awesome bonuses and promotions when you sign up on a Canadian online casino.
On the downside, this payment option comes with a $1.50 fee for deposit – which is insignificant when you make your payments at once. Overall, we recommend this safe and secure payment option for Canadian players as we noticed more benefits than drawbacks during this iDebit payment casinos review.
Frequently Asked Questions
Yes, you can make payments using iDebit on most Canadian online casinos. We recommend you check out our list of recommended iDebit casinos for the best options.
iDebit is safe so long as you register on a licensed Canadian casino site like those we recommend.
You must pay a $1.50 fee when depositing to your online casino account with iDebit.
Most iDebit casinos, like those we recommend, will allow you to play online slots, progressive jackpots, live dealer games, and table games.
You will find many reliable alternatives to iDebit, like Neteller, Apple Pay, and Interac.
iDebit casinos will offer you a range of welcome bonuses, no deposit offers, free spins offers, and more.