Contact Us
Cookies Policy
Newsletter
Privacy Policy
Our experts conduct extensive research to be able to provide honest casino reviews of platforms that are open to Canada, share the latest industry news, and create strategy guides and tips to help Canadian gamblers make the best of their online casino experience.
CanadaCasino – Online Casino Guide
CanadaCasino is a review website and online casino guide that focuses on news and updates from various provinces in Canada that include Alberta, Ontario, Manitoba, Quebec, British Columbia and more.
Our team of writers aim to provide Canadian casino players with access to the latest bonuses and promotions, top casino games such as slots, blackjack, and poker, and more key information to make your online Canada casino experience more enjoyable!
Our Objectives
Our goal is to help Canadian players gamble smarter at online casino games and to connect them with the most rewarding casino sites depending on their preferences.
Among our objectives, we:
Publish honest casino reviews of well-known and new online casino sites that have opened to the Canadian market;
Compare the best online casino bonuses and offers available in Canada;
Review casino games the new online slots, table games and live dealer casino games;
Create strategy guides to help players win more on different kinds of online casino games;
Update our visitors regarding the latest news and developments in the Canadian online casino market;
What we do
Our team at CanadaCasino is constantly reviewing online casino platforms to be able to provide honest reviews and timely updates of their products and offers.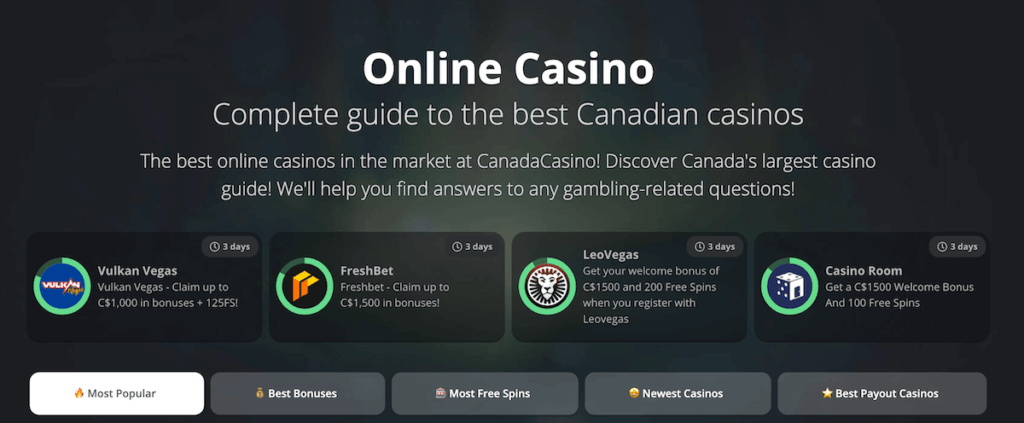 We then add only the very best ones to our list of recommended Canadian casinos.
CanadaCasino also makes sure that only those casinos licensed in reputable gambling jurisdictions, like the Kahnawake Gambling Commission, the UK Gambling Commission, and the Malta Gaming Authority, make it to our list of casinos, in an effort to promote only those operators who are committed towards responsible gambling.
CanadaCasino's History
2019 – CanadaCasino was launched to meet the growing interest in online casino gambling in the Canadian market, to provide information about different casino games and operators
2020 – Our list of recommended casinos keeps growing, so that today we pride ourselves on connecting players to over 40 licensed Canadian casinos, with more to come!
Our other sites
If you're interested in visiting one of our websites that specialises in other markets and languages, you can find this list below:
Working at CanadaCasino
CanadaCasino is managed by a dedicated team of content writers, Sales representatives, IT and SEO experts who strive to keep up with current trends in the Canadian online casino market.
Besides hunting down the next casino to make its way online, we also devise exciting plans for team events, which may include (but are not limited to) brunches, dinner parties, beach parties, laser-tagging, and maybe even entire holidays! If this sounds like your kind of thing, don't hesitate to contact us at [email protected]
Meet the Team!
Antoine
Antoine is the content manager for the team at canadacasino.ca. He has been working in the industry for over 6 years, and has written content for a number of big casinos in the past. In his free time, he enjoys relaxing in the garden or smashing away on his Nintendo Switch.
Taylor
Taylor is the Site Manager for CanadaCasino and oversees the functionality and performance of the site. She has worked in the iGaming industry for nearly 5 years as a writer and manager, specializing in the American markets. Being half Canadian, (a Maritimer, to be exact) Taylor loves watching the market grow and finding new ways to tailor CanadaCasino to readers in the Great White North. When she isn't working, you can find her cooking pasta with a glass of prosecco in her hand.
Lara
Lara thinks that being happy is all about sipping beer by the sea with her favourite peeps. She understands people through conversation and tries to laugh her way through life. Cooking and writing are at the core of her being, and finds casino reviews to be the most interesting part of her job.
Maria Louisa
M'Louisa spends most of her time chasing after a certain cheeky monkey that is growing up too fast. When she has a moment to spare you'll find her with a paint brush in hand or reading a good book. For the past 3 years she has enjoyed watching the industry grow and thrive, and thinks that is the most satisfying part of her job!
Peter
Peter is a Canadian content writer with over six years of experience in the iGaming scene. During this period, he has covered content for numerous markets, including the Canada, US, and UK. He uses his knowledge to provide accurate and detailed iGaming content for CanadaCasino. When taking a break from writing, he enjoys playing Call of Duty with his team.
Kayleigh
Kayleigh is a casino content writer for the Canadian market. Before working on this market, Kayleigh was writing for the general US market and further specialised in the Pennsylvania market. Now, she brings her knowledge and experience to this market! She's been working as a writing professional for the last decade, and she's dedicated to bringing you practical tips, right at your fingertips.
Contact us
Get in touch with us today at: [email protected]