Paysafecard was established in 2000 and quickly became a popular payment method among online casino players. You can use this method without needing a bank account or credit card. As such, it's highly secure, as you don't need to provide sensitive information. You only need a 16-digit pin to use it at leading online casinos in Canada.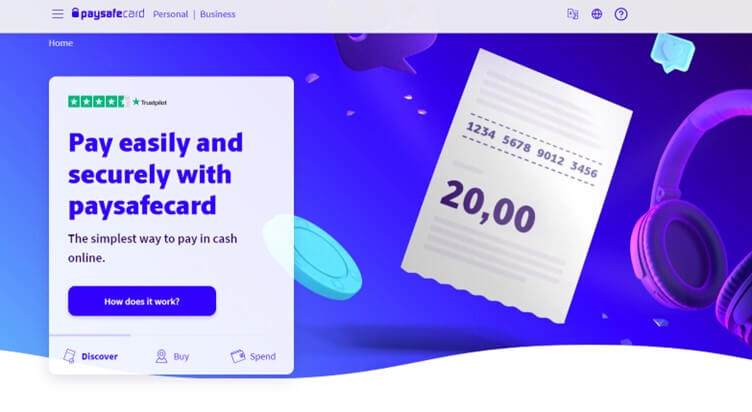 Paysafecard casinos ensure further safety by using SSL encryption to protect your data. Some of these platforms also offer additional security, like two-factor authentication. You must also complete KYC verification before withdrawing, and platforms are GDPR compliant. You can rest assured that we'll only recommend licensed and secure Canadian online casinos that we rate as trustworthy and reliable.
Did You Know?
Paysafecard was such a popular method that it was purchased by Skrill, which Neteller later purchased. These days, all three payment methods are under the umbrella company Optimal Payments Group, which boasts excellent security.
How You Can Use Paysafecard Vouchers at Online Casinos
You can use a Paysafecard casino without sharing your bank or card details. Simply, input need to enter a 16-digit pin, following the below guide.
Deposit and Withdrawals Fees at a Paysafecard Casino
We've found that while most Paysafecard casinos don't charge a fee on deposits or withdrawals, some may charge a fee after the number of free withdrawals has been exceeded. Paysafecard also charges a monthly service fee of $2.50 on any remaining prepaid credit.
We explored some of the best Canadian casinos and their Paysafecard fee structure:
Learn to Deposit and Withdraw with Paysafecard
Not all Canadian casinos accept Paysafecard as a withdrawal method, but for those that do, withdrawing is just as easy as depositing. Follow our deposit/withdrawal guide below to get started.
For deposits, you can use a Paysafecard prepaid voucher, bought in-store or online. For withdrawals, you will need a Paysafecard Mastercard, which can also be bought online.
Head to the cashier after logging into your casino account.
Click on the deposit/withdrawal tab and look for the Paysafecard listing.
Choose the deposit or withdrawal amount.
To deposit, add your 16-digit voucher PIN. To withdraw, use your Paysafecard Mastercard PIN. You can combine several Paysafecard prepaid PINs to get a higher balance when depositing.
Confirm the transaction and deposit/withdraw your funds.
Did You Know?
Paysafecard has an upper limit of $400 per voucher, with a maximum monthly value of $10,000. However, online casinos might enforce a limit of less than the $400 transaction limit.
Paysafecard Casino Solutions to Common Issues
We explored some common issues you might encounter at a Paysafecard casino Canada.
My Paysafecard pin isn't working. What should I do?
Please check the balance of your Paysafecard voucher to ensure you still have funds. If you have a positive balance, submit a ticket to the Paysafecard support team on their official website.
Why can't I find the Paysafecard option under my withdrawals?
Not all online casinos in Canada offer Paysafecard for withdrawals. If the casino states it's available for withdrawals, but it's not available, you might have to deposit using your Paysafecard Mastercard first, a common withdrawal requirement.
Did You Know?
Paysafecard provides a 24/7 virtual assistant, Lara, to help you with all your queries and problems. You can also use this payment method when playing at a mobile casino through the Paysafecard app.
Pros and Cons of Using Paysafecard at Casinos
Before deciding whether a Paysafecard casino is a way to go, consider the below pros and cons.
| PROS | CONS |
| --- | --- |
| Anonymous and private payment method | Not widely available as a withdrawal method |
| Provides a mobile app | Might incur fees from paysafecard and casinos |
| Instant deposits | |
| Thousands of retail partners are available | |
Paysafecard vs. Other Payment Methods
Paysafecard differs from other methods in that it doesn't require sensitive information. The mobile app makes it easy to check your voucher balance, and prepaid vouchers ensure you have finer bankroll management than a credit card.
| Features | Paysafecard | Instadebit | Visa | Interac |
| --- | --- | --- | --- | --- |
| Doesn't require sensitive information | ✔ | ✖ | ✖ | ✖ |
| Not linked to your bank account/card | ✔ | ✖ | ✖ | ✖ |
| Safe and secure method | ✔ | ✔ | ✔ | ✔ |
| Provides mobile app | ✔ | ✖ | ✖ | ✖ |
| Widely accepted for withdrawals | ✖ | ✔ | ✔ | ✔ |
| Monthly maintenance fee | ✔ | ✖ | ✔ | ✖ |
Did You Know?
You can register an account with Paysafecard to receive more benefits. These benefits include buying Paysafecard vouchers online, buying higher amounts, and managing all your vouchers in one place.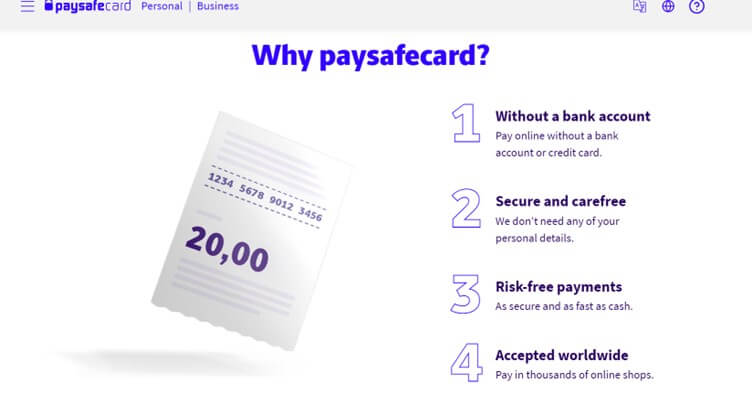 A Reliable and Private Payment Method
Paysafecard has the potential to be a completely anonymous and private payment method, with a user-friendly mobile app, instant deposits and awesome casino bonuses.
However, it's still not widely accepted as a withdrawal method in all Canadian online casinos, and you incur some fees after a month on unused credit. Still, this popular method makes it easy to start playing at online casinos if you don't want to risk your sensitive information.
Frequently Asked Questions
There's no expiry date on a voucher, but after 19 months, you'll incur a monthly maintenance fee.
The official website gives you a pin balance checker, where you enter the voucher pin to see the available balance on that voucher.
Yes, you can choose what amount of your voucher you want to deposit at Canadian online casinos and even combine multiple vouchers.
Yes, Paysafecard can refund your voucher provided you meet all the requirements, but casinos have policies and fees surrounding refunds.
No, as the voucher isn't linked to your bank account or credit card, it can't be traced back to you.
There are many partnered sales outlets across Canada, including Canada Post, Daisy Mart, Esso, Rabba Fine Foods, and more.
Author
Casino Content Writer
Peter is a Canadian content writer with over six years of experience in the iGaming scene. During this period, he has covered content for numerous markets, including the Canada, US, and UK. He uses his knowledge to provide accurate and detailed iGaming content for CanadaCasino. When taking a break from writing, he enjoys playing Call of Duty with his team.