Crash games are a new type of online casino experience and had originally kicked off with crypto casinos only. Crash gambling is now gaining a lot of popularity with all types of players and is now also available through FIAT currencies in other non-crypto casinos.
What about Aviator Crash Game? Aviator is an exciting one powered by Spribe provider. The game's simplicity makes this a popular crash game, where your energies will be solely and purely focused on when to stop the bet just before the crash goes down.
Check out the full Aviator review.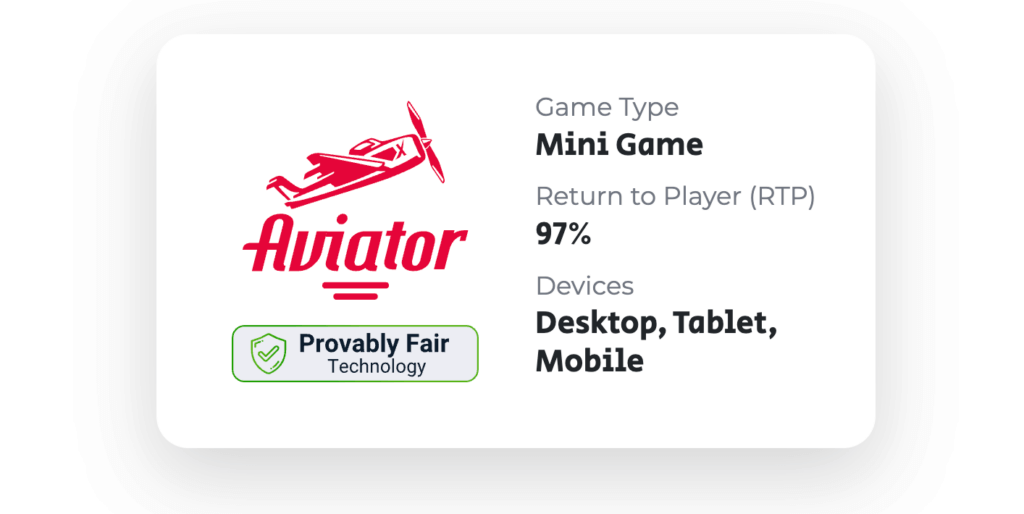 What We Cover In This Aviator Review
All the games we cover are tested thoroughly, focusing on all the critical details and issues to ensure we provide factual information. This is how we analyzed Aviator.
Gameplay: We played the game extensively to check if it was entertaining and what the gameplay felt like.
Betting Options: We analyzed the min/max bet and the two-bet system in place.
Auto-Features: We checked the auto cash-out and autoplay features.
Fairness: We analyzed how the game generates wins and how random these are.
Specs: We checked the developer's data on RTP, max win and other aspects.
Graphics: We measured whether Aviator's graphics were up to the task.
Aviator Statistics
What are some numbers regarding Aviator? Here are the details on how much you can bet, its features, and more.
| Aviator Stats | Values |
| --- | --- |
| Min bet | $0.10 |
| Max bet | $100 |
| Max win | 100x |
| RTP | 97% |
| Autoplay | 👍 |
| Free Play | 👍 |
| Features | Auto cash out, two concurrent bets |
Min/max bet, max win
The betting margin in Aviator is broad, ranging from $0.10 to $100. However, we would've liked a higher max bet for high-rollers. The good thing is that you can make two concurrent bets, effectively doubling the maximum bet size.
RTP
The RTP for this game 97%, which is higher than the average slot RTP.
Autoplay option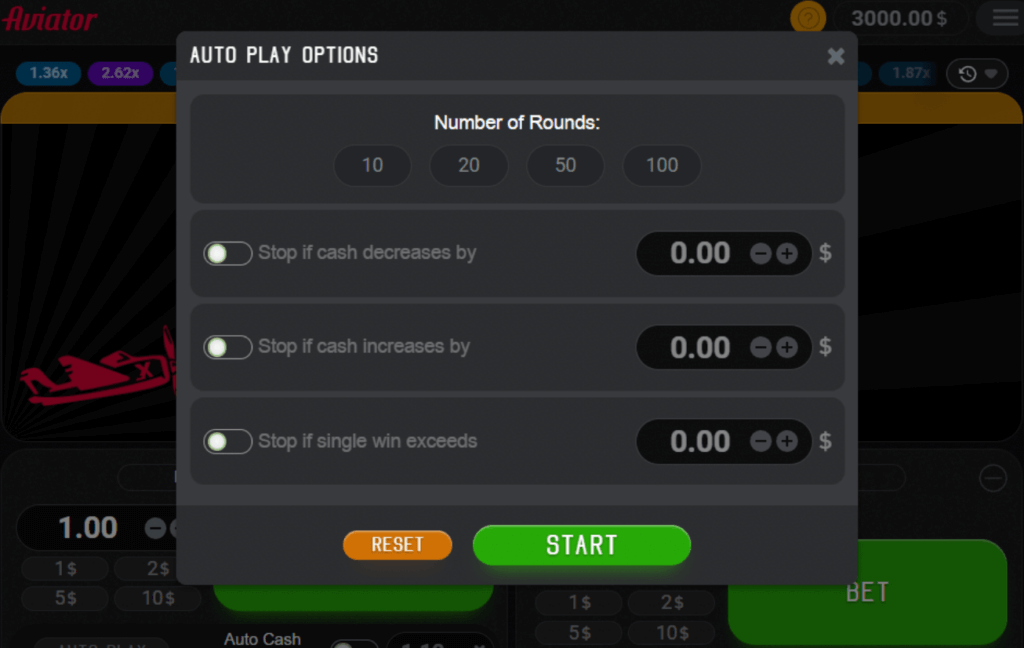 There is a feature-rich autoplay option where you can set the number of rounds up to 100. You can also activate stops for wins and losses when they exceed a chosen threshold.
Decent settings allow for customization.
Being able to set increments in the autoplay settings is very useful, as then you can fine-tune each bet according to the level of risk you're willing to take.
Game Features
Crash games are not particularly extensive in their gameplay features. There are generally no bonus rounds or special situations happening. However, they have many features to tailor the experience to the player's preference, which Aviator does flawlessly. These features are:
Two concurrent bets
Autoplay options
List of players with their bets and wins
Auto cash-out
Aviator Graphics & Sound
The graphics are simple and straightforward – producing an easy-to-follow gameplay overall. The sound is both soothing and suspenseful, which makes it easier to concentrate on when to stop your bet from running.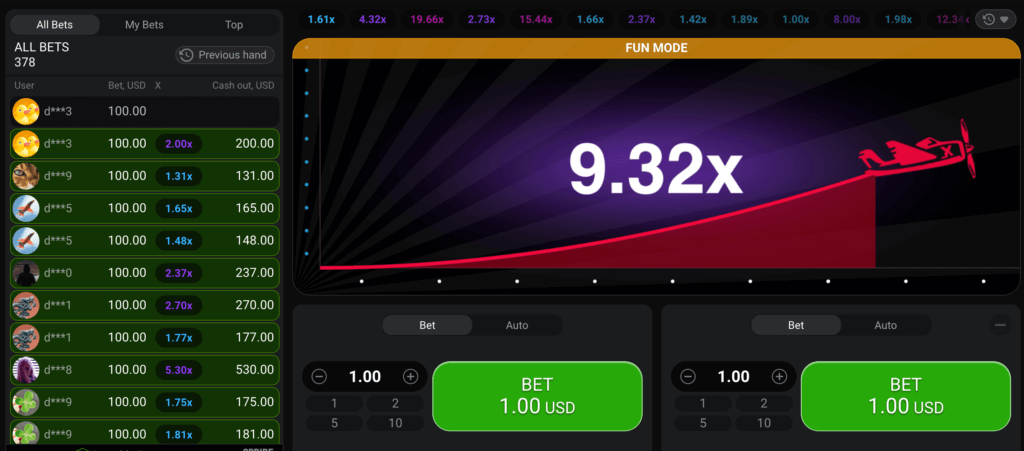 | | |
| --- | --- |
| Graphics | 2D chart-like graphics |
| Optimized for Mobile | 👍 |
| Music | New-Age style ambient |
| Special features | Animations can be toggled off |
Basic graphics but not much is needed
Aviator's screens are raw, and sounds are minimal, but not much else is needed for this type of game. The plane is big and easy to follow.
How To Play Aviator
Playing Aviator is straightforward. Here is a list of what you need to do on a typical playthrough:
Place one or two bets from $0.10 to $100 each.
Observe the trajectory of the plane.
Cash out before the plane flies away.
The winnings will correspond to the multiplier at the time of cashing out.
Some extra considerations can enhance your playthroughs, such as using the auto cash-out option. You choose what multiplier you want to cash out on, and it does so automatically without you needing to press the button each time.
Solutions When Experiencing Issues With A Crash Game
Aviator is a stable game, but sometimes problems can occur. Here are some common issues and what to do about them:
If your Internet connection goes down, your winnings and session remain. You will miss the playthroughs in between.
Contact the casino support team if any in-game elements don't work, such as buttons.
Remember that if the game malfunctions, all bets are void.
Some Final Words About Aviator
Aviator is an exhilarating crash game. It's no wonder it's a hit among crypto enthusiasts and no wonder it now available not only in crypto casinos but also in top casinos we review for our players in Canada.
This game is straightforward to play and offers the additional thrilling factor of allowing the player to decide when to cash out. In slots, the outcome is entirely beyond your control.In Aviator, it's the same, but since you can cash out whenever you feel like it, there's an extra gaming element.
It can get a bit boring staring at the same raw screen. Graphics-wise, it wouldn't hurt that Aviator had better graphics, such as a background for the plane.
Other Crash Games To Play If You Like Aviator
These are some additional crash games with exciting gameplay:
Frequently Asked Questions
Crash games all operate within the same mechanics: you place a bet on and predict a cashing out out before the game ends suddenly. Aviator works with the same logic - with an Avatar-themed setting.
Spribe is a reputable developer, and there is an option on the game's menu where you can check all the information regarding its Provably Fair technology. Meaning that the games are properly RNG tested and have to follow basic standards since the provider is properly audited and licensed.
Yes. All the casinos we feature that also feature Aviator Crash Game are properly licensed and regulated as per Canada Gambling law standards.
No, there is only one gameplay experience in Aviator. It has no extra rounds or bonus features.
Aviator Crash Game features a high RTP - standing at 97% of the total RTP value.
You can play Aviator's demo mode on the official Spribe website and through some of our recommended casinos.
Author
Casino Content Writer
Lara thinks that being happy is all about sipping beer by the sea with her favourite peeps. She understands people through conversation and tries to laugh her way through life. Cooking and writing are at the core of her being, and finds casino reviews to be the most interesting part of her job.