Compare and find the casino that suits you
The options are endless when it comes to choosing a Canadian online casino that suits your preferences. Wouldn't it be better to find the right online casino without having to sift through bonuses, promotions, and online casino reviews?
You can do that with our Casino Comparison Tool!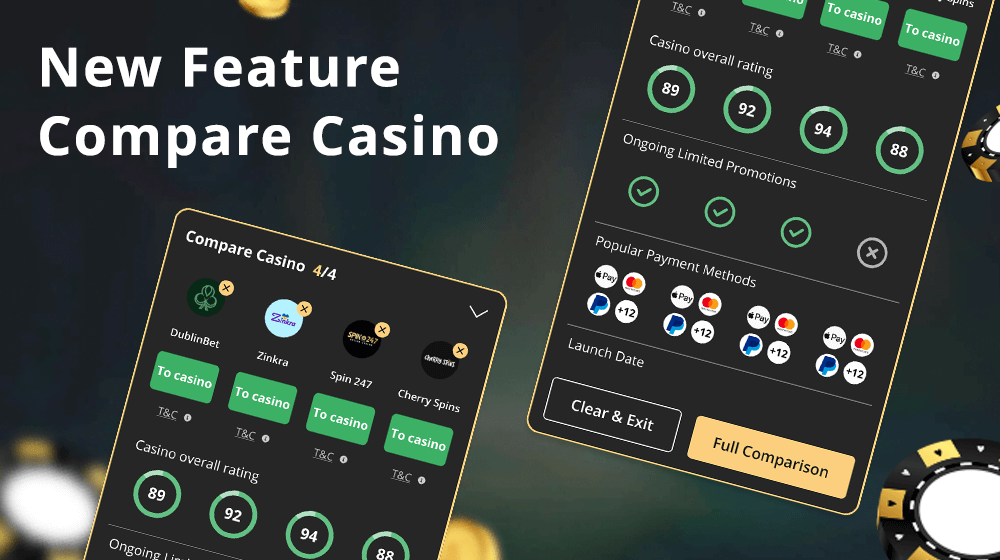 Filter, analyze and set top Canada casinos side-by-side!
The Casino Comparison Tool incorporates a variety of important criteria before providing you with options for casinos in Canada. Now, let's take a closer look at them.
Casino Overall Rating – This rating determines the casino's popularity, usability, customer service and how good its terms are.
Launch Date – This lets you know how long the online casino has been established in the market.
Welcome Bonus – Perhaps the most sought-after bonus, the casino welcome bonus, can influence your first experience with your online casino.
Wagering requirements bonus – What matter with this bonus is that the wagering requirements must be fulfilled before players can withdraw any winnings.
Welcome free spins – Online slots fans, listen up! This type of welcome bonus awards you with free spins on selected online slots.
Wagering requirements free spins – Most free spins bonuses come with wagering requirements and T&Cs that need to be read before you get anything back.
Ongoing promotions – Operators regularly put out promotions and casino offers to appeal to players to stick around.
Licence – Ensuring that the online casino you chose has an appropriate gambling licence is crucial. Players must have a safe and licenced environment.
Minimum deposit – This will be the smallest amount of money you can deposit into your account to begin your playing journey.
Minimum withdrawal – This is the minimum amount of money you need to withdraw to be able to enjoy your winnings sooner.
Payment options – The more payment methods you have at the online casino, the better it is for you. This way, you can use whichever option is best at the time.
Local language – Who wouldn't want to play or communicate with customer support in their own language? Ideally, your casino would offer you that option!
Pros + Cons – Every casino has its pros and cons. Our Casino Comparison Tool will highlight all of those for you, so you can make an informed decision.
How to use the casino comparison tool?
This is the question we all want to be answered! Here's a step-by-step guide on how to use the Casino Comparison Tool.
Click the 'Compare' button
Click on the compare button that's visible on the casino card. This will activate the Casino Comparison Tool.
The comparison tool will pop up at the bottom of your screen, and it will allow you to select up to 4 online casinos to compare!
Search and add casinos
Adding an online casino to the tool is super easy. Click on the '+' button to open the drop-down menu. The menu allows you to select popular casinos or search for a specific online casino.
Compare and analyze
Now's the time to click Compare. This takes you to a brief overview of your selected casinos side-by-side. To get an in-depth comparison, click the 'Full Comparison' tab on the bottom right of your screen.
And on mobile?
The best thing about the Casino Comparison Tool is that it works seamlessly with your mobile device! By using this tool on your phone, you're not missing out on any of the experience and you can discover a range of top-notch mobile casinos. It's just the same tool on a smaller screen.
Ready to enhance your Online Casino experience?
Our Casino Comparison Tool provides a comprehensive and efficient way for users to evaluate and compare various online casinos. It can be customized to suit individual preferences so that players can make the right decision.
This means it's time for you to start using this tool to find the best Canadian online casino for you! If you need more information about your preferred online casino, all you need to do is head over to our extensive online casino reviews for the blow-by-blow.
Frequently Asked Questions
Yes. Online casinos are perfectly legal in Canada. They are licenced by reputable governing bodies that include the UKGC and the MGA. Casinos online that operate in Ontario are regulated by the AGCO and regulated by the IGO.
The Casino Comparison Tool is a tool that allows you to compare up to 4 online casinos to pick your favourite one.
Yes, you can do this by selecting any of the online casinos available on the website and by filtering through bonuses and features.
This tool will highlight everything you need to know about, including bonuses, features, game libraries and more!
Yes! You can view Canadian online casinos side by side so that you can compare their no deposit bonuses.
There are several trusted online casinos in Canada, and this is usually based on factors such as gambling licences, responsible gambling measures, customer support and more. You can compare these for free using our tool!