Top 10 Progressive Jackpot Slot Games in Canada
Our selection of top progressive jackpot slots has been based on the best payout potential and RTP percentage of each game.
Available in all top casinos in Canada – such widespread accessibility means that there are hundreds of players betting and spinning at all times, particularly when the jackpot has already reached impressive proportions.
From newly founded Dream Drop Jackpot by Relax Gaming to Moolah Jackpot by Microgaming to other popular slot jackpots, we shall go into our top 10 list of best progressive slots.
1. Temple Tumble Dream Drop 2 (Relax Gaming)
| | | | |
| --- | --- | --- | --- |
| RTP | 94.8% | Min Bet | 0.20 |
| Volatility | Medium | Max Bet | 100 |
| Max payout | x10,045 | Biggest Jackpot won | $500,000 |
The most recent Jackpot invention that took the online casino world by storm is the Dream Drop Jackpot feature. The innovation was announced by Relax Gaming in April 2022 and the very first slot to enjoy this Progressive Jackpot is the sequel to Temple Tumble – Temple Tumble Dream Drop 2 slot.
The Dream Drop Jackpot features 5-tiers – Rapid, Midi, Maxi, Major and Mega.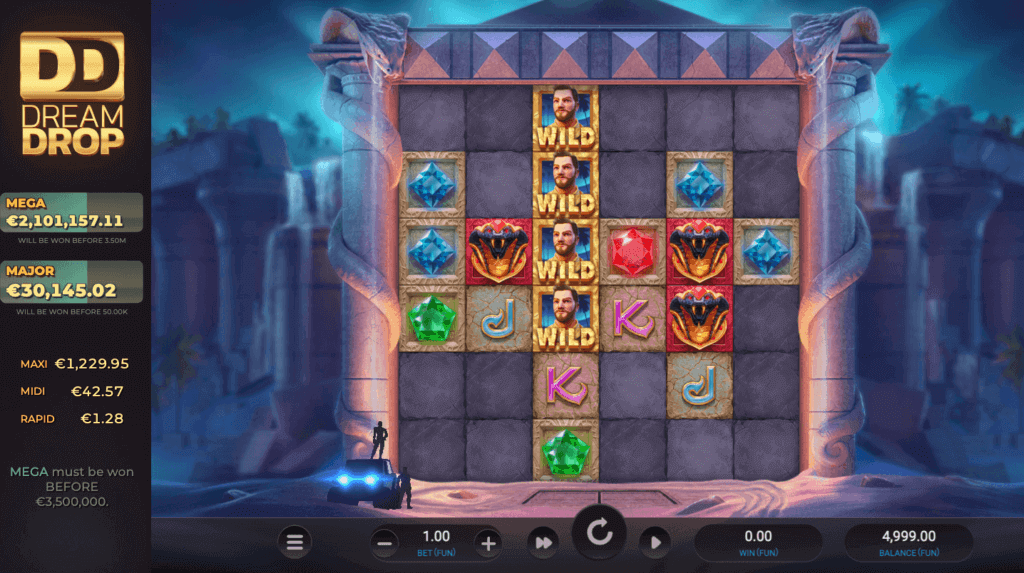 2. Mega Moolah (Microgaming)
| | | | |
| --- | --- | --- | --- |
| RTP | 88.12% | Min Bet | 0.01 |
| Volatility | Low | Max Bet | 6.25 |
| Max payout | x1,800 | Biggest Jackpot won | C$28,793,084.31 |
Mega Moolah by Microgaming is the first slot to come to mind when talking about progressive jackpot slots. And who would disagree!?
The game has been around for many years and it has set more world records than any other online slot.
Its jackpot's payouts are legendary and the highest it has paid out to date was back in 2018 when one single player took home €18,915,872.18 (equivalent to C$28,793,084.31, according to the currency exchange at the time of this article).
Mega Moolah as a slot comes with some interesting features like free spins and multiplier wilds, however, what makes it so exciting to play are the 4 progressive jackpots: the Mini, the Minor, the Major and the millionaire maker; the Mega.
To have a chance at one of these jackpots you have to trigger the Jackpot Wheel, which falls randomly. The odds of receiving a surprise visit by the wheel increase with the size of the bet.
The Mini and the Minor are hit pretty often, however, as the name suggests they payout rather small amounts. On the other hand, The Major and the Mega are harder to hit but when they do fall, they pay out phenomenal amounts.
Mega Moolah might pay out huge amounts of money, however, the RTP percentage of the game is rather on the low side. In fact, during the base game, it is just at 88.12%, but once you factor in the jackpot, the RTP goes up to 96.92%.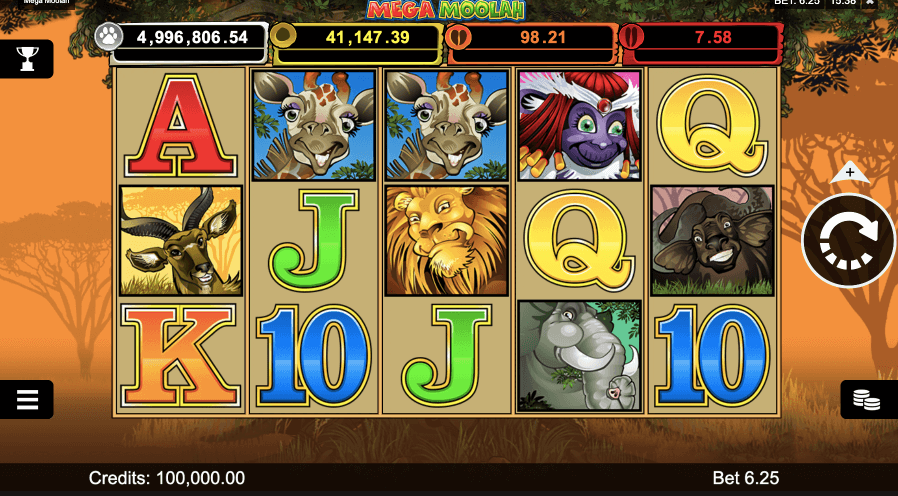 3. Hall of Gods (NetEnt)
| | | | |
| --- | --- | --- | --- |
| RTP | 95.7% | Min Bet | 0.20 |
| Volatility | Low/Medium | Max Bet | 50 |
| Max payout | x1,200 | Biggest Jackpot won | €7.8 million |
NetEnt is another major game provider when it comes to progressive jackpot slots online and Hall of Gods is one of their most popular.
Hall of Gods is a Norse-themed slot that features popular gods like Thor, Loki, Freya, and Odin. The game is connected to 3 progressive jackpots: the Mini, the Midi and the Mega.
The Mega jackpot is a progressive one that starts at £500,000 (approximately C$800,000) and is shared through a network of casinos. Unlike other progressive jackpot slots, this game comes with a pretty decent RTP of 95.7%.
4. Mega Fortune (NetEnt)
| | | | |
| --- | --- | --- | --- |
| RTP | 96.6% | Min Bet | 0.25 |
| Volatility | Low | Max Bet | 50 |
| Max payout | x2,162 | Biggest Jackpot won | €2.6 million |
Considered to be a bit of a classic, Mega Fortune by NetEnt, has massive popularity online, mainly due to its huge jackpots and thrilling gameplay.
The game comes with an impressive win potential, thanks to its free spins rounds with x5 multipliers, and the overall winning potential of x2162, which is completely independent of the progressive jackpot.
Just like Hall of Gods, this slot comes with 3 progressive jackpots, which can be accessed only once the bonus game has been triggered. In Mega Fortune, this consists of a wheel of fortune that displays the 3 jackpots together with cash prizes.
The jackpot itself is known to have paid out millions of dollars, however, the game itself comes with an impressive hit rate of 52.6%, thanks to its wild symbols and free spins rounds which provide frequent rewards.
5. Age of Gods (Playtech)
| | | | |
| --- | --- | --- | --- |
| RTP | 95% | Min Bet | 0.01 |
| Volatility | Medium-High | Max Bet | 25 |
| Max payout | x2,000 | Biggest Jackpot won | £850,000 |
Age of Gods is actually the name of a series of jackpot slots by game provider Playtech. For this guide, we've decided to stick with the original Age of Gods slot, which happens to be the most popular of them all.
As the name suggests the game takes us into a world inhabited by the Greek Gods Zeus, Hercules, Poseidon and Athena. For this game, Playtech has included 4 different progressive jackpots, whose seeds start at different amounts as we shall see down below:
Power Jackpot – £50
Extra Power Jackpot – £500
Super Power Jackpot – £5,000
Ultimate Power Jackpot – £100,000
Age of Gods has a decent RTP of 95.02% and in terms of volatility comes with a medium to high setting. But what made us choose this game above any other is the high payout that has nothing to do with any of the progressive jackpots.
With Age of Gods, you don't need to win the Ultimate Power Jackpot, as the game comes with an impressive win potential of x50,000 your stake during the free spins round where all wins come with a multiplier.
6. Cash Splash (Microgaming)
| | | | |
| --- | --- | --- | --- |
| RTP | 91.47% | Min Bet | 0.20 |
| Volatility | Low | Max Bet | 3 |
| Max payout | x5,000 | Biggest Jackpot won | |
Cash Splash is a unique slot that merges the classic style of the 'one-armed bandits' with a massive progressive jackpot.
This classic slot is another Microgaming favourite, complete with fruit symbols and simple gameplay. As the name suggests, get ready to be splashed in riches even though the game's RTP percentage is rather low at only 91.47%.
To land the jackpot, players must succeed in landing 5 bonus symbols on the 15th pay line, which is possible at the maximum bet of only C$3.
7. Treasure Nile (Microgaming)
| | | | |
| --- | --- | --- | --- |
| RTP | 92.11% | Min Bet | 0.50 |
| Volatility | Medium | Max Bet | 4.50 |
| Max payout | x6,000 | Biggest Jackpot won | $500,000 |
Be transported into the ancient world of Egypt by taking a trip down the Nile with another of Microgaming's progressive jackpot slots of the name Treasure Nile. 
This particular slot comes with very few features and the ones it is adorned with consist only of wilds, scatters and of course the progressive jackpot.
The jackpot starts at $40,000, and it increases as players put up their stakes. To land the jackpot, players must bet the maximum amount possible, and attempt to land 5 Pharoah symbols on the 9th pay line.
It comes with a rather low RTP of 92.11% and it is more suitable for jackpot hunters who are feeling particularly lucky.
8. Joker Millions (Yggdrasil)
| | | | |
| --- | --- | --- | --- |
| RTP | 94.3% | Min Bet | 0.25 |
| Volatility | Low/Medium | Max Bet | 25 |
| Max payout | €62,500 | Biggest Jackpot won | €7.83 million |
Joker Millions is Yggdrasil's most famous slot and as the name suggests, it is themed around the character of the joker.
It is an attractive slot that bears many similarities to classic slots with fruit symbols to accompany the joker on the reels. Although its seed starts at a mere €100,000, a player won €3 million just in September 2019.
To win the jackpot you have to go through an intricate system that starts by landing 5 joker symbols in a pay line. This will unlock 5 mystery wins which can range from 5 to 2,500 coins.
At this point, the initial jokers would have frozen in place, while the rest of the reels would keep on spinning for as long as a joker lands on the reels and freezes into place.
If you manage to fill all of the reels with joker symbols, you would have won the progressive jackpot of Joker Millions. In terms of other features, the game has a multiplier of x5 which is applied every time a column is filled with the same symbol.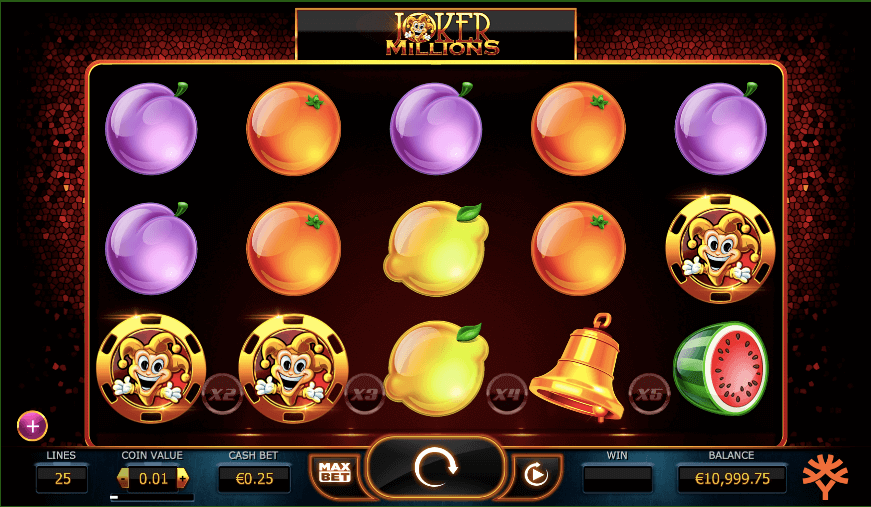 9. Aztec Millions (Real Time Gaming)
| | | | |
| --- | --- | --- | --- |
| RTP | 95% | Min Bet | 0.25 |
| Volatility | N/A | Max Bet | 125 |
| Max payout | x5,000 | Biggest Jackpot won | $4,501,636 |
Aztec Millions by Real Time Gaming explores the popular theme of the Aztec civilization. The game features iconic images like kings, princesses, golden statues and a leopard. Aztec Millions sports excellent graphics and comes with 25 active pay lines.
Apart from the progressive jackpot, which we will mention shortly, the game comes with some impressive win potential that is completely independent of the jackpot.
For starters, the princess symbol is the one you should be looking out for as it comes with a multiplier of x5,000 your stake.
The progressive jackpot attached to the game and fuelled by player bets from across multiple platforms is strictly tied to the Aztec Millions game logo, which is one of the symbols on the reels.
To land the jackpot, 5 logos have to land on a pay line, making you the undisputed winner of the jackpot!
10. Arabian Nights (NetEnt)
| | | | |
| --- | --- | --- | --- |
| RTP | 95.62% | Min Bet | 0.10 |
| Volatility | Low | Max Bet | 200 |
| Max payout | x1,503 | Biggest Jackpot won | €3,332,981 |
NetEnt's Arabian Nights takes us back in time to the Arabian world of the 9th and 13th Centuries.
The game has simple gameplay with 5 reels and 10 active pay lines, with features like wilds, scatters and the opportunity to win free spin rounds.
What makes this game so special is the progressive jackpot that is linked to the game and which continues to build until one lucky winner hits the right combination.
In Arabian Nights, the right combination that leads to the jackpot consists of 5 jackpot symbols landing on a pay line.
The jackpot of this game might not be as spectacular as that of other slots on this list, but it is still an interesting game to play that comes with decent win potential!
Latest Online Progressive Slots
Progressive Jackpot slots online are released all the time. They are highly popular with players, and the best game providers out there try to release a few progressive slots, amongst the hundreds of new slots, every year.
Below we are going to explore top 3 titles that have been released recently, and are already gaining momentum amongst players in Canada.
1. Dream Drop Diamonds – Relax Gaming – Maximum Jackpot $500,000
Featuring the very latest game by Relax Gaming issued in October 2022. The game is the 7th game in the provider's portfolio that uses the 5-tier Dream Drop Progressive Jackpot feature in its slot. The non-jackpot base game can win you up to 10,640x your stake.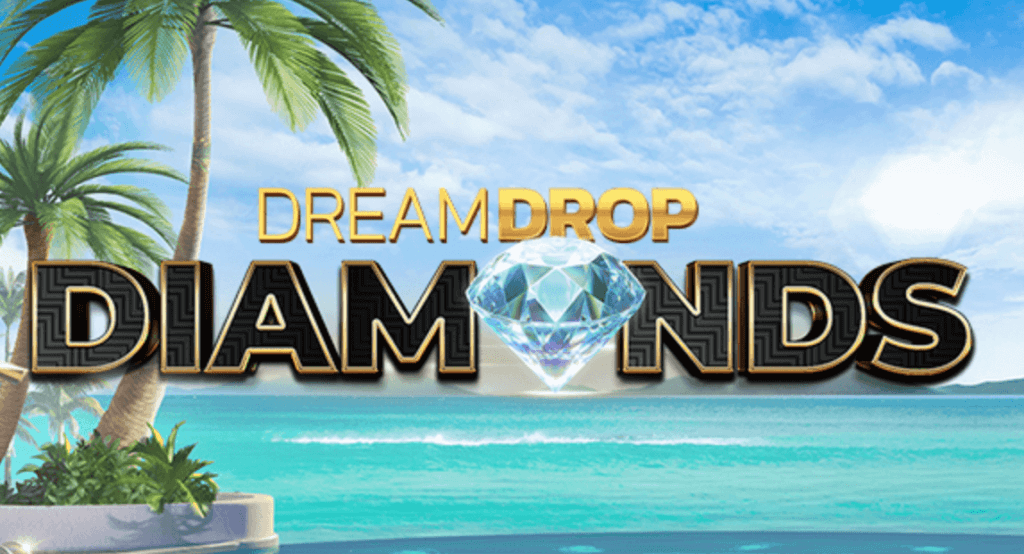 2. Pride of Persia: Empire Teasures – PlayTech – Max. Jackpot can be won $500,000
Pride of Persia: Empire Treasure by Playtech offers 4 different progressive jackpots, each one starting at a different value. With a high RTP of 95.99%, it is perhaps one of the best progressive slots, in terms of RTP and what to expect back in returns.
3. Holmes and The Stolen Stones Slot – Yggdrasil – Max. Jackpot Won $35,630.70
Yggdrasil has also been producing a series of good Progressive Jackpots in its portfolio – with the latest one released in late 2021. This Progressive Jackpot slot can be preferred by some players in Canada because it features low volatility – meaning there is a greater Hit Frequency with less risk but more moderate wins.
What are Progressive Jackpot Slots?
Progressive jackpot slots Canada are by all counts identical to standard online slots, with their very own number of reels and paylines, and with an array of exciting features, including the possibility of a bonus game.
The only distinguishing feature is the jackpot or multiple jackpots that are linked to the game and which increase exponentially the more players place bets and don't land a win.
To help you track the jackpot, a jackpot meter can usually be found at the top of the slot, giving you a clear indication of what is at stake as you watch it grow by the minute.
How do Progressive Slots work?
The dynamics of progressive slots are not so difficult to understand. Slots, including progressive ones, are developed by game providers who link them to an in-house jackpot that is often shared between different jackpot slots.
The jackpot itself has a pre-determined minimum amount that is supplied by the provider, however, its growth is highly dependent on player bets. From their side, players don't have to do anything in particular. All they have to do is select the progressive slot they wish to play, choose their bet amount and spin.
A percentage of the bets will be automatically added to the pot increasing its value. And since the same progressive jackpot slots are featured at multiple online casinos, you can count on the value to increase rapidly, especially if you are playing any one of the slots we've mentioned on our list.
This is due to the fact that there are many players engaged in real money play at any given time. When the jackpot is finally won, it resets to what is known as the 'seed amount', a pre-determined starting value.
As exciting as it might be to play for the chance of landing a multi-million jackpot, it takes a lot of luck to actually win one. Jackpot slots Canada tend to have very low odds, which are often on par with those of lotteries.
The Return To Player (RTP) percentage tends to be lower as well when compared to a typical online slot.
That is because a percentage of the RTP is made up of jackpot wins over a long period of time and since the odds are quite low and non-jackpot wins are not that frequent either to preserve the pot, the winning potential is out of necessity quite low.
Are they safe?
Progressive jackpot slots online are powered by your typical Randon Number Generator (RNG) computer, which ensures that every result produced is random and thus fair.
Just like normal slots, progressive ones are audited regularly by third-party auditors and must follow all the safety procedures imposed by the regulator.
Progressive slots tips
There are many progressive slots online and many have various features and jackpot values to entice to play for real money. In fact, we highly suggest to give free progressive slots a try, by playing some of the titles reviewed in this guide in demo mode at leading online casinos in Canada.
However, we advise you not to jump right in! Below we will share 3 tips on how to formulate the best progressive slots strategy!
1. Play slots that offer regular payouts
Since the odds of actually landing one of the impressive progressive jackpots are quite low, it is our belief that the best progressive slots Canada are those that offer regular and generous payouts even if the jackpot is not won for a long time.
We favour progressive jackpot slots that come with bonus games or free spins rounds, and high volatility slots that make it more likely to trigger them often enough.
By means of an example, Age of Gods by Playtech and Mega Fortune by NetEnt are two such slots, making them two of our preferred progressive slots to play.
2. Pay attention to the jackpot value
The amount of the jackpot makes a huge difference when determining the best progressive slots Canada to play. Mega Moolah by Microgaming has gained incredible popularity since its release a few years back and all because its jackpot tends to run to millions.
But that is not all! Whereas with most progressive jackpot slots online you have to stake the maximum to have a shot at the jackpot, with Mega Moolah you still have a chance even if you bet the lowest stake possible. It is, by all means, a slim chance, but a chance nonetheless!
3. Play progressive slots that give you a chance to land the jackpot
In our experience, we believe the best progressive jackpot slots are those which give you a good chance to land big wins along the way, while still having the possibility of hitting one of those mega jackpots.
Above all, give free progressive slots a test run before depositing real money!
The Biggest wins ever on Online Progressive Slots
Mega Moolah: Absoolutely Mad – $23.6 millon
Mega Moolah – $23.5 million
Mega Fortune – $21 million
Mega Moolah – $17.2 million
Mega Moolah – $16.7 million
Mega Fortune – $13 million
Mega Moolah – $12 million
Mega Moolah – $9.5 million
Mega Moolah – $9.2 million
Mega Moolah – $8.8 million
Top Providers of Progressive Jackpot Slots
We at Canada Casino feature the best and most safe providers. Top providers do not just offer top-notch game experience but also different winning possibilities – and Progressive Jackpot slots are definitely highly awaited by players in Canada.
Here we shall feature the topmost 3 providers that provide the best Progressive Jackpot feature.
1. Relax Gaming
The most recent and definitely the fastest-growing Progressive Jackpot feature is Dream Drop Jackpot bonus feature. Relax Gaming is the inventor behind the newly founded feature – launched in April 2022. In just a few months, Relax Gaming has already released a wide choice of slots with this 5-tier Jackpot option, with the first slot – Temple Tumble Dream Drop slot – kicking off the very first Dream Drop Jackpot experience.
2. Microgaming
The inventors behind the revolutionary Moolah Jackpot system – Microgaming are the very creators of this bonus feature. Giants in the industry. Microgaming has created other hundreds of slots and all top casinos in Canada feature Microgaming as a MUST provider for their game portfolio.
Popular Moolah slots include Mega Moolah and Absolootly Mad Mega Moola.
3. Yggdrasil
Featuring popular Progressive slots such as Joker Millions and Empire Fortune, Yggdrasil has made a name for itself since 2013, and has prodcued some of the most highly visual game experience in the iGaming Market
Where to Play Online Progressive Slots
With all of this information in hand, it is time to try your luck with those progressive jackpot slots Canada yourself. You should also make sure to check out all the latest bonus information at leading online Canada casinos!
We always advise choosing a reputable online gambling platform to play with and you can start by checking out our recommended casinos at the beginning of this article. Otherwise, you can view the complete list of online casinos in Canada here.
We also suggest that you give free progressive slots a try to see which titles you prefer before committing to making real money deposits. Whatever you decide, we wish you all the best of luck in your hunt for the next big win!
Frequently Asked Questions
Yes, progressive jackpot slots must follow the regulator's safety standards and are audited regularly to ensure their randomness.
Most online casinos featured on Canadacasino offer a variety of jackpot slots to choose from. Check out our casino reviews to identify the best platforms to play with.
Yes. There are a number of free progressive slots online that can be enjoyed by Canadians in demo mode. While a real money jackpot cannot be landed in demo mode, this is a great way of testing out new games!