Essentially, a Progressive Jackpot is when a slot can land you wins that go beyond the base game's Maximum Win amount. These kinds of slots can land infinite wins and can operate within a myriad of bonus mechanics – developed by innovative leading providers in the industry.
We shall go into it all in our below guide- which are the best progressive online slots to play, where to play and how to play.
Top 10 Progressive Jackpot Slot Games in Canada
Our list of top progressive jackpot slots has been based on a myriad of merging factors – the RTP value, volatility, best payout potential, and what bonus mechanic is used to trigger the Jackpot rounds.
From newly founded Dream Drop Jackpot by Relax Gaming to Moolah Jackpot by Microgaming to other popular slot jackpots, we shall go into our top 10 list of best progressive slots.
1. Nako Night Dream Drop | Relax Gaming
| | | | |
| --- | --- | --- | --- |
| RTP | 93.9% | Min Bet | 0.20 |
| Volatility | High | Max Bet | 100.00 |
| Max payout | 20,000x | Biggest Jackpot won | N/A |
Neko Night Dream Drop is part of the 2022-launched Dream Drop series by Relax Gaming. The base win already offers a high maximum win of 20,000x your bet. Top that with multiple progressive jackpots – the Mega, Major, and Mini, and you're in for infinite wins.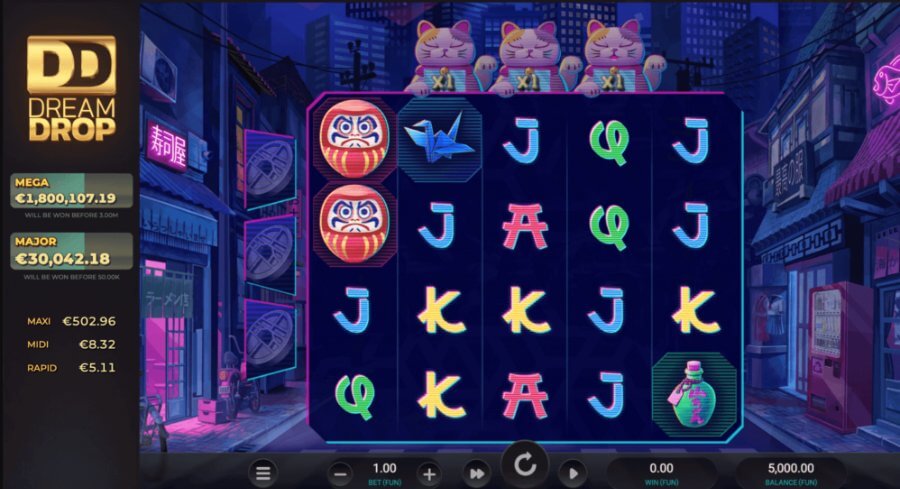 2. Elysian Jackpots | Yggdrasil
| | | | |
| --- | --- | --- | --- |
| RTP | 96% | Min Bet | 0.20 |
| Volatility | Low | Max Bet | 40.00 |
| Max payout | 1,265x | Biggest Jackpot won | N/A |
2023-released Elysian Jackpots is one of the newest slots in town. The slot can be considered a high RTP slot – since the 96% RTP value can be considered quite high overall for a Jackpot slot. The 5-tier Progressive Jackpot system can land you a myriad of infinite wins.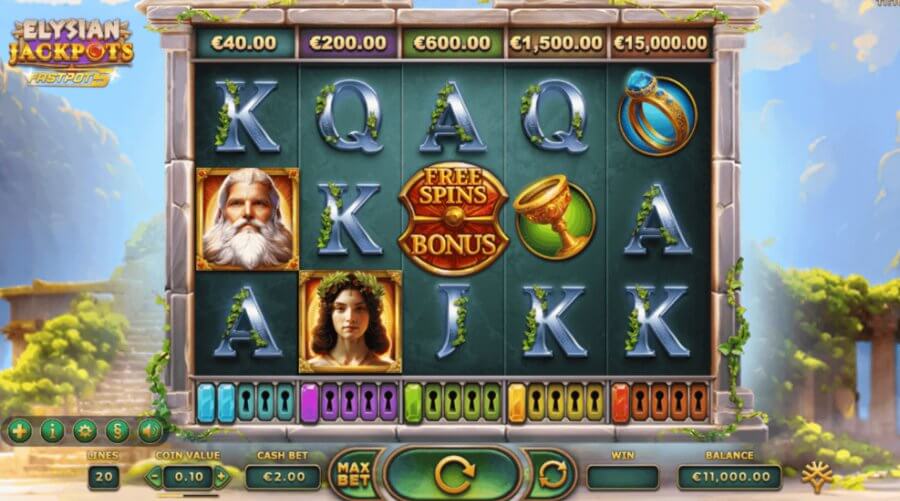 3. Mega Fortune | NetEnt
| | | | |
| --- | --- | --- | --- |
| RTP | 96.6% | Min Bet | 0.25 |
| Volatility | Low | Max Bet | 50.00 |
| Max payout | 2,162x | Biggest Jackpot won | $4.6 million |
Definitely considered a classic now, Mega Fortune is a favourite because of its low volatility, as well as one of the easiest gameplay you can encounter. this slot comes with 3 progressive jackpots online, which can be accessed only once the bonus game has been triggered.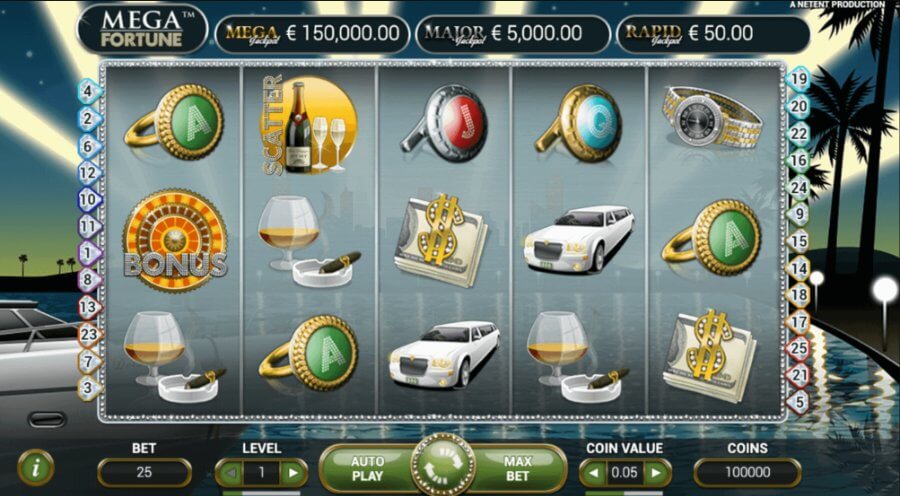 4. Cash Splash | Microgaming
| | | | |
| --- | --- | --- | --- |
| RTP | 91.6% | Min Bet | 0.2 |
| Volatility | Low | Max Bet | 30 |
| Max payout | 1,000x | Biggest Jackpot won | $87,977.72 |
Cash Splash features one of the biggest Jackpot wins – featuring over 80 Million Dollars. The slot, powered by slot guru Microgaming, features a traditional slot setting – making an easy-to-focus gameplay. The maximum payout at the base game level is also pretty decent – standing at 1,000x your stake.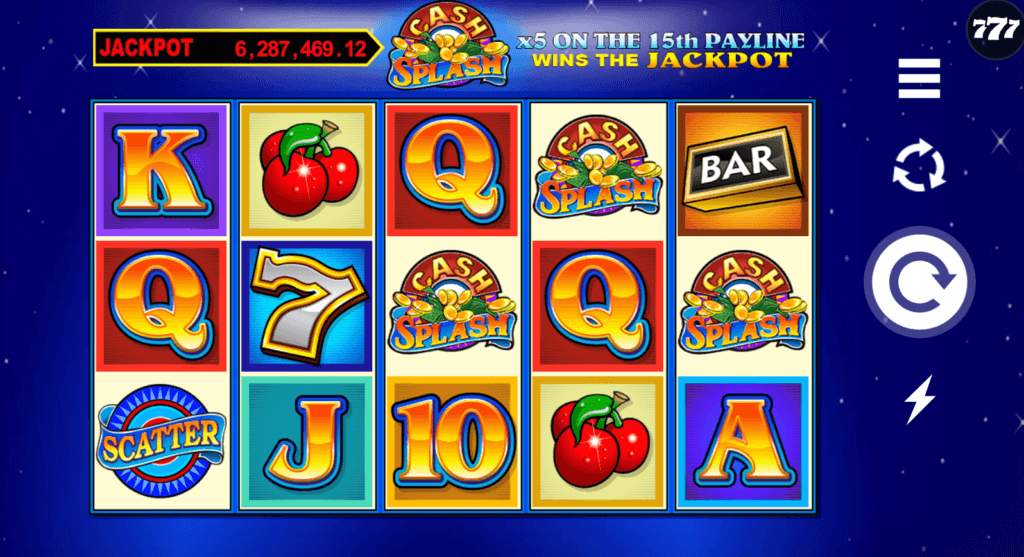 5. Temple Tumble Dream Drop 2 | Relax Gaming
| | | | |
| --- | --- | --- | --- |
| RTP | 94.8% | Min Bet | 0.20 |
| Volatility | Medium | Max Bet | 100.00 |
| Max payout | 10,045x | Biggest Jackpot won | $500,000 |
The most recent Jackpot invention that took the online casino world by storm is the Dream Drop Jackpot feature. The innovation was announced by Relax Gaming in April 2022 and the very first slot to enjoy this Progressive Jackpot is the sequel to Temple Tumble – Temple Tumble Dream Drop 2 slot.
The Dream Drop Jackpot features 5-tiers – Rapid, Midi, Maxi, Major and Mega.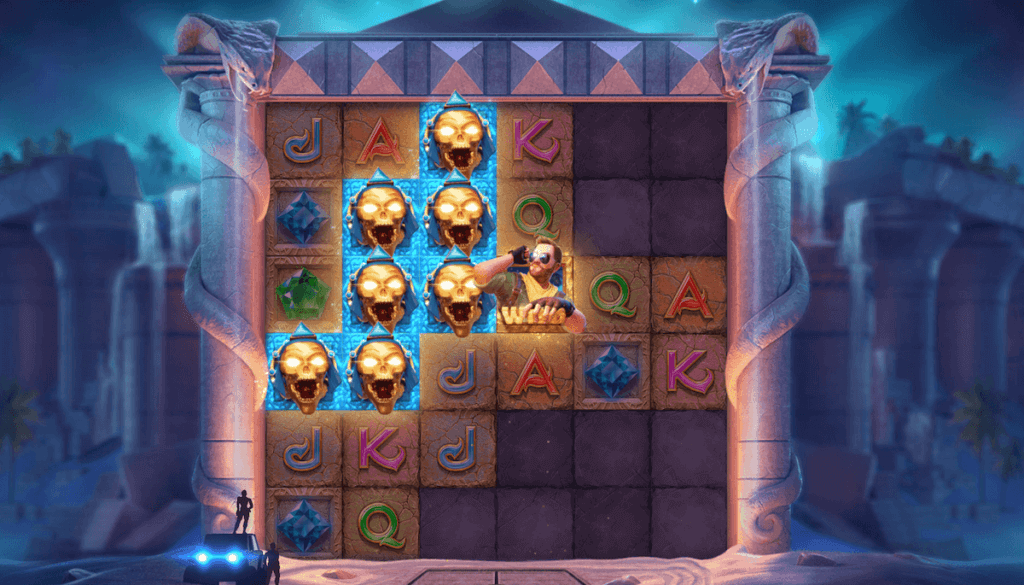 6. Hall of Gods | NetEnt
| | | | |
| --- | --- | --- | --- |
| RTP | 95.7% | Min Bet | 0.20 |
| Volatility | Low/Medium | Max Bet | 50.00 |
| Max payout | 1,200x | Biggest Jackpot won | $7.8 million |
NetEnt is another major game provider when it comes to progressive jackpot slots online and Hall of Gods is one of their most popular. Hall of Gods is a Norse-themed slot that features popular gods like Thor, Loki, Freya, and Odin. The game features a total of 3 progressive jackpots: the Mini, the Midi and the Mega.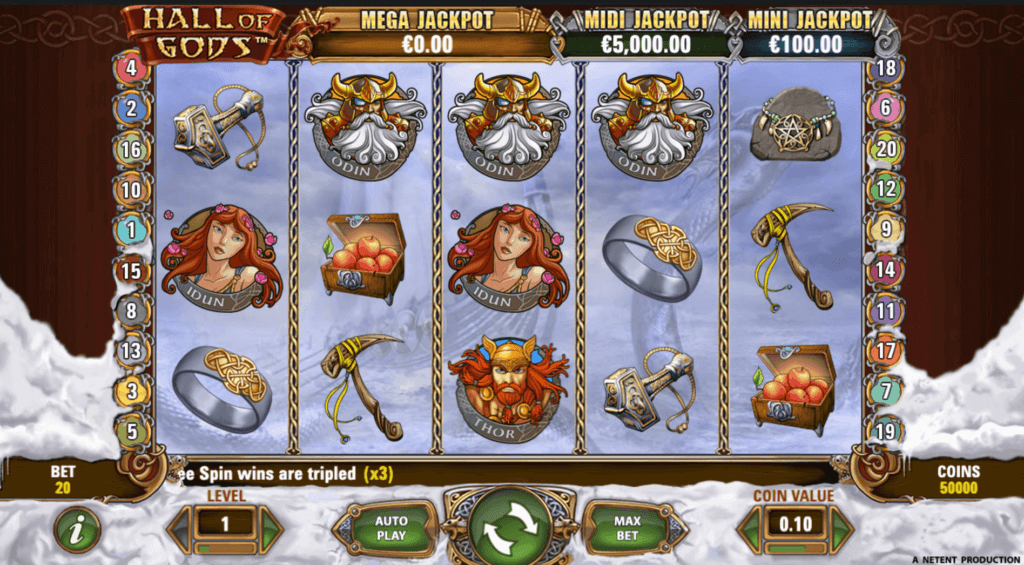 7. Absolootly Mad: Mega Moolah | Microgaming
| | | | |
| --- | --- | --- | --- |
| RTP | 92% | Min Bet | 0.20 |
| Volatility | Medium-Low | Max Bet | 50 |
| Max payout | 2343x | Biggest Jackpot won | $23.6 million |
Definitely one of the most popular, Absolootly Mad: Mega Moolah by Microgamig's Moolah series, this slot. Featuring Medium to Low Volatility, this slot offers decent chances of winning. Microgaming partners up with Triple Edge Studios when creating this Alice-in-Wonderland-themed slot. The latter can be in fact appreciated for the high-end graphics used, which makes the game immersive.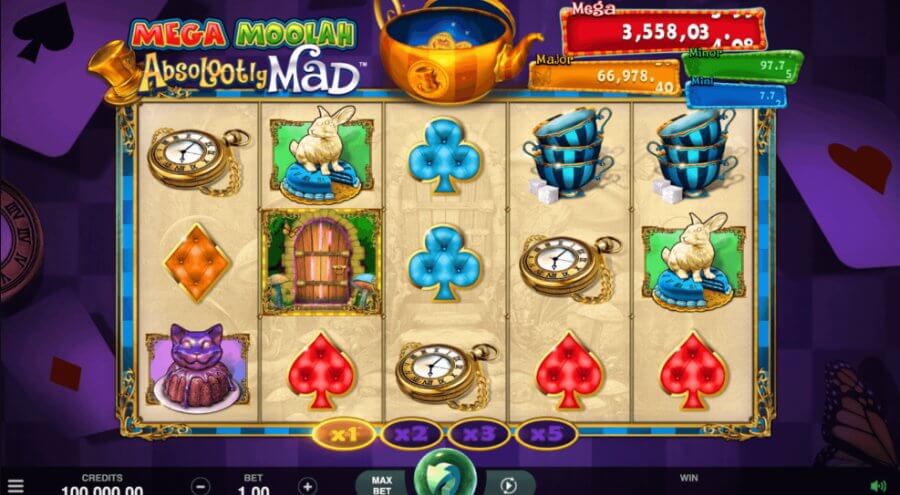 8. 5K Gold Mine Dream Drop | 4The Player
| | | | |
| --- | --- | --- | --- |
| RTP | 94% | Min Bet | 0.2 |
| Volatility | High | Max Bet | 100 |
| Max payout | 5,000x | Biggest Jackpot won | NA |
5K Gold Mine Dream Drop is provided by 4ThePlayer, using Relax Gaming's Jackpot's Dream Drop technology – with the 5-tier jackpot and all. This 2D Graphic slot also features a good decent win at base game mode – with a max win of 5,000x, which is pretty decent.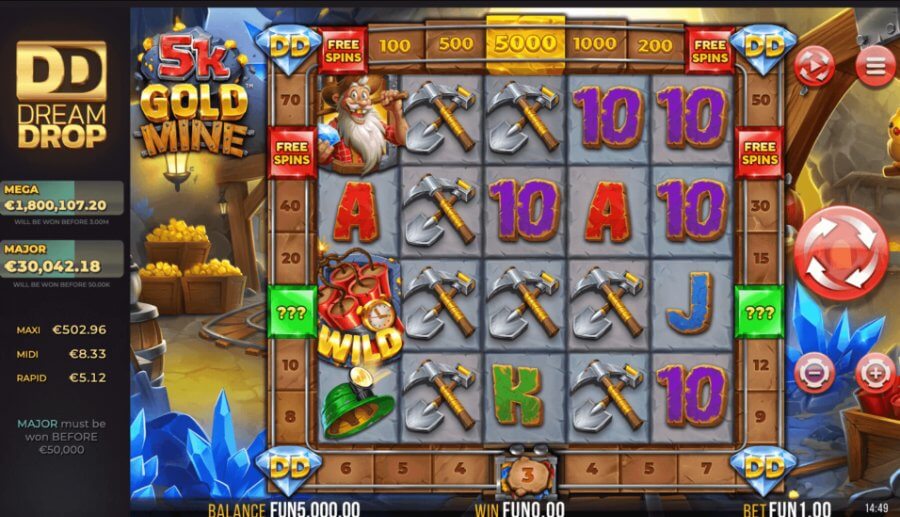 9. Pixel Samurai | Playtech
| | | | |
| --- | --- | --- | --- |
| RTP | 93.98% | Min Bet | 0.10 |
| Volatility | High | Max Bet | 10.00 |
| Max payout | 5,000x | Biggest Jackpot won | $465,000 |
Pixel Samurai is a unique slot that merges a classic arcade video game style with a huge progressive jackpot. This slot is another Playtech creation and can pay out as much as 5,000x your bet, plus a share of the progressive jackpot, which ranges from 1% all the way to 100%.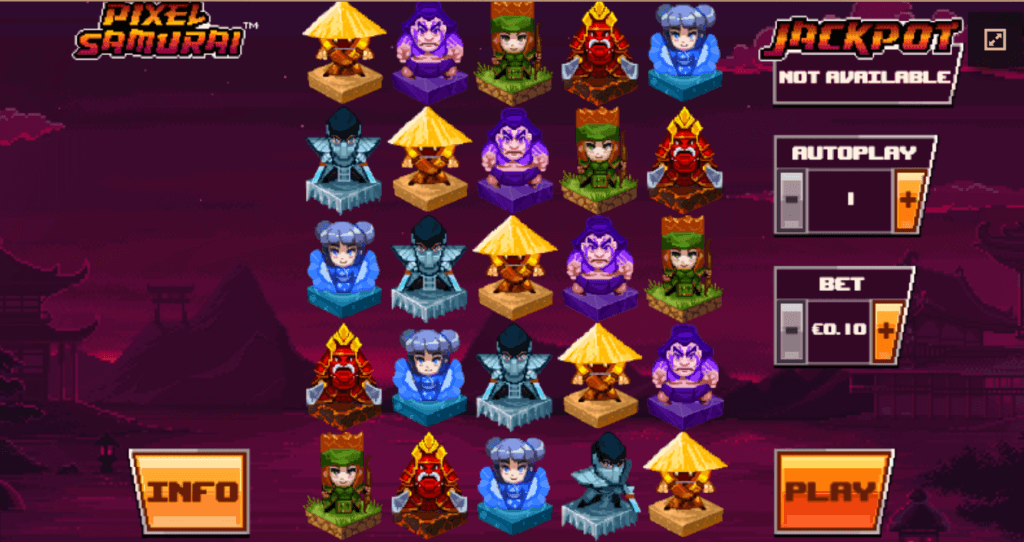 10. Volatile Vikings 2 Dream Drop | Relax Gaming
| | | | |
| --- | --- | --- | --- |
| RTP | 94.8% | Min Bet | 0.1 |
| Volatility | High | Max Bet | 100 |
| Max payout | 10,000x | Biggest Jackpot won | NA |
Volatile Vikings 2 Dream Drop is a pretty innovative slot – in the sense that rather than traditional paylines, wins are triggered through a scatter pay system, where wins are triggered when 8-same symbols match in a non-adjacent grid position.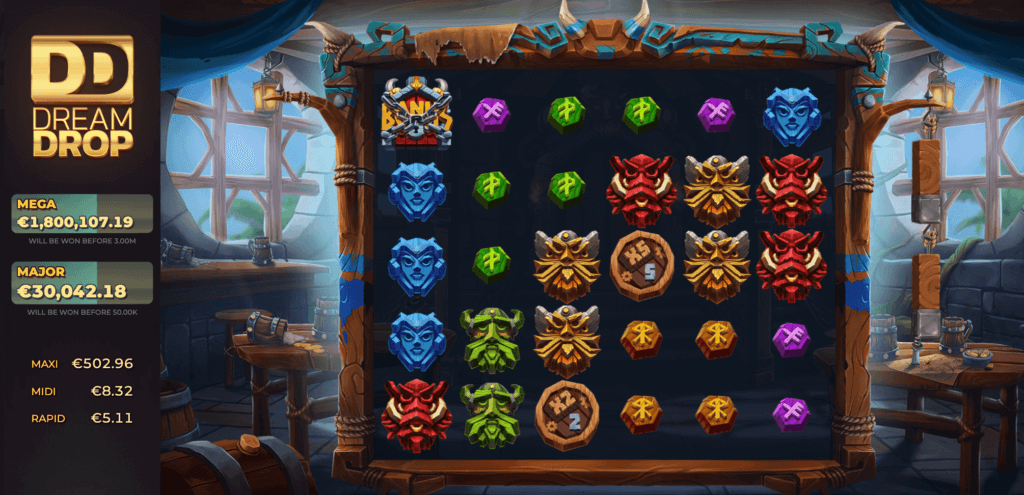 What are Progressive Jackpot Slots?

Progressive jackpot slots Canada are by all counts identical to standard online slots, with their very own number of reels and paylines, and with an array of exciting features, including the possibility of a bonus game.
The only distinguishing feature is the jackpot or multiple jackpots linked to the game, increasing exponentially the more players place bets and don't land a win.
To help you track the jackpot, a jackpot meter can usually be found at the top of the slot, giving you a clear indication of what is at stake as you watch it grow by the minute.
How do Progressive Slots work?
The jackpot itself has a pre-determined minimum amount that is supplied by the provider, however, its growth is highly dependent on player bets. From their side, players don't have to do anything in particular. All they have to do is select the progressive slot they wish to play, choose their bet amount and spin.
A percentage of the bets will be automatically added to the pot increasing its value. And since the same progressive jackpot slots are featured at multiple online casinos, you can count on the value to increase rapidly, especially if you are playing any one of the slots we've mentioned on our list.
The Return To Player (RTP) percentage tends to be lower as well when compared to a typical online slot.
That is because a percentage of the RTP is made up of jackpot wins over a long period of time and since the odds are quite low and non-jackpot wins are not that frequent either to preserve the pot, the winning potential is out of necessity quite low.
Are they safe?
Progressive jackpot slots online are powered by your typical Randon Number Generator (RNG) computer, which ensures that every result produced is random and thus fair.
Just like normal slots, progressive ones are audited regularly by third-party auditors and must follow all the safety procedures imposed by the regulator.
Latest Online Progressive Slots
Progressive Jackpot slots online are released all the time. They are highly popular with players, and the best game providers out there try to release a few progressive slots, amongst the hundreds of new slots, every year.
Below we are going to explore the top 3 titles that have been released recently, and are already gaining momentum amongst players in Canada.
1. Dream Drop Diamonds | Relax Gaming | Maximum Jackpot $500,000
Featuring one of the latest game by Relax Gaming issued in October 2022. The game is the 7th game in the provider's portfolio that uses the 5-tier Dream Drop Progressive Jackpot feature in its slot. The non-jackpot base game can win you up to 10,640x your stake.
2. Pride of Persia: Empire Treasures | PlayTech | Maximum Jackpot $500,000
Pride of Persia: Empire Treasure by Playtech offers 4 different progressive jackpots online, each one starting at a different value. With a high RTP of 95.99%, it is perhaps one of the best progressive jackpots, in terms of RTP and what to expect back in returns.
3. Holmes and The Stolen Stones Slot | Yggdrasil | Maximum Jackpot $35,630.70
Yggdrasil has also been producing a series of good progressive jackpots in its portfolio – with the latest one released in late 2021. Some players in Canada can prefer Holmes and The Stolen Stones because it features low volatility – meaning there is a greater Hit Frequency with less risk but more moderate wins.
5 Tips for playing Progressive slot machines
There are many progressive slots online, and many have various features and jackpot values to entice you to play for real money. In fact, we highly suggest giving free progressive slots a try, by playing some of the titles reviewed in this guide in demo mode at leading online casinos in Canada.
However, we advise you not to jump right in! Below we will share 3 tips on how to formulate the best progressive slots strategy!
1. Play slots that offer regular payouts
Since the odds of actually landing one of the impressive progressive jackpots are quite low, it is our belief that the best progressive slots Canada are those that offer regular and generous payouts even if the jackpot is not won for a long time.
We favour progressive jackpot slots that come with bonus games or free spins rounds, and high volatility slots that make it more likely to trigger them often enough.
By means of an example, Age of Gods by Playtech and Mega Fortune by NetEnt are two such slots, making them two of our preferred progressive slots to play.
2. Pay attention to the jackpot value
The amount of the jackpot makes a huge difference when determining the best progressive slots Canada to play. Mega Moolah by Microgaming has gained incredible popularity since its release a few years back and all because its jackpot tends to run to millions.
But that is not all! Whereas with most progressive jackpot slots online you have to stake the maximum to have a shot at the jackpot, with Mega Moolah you still have a chance even if you bet the lowest stake possible. It is, by all means, a slim chance, but a chance nonetheless!
3. Play progressive slots that give you a chance to land the jackpot
In our experience, we believe the best progressive jackpot slots are those which give you a good chance to land big wins along the way, while still having the possibility of hitting one of those mega jackpots.
Above all, give free progressive slots a test run before depositing real money!
4. Try slots where the rewards are regular
Check out the 'Hit Rate' as well as the 'Chance to Win' in each slot. We offer all this info in each and every slot we review, in the upper navigational bar.
5. Never bet more than what you are comfortable with
Keep in line with your personal budgets. Playing responsibly finally benefits you. Setting budget limits is a tool you can use to make sure you do not go overboard. You can check out or plate on Responsible Gambling for more helpful tips.
The Biggest wins ever on Online Progressive Slots
Below we are listing the best Progressive Jackpot slots wins, and the respective progressive jackpot games.
| | | |
| --- | --- | --- |
| 1. | Cash Splash | $87.97M |
| 2. | MegaBucks | $35M |
| 3. | Absolootly Mad: Mega Moolah | $23.6M |
| 4. | Mega Moolah | $23.5M |
| 5. | Mega Fortune | $17.8M |
| 6. | WowPot Jackpot | $15.2M |
| 7. | Arabian Nights | $8.6M |
| 8. | Jackpot Giant | $5.9M |
| 9. | Hall of Gods | $5.4M |
| 10. | Temple Tumble 2 Dream Drop | $2.4M |
Top Providers of Progressive Jackpot Slots
We at Canada Casino feature the best and most safe providers. Top providers do not just offer top-notch game experience but also different winning possibilities – and Progressive Jackpot slots are definitely highly awaited by players in Canada.
Here we shall feature the topmost 3 providers that provide the best Progressive Jackpot feature.
1. Relax Gaming
The most recent and definitely the fastest-growing Progressive Jackpot feature is Dream Drop Jackpot bonus feature. Relax Gaming is the inventor behind the newly founded feature – launched in April 2022. In just a few months, Relax Gaming has already released a wide choice of slots with this 5-tier Jackpot option, with the first slot – Temple Tumble Dream Drop slot – kicking off the very first Dream Drop Jackpot experience.
2. Microgaming
The inventors behind the revolutionary Moolah Jackpot system – Microgaming are the very creators of this bonus feature. Giants in the industry. Microgaming has created other hundreds of slots and all top casinos in Canada feature Microgaming as a MUST provider for their game portfolio.
Popular Moolah slots include Mega Moolah and Absolootly Mad Mega Moola.
3. Yggdrasil
Featuring popular Progressive slots such as Joker Millions and Empire Fortune, Yggdrasil has made a name for itself since 2013 and has produced some of the most highly visual game experiences in the iGaming Market.
Where to Play Online Progressive Slots
With all of this information in hand, it is time to try your luck with those progressive jackpot slots in Canada yourself. You should also make sure to check out all the latest bonus information at leading online Canada casinos!
We always advise choosing a reputable online gambling platform to play with and you can start by checking out our recommended casinos at the beginning of this article. Otherwise, you can view the complete list of online casinos in Canada here.
We also suggest that you give free progressive slots a try to see which titles you prefer before committing to making real money deposits. Whatever you decide, we wish you all the best of luck in your hunt for the next big win!
Frequently Asked Questions
Progressive Jackpot is another winning factor that superseded the base game's maximum win. The jackpot game always has a jackpot bonus round. Once this is triggered, you can land infinite win amounts.
Most online casinos featured on Canadacasino offer a variety of jackpot slots to choose from. Check out our casino reviews to identify the best platforms to play with.
Yes. There are a number of free progressive slots online that can be enjoyed by Canadians in demo mode. While a real money jackpot cannot be landed in demo mode, this is a great way of testing out new games!
Yes, progressive jackpot slots must follow the regulator's safety standards and are audited regularly to ensure their randomness. RNG tests are run on a regular bases by third party organizations such eCOGRA and iGamingLabs to ensure neutrality in the testing process.
The overall RTP is generally lower than normal slots. Normal slots generally range between 95-98% RTP. Jackpot slots can go as low as 88% and generally average around 92% RTP.
Moolah by Microgaming and Dream Drop by Relax Gaming are specific types of mechanic that feature an expansive portfolio. Other providers such as Yggdrasil are also notorious in creating Progressive Jackpot games - including Mega Joker and Elysian Jackpots.
Author
Casino Content Writer
Lara thinks that being happy is all about sipping beer by the sea with her favourite peeps. She understands people through conversation and tries to laugh her way through life. Cooking and writing are at the core of her being, and finds casino reviews to be the most interesting part of her job.