Responsible Gambling is considered to be of the utmost importance in this day and age, when gambling activities have become more accessible than ever.
The concept of Responsible Gambling is part of a legislation that binds online Canada casinos to include several safeguards within their platforms for the protection of vulnerable players. Responsible Gambling provides a mechanism that protects players and helps them achieve a safe and fun experience where boundaries are respected with minimum negative effects.
In this article, we shall explore the broader spectrum of Responsible Gambling. Among other things, we'll let you know how you can help a friend experiencing a gambling addiction, how to recognize if you have a gambling problem and how to protect minors.
We will also share tools that are available within online casinos to help regulate online gambling and which organizations in Canada to turn to if you believe you need support.
What is Responsible Gambling?
Responsible Gambling is a broad term that reunites under its umbrella several policies and requirements applicable to various gambling stakeholders. Its main purpose is to make sure that the highest standards of qualities are offered for a safe user experience that protects players from the potential harm of online gambling.
Under the Responsible Gambling banner, players are encouraged to treat gambling as a fun pastime and not as a means to earn an income. While for the majority of the population gambling is a leisure activity where expenditure is dictated by affordability, some let gambling take over their lives, propelling them towards harmful addiction that might influence their lives and those of their loved ones negatively.
Licensed online casino operators and game providers are required to apply the principles of Responsible Gambling in various aspects of their activity. There are 7 main areas of Responsible Gambling that are directly connected with iGaming and which are part of the legislative framework:
The protection of vulnerable players
The prevention of underage gamblers
A sound framework against criminal activity
Protection for online payments
A safe online environment
Personal data privacy
Responsible and ethical marketing
Each online gambling platform must also provide a dedicated page to Responsible Gambling, and all the casinos we feature at Canada Casino do feature a Responsible Gaming page. This page is to serve as a point of reference for all players who might either wish to learn more about the concept or who suspect they might have a gambling problem.
The page varies slightly from platform to platform, but in essence, each one shares advice, tips, information about gambling tools, a self-assessment test and information.
There are also tools to protect minors, and displays in detail how the casino applies Responsible Gambling in its business. Last and perhaps most importantly of all, the Responsible Gambling page refers players to professional agencies who specialize in helping people with a gambling addiction.
Do you have a potential gambling addiction?
Do you think you have a gambling problem? Ask yourself the following questions and if you answer 'yes' to any one of them, we recommend you speak to one of the organizations listed further down below who specialize in problem gambling counselling.
Does the amount of money you spend on gambling make you feel guilty?
Do you feel excited only when you gamble large amounts of money?
After a loss, do you find it difficult to stop gambling?
Are you or your household having financial problems because of your gambling?
Are your relationships, job or studies, affected negatively by gambling?
Is gambling causing you to suffer from health problems, including anxiety and stress?
When you are not gambling, do you become restless?
Do you think that you might have a gambling problem?
Helping someone with a Gambling Addiction
Are you concerned that someone you care about might have a gambling problem but you don't know what to look for? Knowing the warning signs of problem gambling can help you make a series of decisions that lead to both of you receiving the necessary help. The first signs of a problem start with changes in a person's financial situation, how they spend their time, their mood and behaviour. To help you recognize the signs we shall delve a little deeper into each of these three telltale clues.
Financial signs
Missing money from the bank or wallet
Missing valuables and household items
Regularly short on money even though a wage is earned
Having multiple loans
Unpaid bills
Borrowing money regularly
Lack of food at home
Secrecy about financial records
How time is spent
Spending an increasing amount of time gambling
Arriving late for appointments
Taking a lot of days off and even sick days
Simple tasks taking a very long time
Unexplained absences and secrecy
Mood and Behavioural signs
Work performance is affected
Becoming withdrawn from loved ones
Always seeming worried, upset or agitated for no apparent reason
Changes in personality
Manipulative behaviour
Trying to manipulate others through the use of threats and lies
Expressing hopelessness, depression, and frustration
Although all of these signs might help you recognize a gambling problem, in most cases it is difficult to pinpoint the source of the problem as such behaviour is often hidden. The concerned persons might lie or hide their feelings and they might even become angry when questioned about their behaviour.
For the onlooking relative or friend, it might be difficult to admit that someone you love could have such a serious problem. The recognition might lead to feelings of guilt and blame for not having noticed earlier. You might also feel angry, hurt and betrayed. These are all normal emotions under the circumstances and it can be difficult to deal with all these feelings while at the same time trying to understand the gambler.
Trying to understand the gambler and what they might be going through can help you connect with them better. Through a reciprocated feeling of understanding, the gambler might feel safe enough to open up to you. Together you can start making plans on how to overcome the difficulty and maybe even ask for help.
Legal age for gambling and Protecting Minors
One of the focuses of Responsible Gambling is the protection of underage people. The most obvious and effective way of stopping underage gambling is by establishing a minimum legal gambling age. In Canada, gambling laws are governed on a provincial level, so that the legal age varies from one state to another. In most cases, the legal age is 19 years old, however, to make sure our Canadian visitors are aware of the legalities in their particular location, we've put together the below list with all provinces.
| Province | Legal Gambling Age | Province | Legal Gambling Age |
| --- | --- | --- | --- |
| Ontario | 19 | Quebec | 18 |
| Newfoundland | 19 | New Brunswick | 19 |
| Nova Scotia | 19 | Manitoba | 18 |
| Prince Edward Island | 19 | Saskatchewan | 19 |
| Alberta | 18 | British Colombia | 19 |
| Yukon | 19 | Northern | 19 |
| Nunavut | 19 | | |
Online casino operators, in turn, are obliged to carry age verification procedures to make sure no one under the legal age is playing for real money. This can be done electronically or else by requesting certain verification documents like passports or ID cards from players.
But the responsibility does not lie solely with the operators. Players with underage members living in the same household should protect them from coming in contact with any gambling related material. To do this, there are a few tips you can follow for the safety of minors:
Keep casino login details out of reach
Don't save passwords on your computer
Educate your children about gambling, potential harm and legal age
Use parental tools on your laptop/tablet/mobile
Install website blocking software
The latter is perhaps one of the most effective ways of protecting your children and other minors from stumbling on a gambling site or even coming across gambling-related advertisements. Some tools that can be useful are Net Nanny, CYBERsitter, CYBER PATROL, GamBan, GamBlock, and BetFilter.
Responsible Gambling Tools
One of the criteria required for effective Responsible Gambling is the introduction of tools by online casino operators. The tools are part of the player account and are meant to help gamblers regulate their activity and keep track of their betting. Below we are going to take a look at what tools are available, how each one works and the benefits.
Deposit Limit
As the name suggests this clever tool allows you to limit the amount of money you can deposit daily, weekly or monthly. Should the limit be reached you won't be able to add funds to your account till the necessary time has elapsed. It can be quite useful in avoiding gambling problems, especially if you already feel that you are spending too much money on your gambling.
Loss Limit
Instead of limiting how much you can deposit, this tool sets limits on how much money you can lose daily, weekly or monthly. The loss limit tool is very effective since once the limit is reached it does not allow you to place any more bets, limiting the amount of money you can lose. This is a great tool to have if you feel you are starting to lose more money than you can afford.
Session Limit
If you are spending too much time gambling, this might be the tool to use. It helps players take stock of the hours spent gambling and gives them a reality check about how much time they are dedicating to something that should only be a pastime. The session tool allows you to limit how long you can stay logged into your account and effectively logs you out once the time is up.
Wagering Limit
The wagering limit tool helps you limit how much money you can bet either in a single session or on a daily, weekly or monthly basis. This is a great tool to have, especially if you feel that you are starting to bet more money than what you should.
Transaction History
This tool provides a summary of all the transactions that have taken place in your account. The summary is quite detailed, including information about deposits, withdrawals, wagers, results, and pending bets. Players are encouraged to use this tool to keep tabs on their gambling and protect themselves from getting carried away.
Self Exclusion
Players are always encouraged to take a break from gambling if they feel it is getting out of hand. The Self-Exclusion tool allows you to close your account for as long as you need to. During this period, players are unable to log in to their accounts and participate in any gambling-related activity within that specific platform.
There is usually the option to choose self-exclusion for a day, a week, for up to six months, or even indefinitely (the latter choice will oblige the gambling platform not to allow you to play anymore).
Self-Assessment
The Self-Assessment tool consists of a set of statements and questions where players have to indicate how they feel about various issues to get an idea of their gambling profile. At the end of the self-assessment, each player will be presented with a summary describing which areas of his or her life are being impacted negatively by their gambling. The summary will also include advice about which tools are available to help them reduce those negative impacts.
Time Alert
More than a tool, the Time Alert feature is a notification that reminds you from time to time about the length of your gaming sessions. This little notification includes information about any balance changes and is targeted to help players make informed decisions about whether they want to keep on playing or not.
Organizations that can help and provide counselling
These days there is a lot of available help for Canadian players who might experience a gambling addiction. In Canada alone, there are numerous organizations dedicated to promoting Responsible Gambling and reducing the negative effects of problem gambling. Below we have included a list of such organizations together with websites and contact details. Each website provides information about gambling addiction and services for those who require help in overcoming gambling difficulties. Some of their services involve counselling sessions, information for impacted family and friends, debt-advice, self-help groups, and forums. These organizations are manned by professionals who will be able to help you and your loved ones overcome these challenges with all the support you need.
Responsible Gambling Council (RGC)
The RGC (Responsible Gambling Council) is an independent non-profit organization that has been a leader in the prevention of problem gambling in Canada for the last 35 years. The organization is dedicated to making sure that gambling safeguards are in place and promote the well-being of people and the overall community.

The RGC seeks to drive positive change, push Responsible Gambling to the forefront and drive standards higher. Canadians who wish to learn more about the Responsible Gambling Council can visit their website or contact them as follows:
Website – www.responsiblegambling.org
Phone – +1 (416) 499-9800
Canada Safety Council
The Canada Safety Council is an independent, charitable organization focused on the cause of safety. They have taken the role of national leaders in safety, providing information, education and resources. This non-profit, non-government organization, offers help to people with a gambling addiction. Their program for problem gambling is part of their overall community safety project which is aimed at helping communities live safer lifestyles. The Canada Safety Council can be reached as follows:
CAMH
CAMH is Canada's largest mental health teaching hospital which is dedicated to setting standards for care, education, research, and even leading social change. Apart from mental health, the hospital deals with addictions of various kinds including gambling addiction. The CAMH has a dedicated problem gambling page on its site that shares a lot of valuable information. The CAMH offers counselling services for players and their families. Canadians who would like to be in contact can reach out on 
BeGambleAware
GambleAware is an independent organization that has an agreed framework with the UK Gambling Commission to deliver the national strategy for Responsible Gambling and reduce gambling harm. GambleAware takes a public health approach as it regards excessive gambling as a public health issue. Guided by this model, the organization participates in integrated prevention services on a national level, while collaborating with expert agencies and organizations. Players can find out more about GambleAware by visiting their website.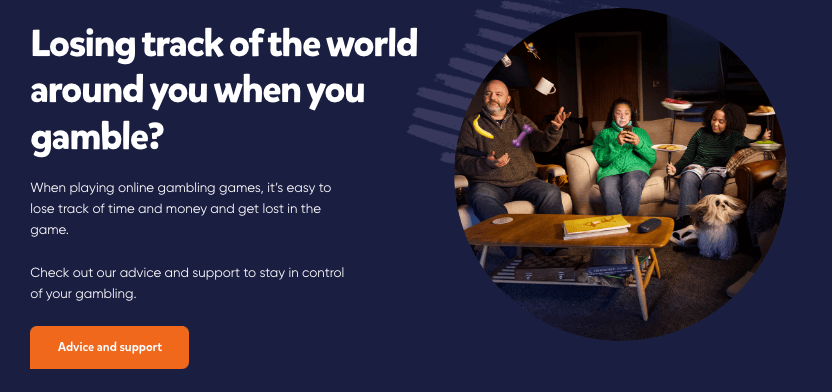 GamCare
GamCare was founded in 1997 to be a leading provider of information, advice and support for anyone experiencing problem gambling. The organization operates the UK national helpline and provides treatment for players and their families. The organization participates in gambling-related-harm education and prevention. Although the service is available for players residing in the UK, Canadians might stumble upon the organization through online gambling platforms licensed in the UK. Should players from Canada require help they can reach out through Gambling Therapy.
Gambling Therapy
Gambling Therapy offers many online services for problem gamblers and their families. The organization offers a safe platform for online groups, a resource database, e-mail support and forums. The organization provides support all over North America, with multilingual live support, online gambling therapy support groups, 24/7 gambling therapy support forums, and individual e-mail support.
Gamblers Anonymous
Rather than an organization, Gamblers Anonymous is a fellowship of men and women, who have experienced problem gambling to a certain degree. At Gamblers Anonymous, they share their experiences, hope and strength to solve their common problems and help others do the same. The Gambler Anonymous website offers a chat room, a forum, information and even a meeting finder.
Gambling Addiction Help Worldwide
USA – The National Council on Problem Gambling
USA – Substance Abuse and Mental Health Services Administration (SAMHSA)
Argentina – Juego Responsable – 0800-333-0333, WhatsApp 011-1524416058
België – VAD – 02 423 03 33
Brasil – Jogadores Anônimos – (11) 3229-1023
Canada – ProblemGambling – 1-866-531-2600
Chile – Psicólogos Ludopatía Chile – 9 222 3860
Deutschland – Spielen mit Verantwortung: Glücksspielsucht – 0800-1 37 27 00
España – FEJAR – 900 200 225
France – IFAC – + 33 (0)2 40 84 76 20
Italia – TVNGA – 800 55 88 22
Nederland – AGOG – 0900-2177721 (€ 0.10 per minute)
Norge – Hjelpelinjen – 800 800 40
Österreich – Spielsuchthilfe – (1) 544 13 57
Portugal – Jogo Responsável – 213 950 911 (SICAD – Serviço de Intervenção nos Comportamentos Aditivos e nas Dependências)
Schweiz – Sucht Schweiz – 021 321 29 11
Sverige – Stödlinjen – 020-819 100 (09:00 to 21:00)
Helpful Resources: