Do you find it hard to resist clicking on that spin button? Do you love variety, entertainment and the possibility of winning big?
There are thousands of online slots to choose from nowadays, but it goes without saying that some are definitely more rewarding than others.
Canada Casino will take a look at what makes a great slot and will also let you know where it's best to play slots for free as well as for real money.
The best paying Canadian online slots are just a few clicks away!
Thanks to the numerous online casinos that cater to the Canadian market, players are spoilt for choice when it comes to slots these days.
Some of the best slot developers are actually based in Europe, but several online casinos make their games accessible to Canadian players, which opens up huge opportunities!
All you've got to do to play the best slot machine games is join one of these casino operators and browse through the slots collection. Most games will be available in instant play mode, with no need for downloads. Alternatively, you can also play the best free online slots on your mobile device by downloading the casino mobile app or heading to the mobile-optimized site via the browser.
Whether it's classic online slot machines with their much-loved fruits, 7s and bell symbols, or modern video slots with bonus rounds and free spins, the variety is huge, as developers are trying to cater to different player preferences. And the great thing is that you can choose to play online slots for free or to stake real money for a chance to win big!
Top 10 best paying slots to play from Canada
For your convenience, we've listed the top 10 slots that award the biggest payouts to lucky winners, and which you can easily find at Canadian online casinos. These figures are declared by the slot provider, and are normally indicated by an amount and the multiplication symbol (x), to indicate how many times your stake you can win. For example, if you bet C$1 and the slot can pay out 1,000x the bet, then you would win C$1,000 if you land on the maximum winning combination. Although it's incredibly hard to win the slot's maximum payout due to the lucky combinations you've got to land, it's always nice to know that this is possible.
1. Super Lucky Charms slot – 150,000x
A rather simple-looking Irish-themed slot by BluePrint Gaming, Super Lucky Charms has got a wild multiplier that can combine with an additional multiplier during the free spins round to offer massive payouts. This slot is very volatile, making it more appropriate for risk-takers, but the potential is certainly huge!
2. Dead or Alive 2 – 100,000 x
NetEnt's recent sequel to its mega popular Dead or Alive pays out a whopping 100,000x to the player who gets really lucky during the High Noon Salon free spins round. We love this Western-themed slot for the fact that you can get pretty good payouts throughout, and because it comes with a choice of 3 free spins rounds with different levels of volatility, to suit different player tastes!
3. Who Wants to Be a Millionaire Megaways – 50,000 x
A branded title based on the British TV show, this game lives up to its name with its high payout potential! Who Wants to Be a Millionaire comes with expanding reels which can offer up to 117,649 ways to win, as well as a Hot Seat Free Spins bonus round with a gamble feature. Players can win a top prize of 1 million British pounds from this slot if they wager the maximum bet of £20 (equivalent to approx. C$ 33).
4. Temple of Treasure Megaways – 50,000x
Another Megaways slot by Blueprint Gaming, this game comes with an unlimited win multiplier during the free spins, as the multiplier may keep increasing indefinitely! Like Dead or Alive 2, Temple of Treasure Megaways allows you to choose from different free spins options, each with different amounts of spins combined with a number of megaways. For those impatient players, there's also a buy-in option into the bonus round, allowing you to access the free spins by paying 100 times your bet (in the hope of getting lucky and winning even more from the round!)
5. Ivan and the Immortal King slot – 40,000x
A creative title by Quickspin, Ivan and the Immortal King is inspired by Russian folklore and also comes with increasing multipliers during the free spins. The character of Baba Yoga may also help you during the base game by transforming hidden symbols into identical ones or giving you scatters that will help trigger the free spins round. You can expect good payouts during the base game too, although the biggest wins will come once you get into the bonus round, and this isn't so easy!
6. King Kong Fury slot – 12,500x
An action-packed slot featuring the famous gorilla, NextGen's King Kong Fury comes with unlimited free spins and a couple of thrilling features to increase your winning possibilities.
7. Cazino Cosmos – 11,821x
A great-looking space-themed slot by Yggdrasil, Cazino Cosmos features enhanced free spins, thanks to which players get something extra on top of the usual spins: this could be sticky wilds, double stacked wilds or just extra spins. If you're lucky, you can win a great sum as you play this high volatility slot, of up to 11,821 times the stake!
8. Vikings slot – 10,000x
NetEnt's recent Vikings slot, based on the popular TV series pays out a staggering 10,000x thanks to its Raid free spins, which play out on an extended reel set with 78,125 ways to win. Vikings also comes with a couple of additional features that turn random symbols into the same identical symbols for a chance of forming higher-paying combinations.
9. Blood Suckers slot – 7,500x
The classic Blood Suckers, which was released back in 2013, remains extremely popular at online casinos not just due to its high win potential, but also because of its awesome RTP of 98%. Blood Suckers features a bonus game that awards extra prizes and a free spins round with a 3x multiplier, and there's plenty of action to satisfy even the most blood-thirsty players out there!
10. Divine Dreams slot – 7,414x
A beautiful slot by Quickspin, Divine Dreams features wilds, respins, and multipliers of up to 30x. The volatility is very high in this slot, but if you do get lucky, you're in for massive payouts!
How to identify the best paying slots
This is where it gets tricky. Although the above-mentioned games can offer the biggest payouts to lucky players, this alone doesn't necessarily make them the best slots online. This is because how rewarding a slot is in the long term also depends on other factors, such as its features and the frequency of payouts. If you intend to play online slots for real money, it's worth taking the time to identify the most rewarding ones, and this is exactly what we aim to help you with thanks to our best online slots Canada guide. For more detailed information on the best slot strategy, we also suggest you also check out our guide on how to win at slots here.
Let's start by listing the aspects that characterize slot games with the best payouts:
A high RTP
A good slot hit rate
A great win potential
A great mix of features
Their entertainment factor
Your desired volatility (this is subjective depending on your gambling style)
Ideally, the slots you play for real money will meet all of the above criteria. Canada Casino will now look into each one in more detail to help you make informed choices.
Slots with a high RTP
RTP, or Return to Player Percentage, is the percentage amount which a slot is expected to pay back to players (i.e. the percentage of winnings). RTP is the very opposite of house edge, so that a slot with a high RTP is also one with a low house edge. The rate is calculated over millions of test rounds, and has to be made known by the slot developer. The best payout online slots will typically come with an RTP of over 96%, though you'll find plenty of slots with a higher RTP!
Players must keep in mind that if a slot has an RTP of, say, 96%, it doesn't mean that they will win $96 for every $100 they wager. This is a theoretical rate which only applies over millions of rounds. In reality, it is possible that you will lose or win more. Otherwise, what sense would it make to play an online slot if there's no real chance of hitting a huge win?
In case you could do with a few suggestions, below we've listed some of the best Canadian online slots with high RTP that you can easily find at online casinos
Best online slot payout percentage rates
Mega Joker slot (NetEnt) – 99% (if you bet the max)
Jackpot 6000 (NetEnt) – 98.9%
Dr Jekull Goes Wild (Barcrest) – 98.20%
Jokerizer (Yggdrasil Gaming) – 98%
Jackpot 3×3 (1×2 Gaming) – 98.10%
Blood Suckers (NetEnt) – 98%
Ragnarok (Genesis Gaming) – 98%
Rainbow Riches Fortune Favours (Barcrest) – 97.75%
Rainbow Riches Home Sweet Home (Barcrest)- 97.75%
White Rabbit (Big Time Gaming) – 97.72%
Starmania (NextGen) – 97.7%
Jack Hammer 2 (NetEnt) – 97.10%
Kings of Chicago (NEtEnt) – 97.80%
Devil's Delight (NetEnt)- 97.60%
Sushi Bar (Betsoft) – 97.5%
Esqueleto Explosivo (Thunderkick) – 97.60%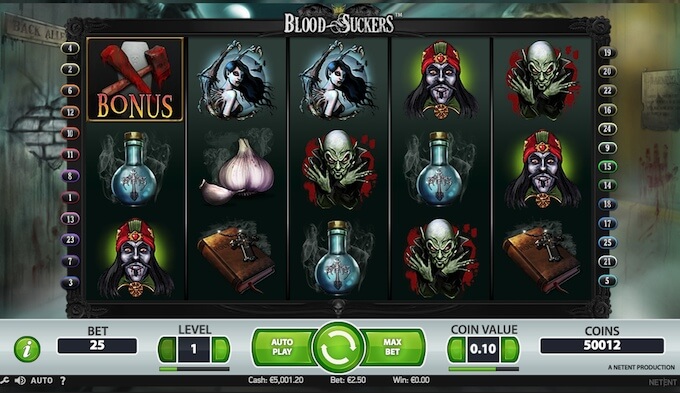 Slot hit frequency/ hit rate
Slot hit rate or hit frequency is another factor to consider if you're looking for the best Canadian online slots to play for real money. Hit frequency refers to how often a slot pays out, i.e. how many winning spins you can expect. This is also expressed as a percentage. For example, in the case of a slot with a hit frequency of 25%, you can expect to get one winning spin out of every 4 spins on average.
Slots with a good hit frequency usually offer an entertaining experience, since players won't get too bored with too many losing spins. However, hit frequency doesn't have anything to do with how big the payouts are. In fact, slots with a high hit frequency tend to offer lower payouts to compensate for this rate, and most payouts will be less than the original stake. On the other hand, slots with a low hit frequency tend to offer bigger rewards once you land a win.
Rather than look at hit frequency on its own, Canada Casino recommends checking out the slot bonus frequency if possible, since payouts during the bonus round will typically be more rewarding. Slot developers sometimes publish this figure on their websites or on the game info tab. Another thing to consider, and which is closely related to hit frequency, is the slot's variance or volatility.
Slot volatility and win potential
Slot volatility or variance means how much and how often a slot is expected to pay out. A slot with a low volatility will involve frequent payouts, but most of these payouts will be of a low value. Conversely, slots of high volatility typically pay out much less frequently, but the rewards when hitting a big win can be huge!
Volatility is a rather subjective aspect when it comes to slots as it depends on the level of risk you're prepared to take. High volatility slots can be rewarding but can also eat up your bankroll pretty quick, whereas slots with a low volatility may keep you satisfied with frequent payouts. Normally, slots with a high volatility will have a higher win potential, though this is not always the case.
The win potential of a slot refers to the rewards in store for lucky players. Developers normally indicate the maximum win possible if you hit the highest paying combination by the number of times your original stake that it's possible to win on a single spin. For example, a slot can involve payouts of 5,000x the stake, which means that if you stake $1 and you hit the jackpot or maximum payout, you can win $5,000.
Canada Casino tip: We believe that the best paying online slots will have a decent hit frequency coupled with a great win potential and that your aim as a player is to find a well-balanced slot that will reward you on a regular basis. Of course, this takes some time, but online slot reviews and game data like RTP and hit rate can be very helpful to determine whether a slot is worth playing for real money.
The best online slot features
In this day and age, developers are getting more and more creative with their game features, in the hope of attracting players with different tastes. Playing a feature-packed slot may be very entertaining, but the best online slots don't necessarily have to be rich in features.
Sometimes, slot features are simply a disguise for a game's mediocre payouts. The game will deceive you into thinking that you can win more thanks to a feature, when in reality, the payouts from the feature still aren't that great.
That said, there are some truly rewarding features. One of these is the free spins round or bonus round, which most online slots have. Free spins are great because you don't lose anything during the round, so you can keep accumulating wins. What's more, nowadays free spins typically come with additional features such as extra multipliers, wilds, and more!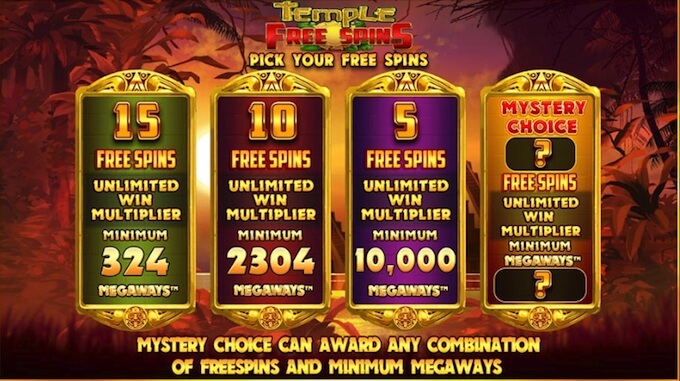 The free spins options in Temple of Treasure Megaways
Other great slot features involve consecutive wins, win multipliers, symbol upgrades (getting symbols of a higher value on the reels), and different kinds of bonus games (such as a Pick and Click bonus game). The best online slots will typically have a good combination of features that are not too hard to trigger!
Canada Casino tip: look for online slots with a feature-packed free spins round that's not too hard to trigger!
Play the best free online slots
It's worth remembering that you can play any slot for free at most online casinos, sometimes without even registering with the casino. Playing free online slots will help you experience a game's hit rate, features and the size of its payouts first-hand, so you'll be more able to decide whether it's worth playing the same game for real money.
Play the best slots at the best online casinos in Canada!
Once you've decided on the slots you'd like to play, your next step is to find a rewarding online casino where you can play it. Although a slot should pay out in the same way regardless of where you play it, the best online casinos will reward you with additional bonuses and free spins, making your gaming experience more worthwhile! Check out our guide to Canadian online casino reviews here or click on any of the links on this page to visit some of the casinos directly and start enjoying a multitude of online slot machines with the top operators!