What are the Best Online Poker Sites in Canada?
In this article, we will give you an overview of the opportunities for Canadian players who would like to play poker online, by showing you how you can play free online poker and directing you to the best online poker sites where you can play this game for real money.
Your choice of online poker site to play with from Canada depends on what you would like to get out of playing this game. Maybe you'd like to experience Live Poker, participate in Online Poker promotions, or you may simply wish to have some fun by playing Free Poker Online. No matter what your requirements are, there will always be an online poker site in Canada that will meet your expectations. Fortunately for players, today they can choose from a practically infinite number of Canadian online casinos that offer this game. Check out the ones below, which we can recommend due to their excellent reputation, bonuses and level of service.
What is Online Poker?
Online Poker refers to all the poker and poker-style games that you can find available at casino sites. While certain online poker sites will have downloadable poker software which you would need to get in order to play poker, in this article we will focus on instant-play online poker games, i.e. those games that you can play for real money simply by joining an online casino, without the need to download any software. These include virtual poker games, which you'll find alongside other card games like Blackjack and Baccarat, Video Poker games and Live Poker games, which are played against a real live dealer.
Live Dealer Poker vs Virtual Poker
There are two ways you can play poker online. One of them is by going to the table games section at an online casino and playing poker against the machine. In this case, you would be playing Virtual (RNG) Poker, which is an excellent way to have some fun while practising your poker skills.
Another option for you today is to head straight to the Live Casino category of a casino, to check out its selection of Live Poker tables. Here you can check out variants like Live HoldEm poker and Live Three Card Poker, which you can play against a real live dealer. These games are streamed from the provider's game studio directly to your desktop or mobile device, and you'll be able to watch the dealer deal real playing cards onto his table, while you will place all your bets digitally.
Virtual Online Poker Games
At the best poker casinos, you'll have the option to try different virtual poker variants from the most popular Texas Hold Em and Caribbean Poker as well as a range of video poker games. We've had a look at one of our favourite online poker casinos for Canadian players, VideoSlots, to find all of the below online poker games:
Virtual Poker
Texas Hold Em / Casino Hold Em
Ultimate Texas Hold Em
Poker 3 Heads Up Hold Em
Caribbean Poker
Oasis Poker
Ride'M Poker
Triple Edge Poker
Video Poker
Tens or Better
Jacks or Better
Deuces Wild
Aces & Faces
Aces and Eights
All Aces Poker
Bonus Poker / Double Bonus Poker
Multihand Bonus Poker
And many more! To play any of the above online poker games for free or for real money, click on the link below to visit VideoSlots casino.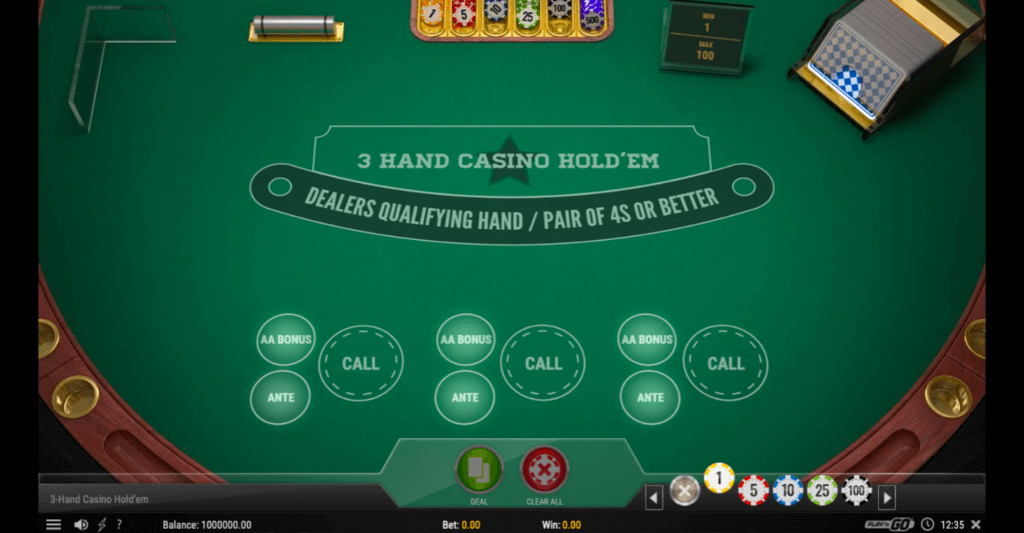 Live Poker Tables
Live Poker tables constitute a new way of playing poker online that's taking online casinos by storm. In these fast-paced games, which are developed by live casino studios like Evolution Gaming and Playtech, players have to play poker against the house, in real-time. There are several live poker variants that you can try,
Live Casino Hold Em (Playtech & Evolution both have these live poker games)
Live Texas Hold Em Bonus Poker (Evolution)
Live Ultimate Texas Hold Em (Evolution)
Live Three Card Poker (Evolution)
Live Caribbean Stud Poker (Evolution)
2 Hand Casino Hold Em (Evolution)
Live Casino Stud Poker (Playtech)
You can play these awesome live poker games at LeoVegas Casino by clicking on the link below.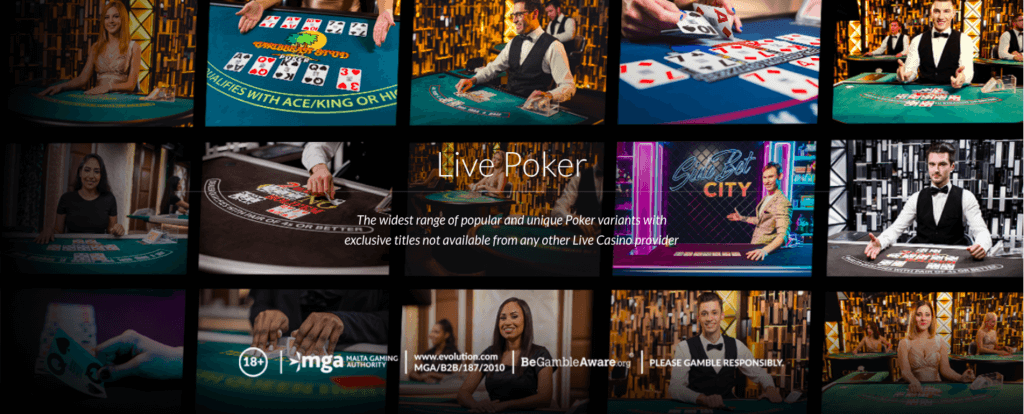 How to Play Online Poker – Basic Poker Rules
Online Poker is played with one standard 52 card deck, which will sometimes include one or two Joker cards (wilds), depending on the variant being played. Players will get 2 or more cards each, whereas 5 cards will be dealt in the center – the latter are called Community Cards. The aim of the game is to combine your cards with the community cards to create the best 5-card poker hand. Below, we'll give you an overview of poker rules, but you have to keep in mind that these rules may vary depending on the variant of online poker that you choose to play.
Poker Rules
There are numerous variants of poker nowadays, with the two most popular ones being Texas Hold Em and Omaha Poker. Texas Hold Em poker rules and Omaha poker rules differ in some aspects, but the two have got several things in common. In both of these variants, a Poker hand will consist of five cards, which we rank from highest to lowest below:
Five of a Kind – the highest hand possible, this can occur in Poker variants where there is at least one wild card, i.e. a Joker, the two one-eyed Jacks, or four deuces. For example, having four 10s and a wild card will count as five of a kind.
Straight flush – this is the highest combination while playing poker with the standard pack, consisting of five cards of the same suit in sequence, for example, 9, 8, 7, 6 and 5 of spades. The best straight flush would be the A, K, Q, J and 10 of the same suit – this is also called the 'Royal Flush', and comes with odds of 1 in almost 650,000!
Four of a Kind – ranking just below the straight flush, this involves having 4 cards of the same suit or same value (e.g. four Jacks or four 5s).
Full House – This will consist of three cards of one rank and two cards of another, for example, three 4s and two 2s, or three Aces and two 7s.
Flush – This involves five cards of the same suit, which are not in sequence. For example K, 10, 6, 4 and 2 of hearts.
Straight – a combination of five cards in sequence, which are not of the same suit. For example, 5, 6, 7, 8, 9 (with a mix of hearts, clubs, spades, and diamonds).
Three of a Kind – a lower-ranking combination consisting of three cards of the same rank, and any two other cards, e.g. three queens, a six and a four.
Two Pairs – a pair of cards of the same rank, and another pair of a different rank, plus any other card. For example K, K, 8, 8, 3.
One Pair – a very common combination consisting of just one pair with three other cards. For example 10, 10, Q, 2, Ace.
No Pair – as the name suggests, in this case players have no matching cards (none of the five cards will be of the same suit or in sequence). When more than one player has a no pair, their hands are rated according to the highest card in each hand, so that a hand consisting of an Ace would rank higher than a hand with a King.
Before a game of poker begins, each player will have to fork out an initial contribution in the pot, which is called an 'Ante' in Stud Poker, or the Big Blind and Small Blind in Hold'Em and Omaha. The small blind is placed by the player to the left of the dealer button, whereas the big blind is posted by the next player. These blinds exist because Omaha and Hold Em are played without antes, to avoid all players folding without placing a bet.
After the blinds are placed, players will bet one or more chips on his hand. They decide to take any of the below actions during each betting round:
Check – the players may refuse to bet if there is no bet during the current round.
Bet – Players may bet if no other player has placed a bet during the current round. Once a player places a bet, the others must 'call' by matching the same bet amount in order to remain.
Fold – the decision to forfeit one's cards for the current hands. Players cannot win or act when they decide to fold.
Call – If someone else has bet during the round, players can call by matching the highest bet.
Raise – If other players have already bet, the raising player may raise the bet by at least doubling the amount. Then, other players will be required to either call the raise or raise again to continue playing.
Poker Betting Rounds
In Texas Hold Em Poker and Omaha Poker there are 4 betting rounds which take place after the blinds are placed. These are called pre-flop, flop, the turn and the river.
Pre-flop – players bet before community cards are dealt, as soon as players receive their hole cards.
Flop – players bet again after the first 3 community cards are dealt.
The Turn – players bet once the fourth community card is dealt.
The River – this is the last betting round, when players bet after the final community card is dealt.
Each round will continue until every player has called, raised or folded their bets, or when every player has checked if no bets have been made. The next round will then follow. Once the last bet or raise has been done, a showdown will take place – the remaining active players will reveal their hands, and the player with the best hand wins the pot!
Poker betting systems and strategies
Although Poker rules are quite easy to grasp, it will take a lot of practice and mindwork to develop a solid poker strategy that will help you win more on poker. Below, we'll look into the most common strategies to give you a general idea:
Starting hands
It is fundamental for a player to know which are the best starting hands to play and which hands you should never play. Players need to recognize weak hands in order to be able to fold before the flop. Thankfully, there are plenty of Starting Hands Carts online that will group hands into categories, enabling you to learn which hands are worth playing and which are not.
Value Betting
Value betting is a technique that comes in useful in land-based poker, when a player wants to try and make his opponent think that he's got a better hand than yours. This involves placing a bet that is of the perfect size that would prompt the opponent to call, so you can get the best value from someone's weaker hand!
Bluffing
A player can bluff in poker when he knows that he doesn't have the best hand. In this case, the player may raise in order to make his opponents fold, and in this way get rid of opponents with a better hand!
Why play Poker Online?
Your Online Poker experience will be quite different to traditional poker because you may not be able to put on your Poker face and judge other players. Most online games are played against the house, so the game is between you and the computer or the dealer (that said, you can still play poker against other players if you join an online poker room). Despite these differences, there are still enough compelling reasons as to why you should play poker online, which we'll look into here.
Play Online Poker from anywhere!
The convenience of being able to play real money poker from the comfort of your own home or from your mobile cannot be underestimated. Thanks to online poker, you've got access to a large variety of games for as long as you've got a stable internet connection. What's more, when it comes to virtual poker and other virtual tables, you can play these at any time of the day and night!
Get a bonus to play Online Poker
It's much easier to find bonuses and offers on online poker than it is on land. Most online casinos will offer you a welcome bonus on your first few deposits, which you may be able to use on its range of poker games, or on live Poker tables. Some of the best online poker casinos will also run regular promotions involving poker, including tournaments or regular poker offers.
Play Free Poker online!
At online casinos, you'll have the opportunity to play free online poker for as long as you wish to, to practise your skills or just for fun! You can typically choose from a casinos' range of video poker and virtual poker games when it comes to free play (live poker games cannot be played for free).
Online Poker Variants
And now, let's look at some of the best online poker games that you can play at Canadian online casinos these days. Just like any other casino game, providers have come up with different online poker variants, some of them with interesting twists to entertain those players who are looking for something a bit different.
Online Texas HoldEm Poker
Undeniably the most popular Poker variant, Texas Hold'Em is played with up to 10 players. Every player gets 2 hole cards at the start, and the board will consist of 5 community cards. Texas HoldEm involves 4 betting rounds. The first one, called the Pre-flop, is when players make their bets before the community cards are dealt. The first 3 cards are revealed during the second round, called the flop. The next one is revealed at the third round (the Turn), while the last card is revealed at the very end. Once this round (known as the River betting round) has been completed, players will enter into the showdown, and this is when the remaining players reveal their hands and the best 5-card poker hand wins!
You can play a fast-paced and enjoyable game of Live HoldEm Poker by Evolution Gaming most of the casinos that we recommend in this guide, or go for a virtual Online Texas HoldEm Poker game by browsing the casino's table games collection.
Omaha Poker
Omaha is similar to Texas Hold Em, with the main difference being that each player gets dealt 4 cards in Omaha Poker, and must form a hand using two of these cards and 3 of the Community cards. The game involves the same 4 betting rounds, and to win you need to get the best hand at showdown, or all other players must have folded their hands.
Live Three Card Poker
Another online poker favorite which you'll come across at several live poker sites, Three Card Poker involves playing against the dealer. The game starts by placing a wager before being dealt 3 cards face up, while the dealer gets 3 cards face down. The player may decide to fold and forfeit the stake, or place a second bet equal to the first. If the player wagers, the cards will be turned face up to see who has the better hand. If the player folds, the dealer will collect the initial wager.
Seven Card Stud Poker
This is an online poker variant played with no community cards and was the most popular poker game before the rise of Texas Hold'Em. Players get to bet only on the cards they're dealt, which consist of 7 cards. Bets are fixed on Seven Card Stud Poker, and increase in increments depending on the round.
Jacks or Better
This is a popular video poker game, which requires players to bet before they are dealt their 5 cards. They can hold onto any number of cards they would like before dealing one last time. Then, the hand with a pair of jacks or better will win, which makes Jacks or Better a very simple and fast-paced game!
Is Online Poker legal in Canada?
In order to understand the legal situation better, one must keep in mind that Canada is a Federal State. This means that every territory and province may make its own laws and regulations with regard to online gambling, and this includes online poker. Therefore, if a province decides to ban Poker completely, another one may authorize it for its residents. At present, none of the provinces has decided to ban people from playing poker online from Canada, but this doesn't mean that they authorize it either…
Does this sound confusing? It's natural to think that the legal situation is problematic. However, at the moment, it's quite the opposite! Online poker is possible and completely legal for players, and this means that a lot of online poker sites are accessible to Canadian players, no matter where they reside!
Are Online Poker games rigged?
While we cannot exclude that there may be a couple of rigged poker games out there, we can safely assure you that if you join a licensed online casino, any of the online poker games you play will be fair. Virtual Poker games are programmed to generate random outcomes, according to the odds of traditional poker. This means that the program is made to randomly generate any card from a 52-card pack, and there is no way that this program can be changed to purposely deal you weak hands. In fact, online poker games by licensed providers are audited by independent authorities for fairness, and the casino cannot change the game in any way.
On the other hand, live poker games are run using a real deck of cards, and these cards are dealt in a highly visible manner thanks to the multiple cameras directed at the table. Players can watch the dealer in real-time, and can also rest assured that there is no foul play involved if they play games by the likes of Evolution Gaming or Playtech.
Play Free Online Poker from Canada!
It is indeed possible to play free poker online! In fact, some people may not be prepared to play poker for real money. Luckily, these kinds of players may join one of the many online casinos in Canada which offer free online poker games, allowing them to practice before they throw themselves in at the deep end. As we've pointed out above, you can try any virtual poker game for free, but in order to play Live POker, you need to wager at least the minimum required to participate in the game.
Your Online Poker Canada guide!
The online poker situation in Canada at the moment comes with plenty of opportunities and variety, thanks to the fact that Canadians can join so many offshore gaming sites, some of them backed up by years of experience in the industry. Poker players have access to free online poker games, plenty of bonuses as well as to special promotions aimed specifically at Canadians.
So as not to miss out on any Poker bonus or offer, we invite you to visit CanadaCasino from time to time, since we'll be keeping track of everything that's going on at the best online poker sites in Canada. Start your online poker experience with us, and enjoy the peace of mind that comes with playing with a secure and rewarding poker site!