Facts about Bally
Their reputation precedes them and they are known the world over for their fair and secure, high-quality games.
Over the last few years, they have taken the online gaming world by storm, converting popular slot machines like their famous Quick Hit slots®, for the internet, while developing video slots specifically for this ever-growing market like Hot Shot® and Blazing 7s®. 
Bally Technologies have a few collaborations under its belt as well, with iconic brands to give us branded titles like Playboy™, BettyBoop™, Wonder Woman™ and Michael Jackson™.
Here at Canadacasino.ca, we recognize the importance of Bally Technologies' contribution to the market, and we believe that our more devoted fans would love to learn more about Bally slots and discover any opportunities to play Bally free slots at the best online casinos.
Who knows maybe our article will lead to the discovery of a new favourite slot from this incredible provider!
Bally Technology Bonuses
Wouldn't it be great if we could try out some of the Bally casino games with a bonus?
Canadian players will discover that this is quite possible as a number of online casinos featuring Bally casino games have a number of offers in place.
The largest of these bonuses is perhaps the welcome package for newly registered customers.
Whether it is made up of bonus money or free spins, this is a wonderful way to play any of the interactive Bally video slots and maybe win some real cash too.
Existing players will discover a number of reload bonuses up for grabs, which although may not be as generous as a welcome package, they might afford a few rounds as well.
Operators might even line up specific promotions for Bally slot games, with tournaments, free spins, or bonus money.
For the latest offers, we invite you to check out our offers section, where we feature promotions by our recommended casinos. 
Bally Casino games
While Bally Technologies is best known for its slots, very few perhaps know that the company is also responsible for the development of lotteries and video poker.
The selection of latter options is not as vast as the slot collection, however, Bally has developed a reliable online lottery system as well as a lottery mobile app for operators.
Their powerful casino software is often the first choice with the operators and with good reason. 
Their decades of experience have led to some interesting innovations, creating a distinctive set of games of the highest quality.
An interesting concept is its Trillions system, a clever twist on classic progressive jackpots, that is focused on smaller jackpots with a more frequent hit rate.
The classic Betty Boop™ slot is based on this concept, which gained great popularity in the 1999s. 
Adopting the same philosophy, Bally used a similar notion for their Quick Hit® slots, with a non-progressive jackpot, designed to provide a full series of payouts, with frequent but minor wins, and a proper jackpot for the rare win.
And to complete their full range of jackpots, they could not exclude traditional jackpots, that are community-linked amongst several of their own slot games.
Just to name a few examples of the Bally jackpots slots we find the fun Fu Dao Li, Heavenly Riches and Super Rise of Ra. 
A distinctive feature of this game developer that we have come to expect is the unique bonus features of their games.
Their designs and ideas deliver an exciting and interesting experience, introducing expanding reels with more ways to win, options that enable players to choose one of three hidden prizes, with a hidden big payout, and many other interesting ideas. 
Bally packs tons of diversity, however, with such a great choice of famous slots, we thought it best to expand a little bit on this topic and introduce you to some great titles by this provider.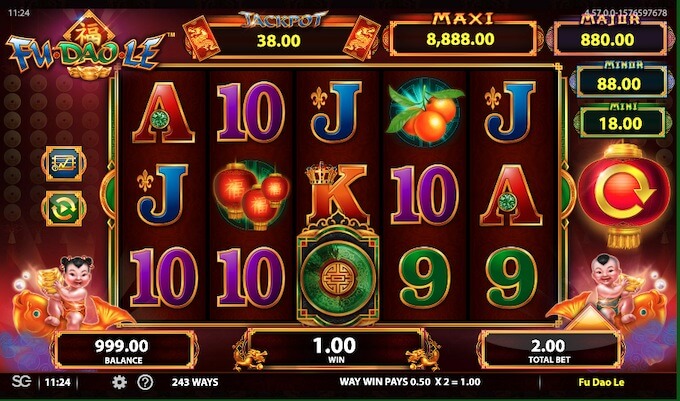 Bally free slots
Bally Technologies slot games can be played for free either through the demo version or by claiming one of the best online casino bonuses.
While playing for real money is the primary target of slot players, the demo versions, provide a taste of the game. This is an effective way for players to asses the game and decide if they want to bet any of their real money.
While the demo is as true as the real money game, there are no winning possibilities for players here, who must rely either on their real money bets or on a generous casino bonus.
The latter is of course coveted. Who doesn't like playing games for free while still clinging to the possibility of winning some real cash?
This is where casino bonuses take the leading role.
Whether they consist of bonus money or free spins, unless they are tied with one particular game, they can be a great way to play at the casino's expanse with the possibility of walking away with a decent win. 
Bally slots
Apart from having their very own slots, we have to mention the exceptional collaborations with popular movies, TV series and brands.
We've all heard about the Titanic or F.R.I.E.N.D.S, the popular TV series! Well, Bally Technologies, joined forces with the producers to develop a slot on each of these iconic shows.
But their joint forces extend to other popular names too like James Bond – Goldfinger, Wonder Woman™, Cirque du Soleil, Monopoly, Playboy™, BettyBoop™, and Micheal Jackson™ amongst others.
Their list of collaborations is truly impressive!
While already famous names may be the perfect recipe for success, we have to give Bally credit for having created their own slots which are as equally successful, sometimes in both brick and mortar casinos as well as online platforms.
We have to mention the Quick Hit® Slot series, the Hot Shot® slots, Blazing 7s®, and many more. Let us delve a little deeper into some of the most well-known titles.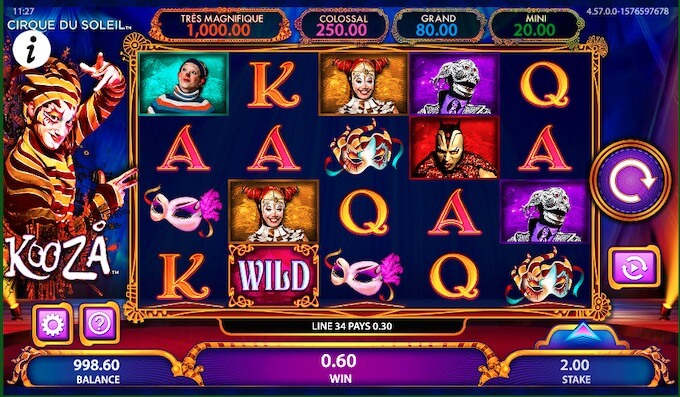 Quick Hit® Slot Series
Quick Hit slots saw their origins sometime in the 1990s and were developed as slot machines for physical casinos.
They gained great success straight away, inspiring Bally Technologies to adapt them for the internet when they first ventured into this market.
The new possibilities in the online world incited the developers to come up with a whole series of Quick Hit slots, introducing new features and volatility.
Gamblers visiting casinos in Las Vegas and in other parts of the US, can still come across the original Quick Hit machines.
There is so much to say about the whole series, that we have dedicated a whole article to these now-iconic slots. If you want to learn more we invite you to check out our Quick Hit slots review. 
Hot Shot® slots
Just like the Quick Hit Slots, the Hot Shot series started out in land-based casinos, it's enormous success earning it a place amongst the games that Bally adjusted for the internet.
For players, familiar with the latest slot trends, this series is a little back to basics in concept, however, those who are patient enough will discover the clever bonus game at its heart.
Known as the Game In-Game Bonus, this feature is triggered by landing a minimum of 3 mini-reel scatter symbols, causing the reels sets to spin once with the hope of landing a win on the centre pay line.
For the lucky ones, there is a jackpot attached to the game and the best combination delivers the most coveted prize.
Titanic™ slot
Who hasn't heard of the Titanic!? The massive and luxurious ship made headlines for weeks in 1912 after it hit an iceberg and sank with great loss of life.
The tragedy was brought back to life in 1997 with the movie of the same name, featuring Leonardo Di Caprio and Kate Winslet.
The massive success in the box office of the movie inspired Bally Technologies to join forces with the producers to develop a slot around the whole production.
The Titanic slot comes with more features then any other slot we've come across, and even players who are not particularly fond of the movie will discover a lot of engaging innovations. 
The Titanic was a ship based on class tickets, encouraging the designers, to add a class ticket feature when placing bets that gives access to different kinds of wins and jackpots.  
As for bonus features, you can expect mystery double wilds, mystery wild reels, wheel feature, mystery jackpots, and Jack's drawing mystery feature. The slot promises nail-biting fun just like the movie!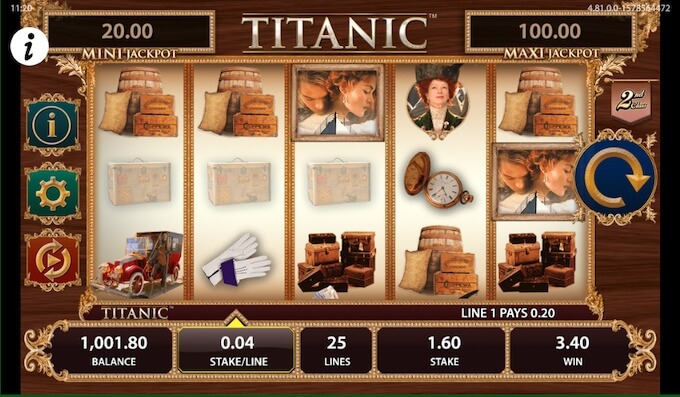 Anchorman™ Slot
Anchorman is inspired by the comedy movie by the name of Anchorman: The Legend of Ron Burgandy, released in 2004.
The story follows the misadventures of a San Diego newscaster with some hilarious fun. Players who have seen the film will enjoy the movie clips that intersperse the gameplay, and the great features that spice up the experience of this slot. 
Bally loaded this game with Baxter Wilds, a Big bonus feature brimming with additional features, mystery stacks, and Ron reels.
Those who have never seen the movie will discover that once you get underway in the game, you have to go back to the movie to experience the comedy of it all. 
Wonder Woman™
Bally Technologies has released two slots around the popular DC character Wonder Woman, whose origins date back to the 1940s.
Called Wonder Woman Gold and Wonder Woman: Bullets and Bracelets, this short series is based around the 1970s series with Lynda Carter.
The games come loaded with mystery stacked reels, free spins, a buy a bonus feature, a u-spin wheel, a mystery symbol and a progressive jackpot.
It delivers a great feel for the original television series and fans can now enjoy these two popular slots on a number of screens as Bally has adapted the games to HTML5.
Players who are intrigued and would like to give it a try can visit Videoslot from the link below, with a choice between playing for free or for real money on either one of the Wonder Woman slots.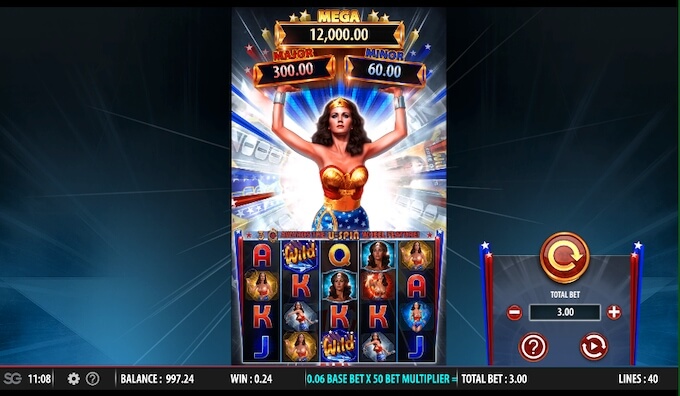 Michael Jackson slot™
Known as the King of Pop, Michael Jackson has left a lasting impression on the world, attracting fans from all over the world even after so many years.
This iconic personage has been the inspiration of tons of merchandise with his very own trademark, so why not a slot!?
And Bally has not disappointed! Sporting some of Michael Jackson's original songs, it comes with many surprises just like the artist himself.
Players can expect a wheel bonus, moonwalk wilds, and stacked wilds, all packing some interesting action.
Since this slot is available online, fans can enjoy a few spins with some of the original soundtrack to accompany all of the action. 
A brief history of Bally Technologies
Bally Technologies has a long and diversified history that can be traced back to the 1930s when it invented the Ballyhoo, a pinball game that became instantly famous.
It didn't take long for the company to focus its attention on the development of slot machines, becoming a leading manufacturer and distributor.
The second world war saw a complete redistribution of resources as the company went into wartime materials as part of its war effort, with a complete return to slot machines with the establishment of peaceful times. By the 60s, 90% of the slot machines in Nevada casinos were produced by Bally Technologies.
The company continued to expand, striking deals with the Japanese manufacturers of 'Pac Man' and 'Space Invaders'.
Bally reached a new technological milestone in 1994 with 'Game Maker' the first-ever touch screen video slot, enabling players to choose between 10 different games without the use of any buttons. 
Bally Technologies was eventually acquired by SG Gaming in 2014.
This change did not slow down Bally at all and continues to brand games under its own name, providing slot games and software to both land-based and online casinos. 
Bally Technologies – Almost a century's worth of experience!
Bally Technologies has almost a whole century's worth of experience, enabling it to produce high-quality games with their very own distinctive features.
Their slot games pack great graphics and sounds, making them amongst the most loved video slots out there.
With their focus split amongst offline and online games, their online collection is perhaps not as vast as that of other operators, but the dual development is a pleasant advantage.
With Bally, players can continue to enjoy their favourite slot games at their land-based casino from the comforts of their home, as many of their offline games come with online versions to ensure it reaches a wide scope of players on every sphere. 
With such a vast and diversified experience, we expect great things from Bally Technologies and we look forward to trying out further collaborations with iconic brands, which combine the Bally signature graphics and sounds, together with innovative features.
If you feel inspired, then we invite you to check out some of our recommended Bally Casinos down below, with the best of luck from CanadaCasino on your Bally adventure!