Ugga Bugga Review
Developed by leading gaming provider Playtech, Ugga Bugga has remained a classic slot favourite for well over a decade.
Offering a tropical tiki-themed, low volatility, high RTP experience, Ugga Bugga focuses on unique gameplay features that keep players coming back for more. We review how and why Ugga Bugga keeps the beat.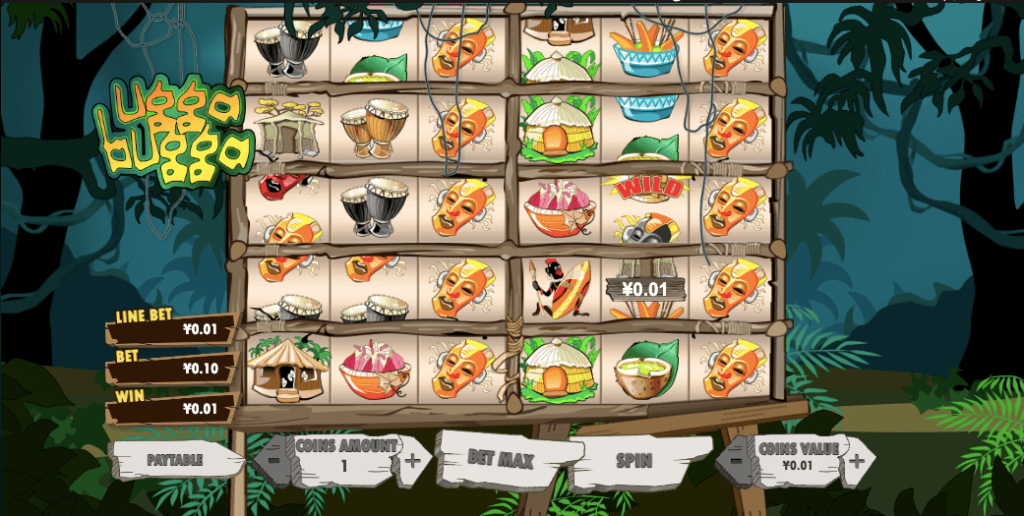 What you'll find in this Ugga Bugga Slot Review
We unpacked the methods and jungle madness of Ugga Bugga to provide players with a first-person gaming experience.
Ugga Bugga is a classic slot game that relies on unique game features and an interactive entertainment mix that we reviewed and tested at length.
The huge popularity the game still enjoys goes beyond the industry-leading RTP to a gaming experience new players still want to know about:
The slot symbols: I identify and explain what they are, what they're worth and how much they payout.
The minimum and maximum bet, autoplay option: I examined the bet range to confirm that this slot will appeal to the majority of players. There is no autoplay option available.
The payout rate: The RTP (Return to Player) value was evaluated for player payback and compared with slots in a similar genre so players can make an informed assessment.
Volatility: The volatility measurement is an important game aspect. I looked at it comparatively and balanced it against other game features.
Hit frequency: I checked the slot's hit rates against the industry average and also took payout values into consideration.
Jackpot and/or maximum win: I identify the Ugga Bugga maximum win factor, explain what that is and verify the win potential.
Wilds, re-spins and other functions: I explain the Wild and Scatter symbols, describe how they work and how they lead to larger payouts.
Graphics & sound: Ugga Bugga graphics present a tiki party/jungle theme that most players will find familiar.
Play Ugga Bugga with the best bonus
To make sure you have access to a selection of the best bonuses when playing Ugga Bugga, we've recommended our top online casino sites here.
Ugga Bugga Symbols & Payouts
Like with every slot, the symbols and the payouts are tied together at the very heart of every slot. Down below we're going to take a look at the machinations that made Ugga Bugga stand the test of time!
The symbols
Look for jungle drums, Tiki masks, serving dishes and huts on the reels.
Each symbol comes in a group of colours which can be matched or combined with others to establish payout values. The symbol hold option is a dynamic Ugga Bugga feature that players can use to increase payout multipliers.
Paylines
Because of the unique structure of Ugga Bugga, the game offers a maximum of ten pay lines across a 3/1 section reel.
That said, players can win as many as ten payouts per spin based on the original bet value.
Each payout is based on the multipliers of the winning symbol group and the unique hold function gives players the option to choose which symbols could be lucky for them.
Min/max bet, autoplay option
The minimum/maximum betting range extends from 0.05 to 100 per bet line and the coin values from 0.01 to 100 coins. There is no autoplay option available on Ugga Bugga.
Ugga Bugga RTP
The Return to Player percentage of 99.07% is Playtech's highest in its game portfolio and Ugga Bugga remains among the highest slot RTPs available online.
Players always return to Ugga Bugga for the consistency of payouts over time even if they typically range to smaller values. A win is still a win!
Volatility
Ugga Bugga is rated as a low volatility slot game. Playtech deliberately focused on a gaming experience that is different from the norm and that produces a longer, more immersive and more involved player participation.
Jackpot and/or maximum win
Ugga Bugga does not feature a progressive jackpot. Playtech deliberately set out an interactive set of game features that provide players with consistent winnings opportunities at the minimum and the potential for big-league payouts that match or exceed the most competitive jackpots currently available.
The maximum win is 1,000 times the line bet and if played at the maximum betting range, (and all ten lines win) that amounts to a C$5 million payout potential.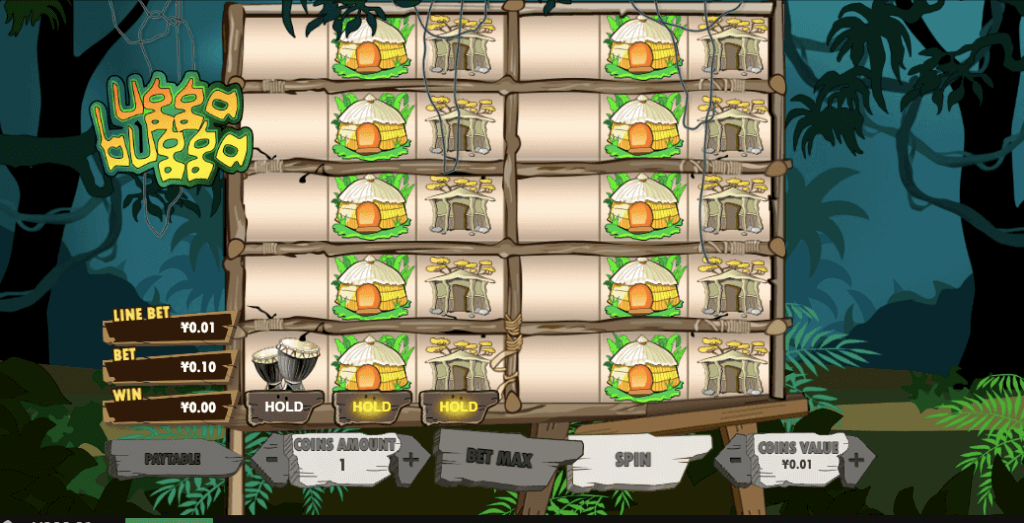 Ugga Bugga's low volatility and high RTP deliver consistent winning possibilities
Ugga Bugga remains a favourite amongst players for 2 reasons: low volatility and a very high RTP percentage. Furthermore, a wide range of betting options allows all kinds of players to participate regardless of their budget, while also landing frequent wins, with the possibility of landing a major jackpot in the millions!
Game Features
The Bonus Hold: This feature allows the player to choose a symbol and hold it across the ten reels in order to take advantage of a starting set or combination.
Following the initial spin, the hold option appears along the bottom of all three reels. Players can choose to hold the first reel and respin again with no additional wager.
Wilds, re-spins and other features
The wild symbol of the game is the Shining Mask. This symbol acts as a bonus and unlocks multipliers. The Wilds also generate 1000x when three or more symbols are hit on the maximum bet. Lower wagers qualify for a healthy 250x the line bet.
A re-spin feature of sorts is already built into the mechanism. After the first spin and/or hold, the additional nine reels re-spin, in effect providing a total of ten spins to win with every turn.
Bonus Buy
The bonus buy feature was introduced years after Ugga Bugga hit casinos. While this slot might miss out on such a successful mechanic, its other interesting qualities have ensured it remained at the very top of popular online slots.
Hold and Win
Ugga Bugga was released way back in 2013, while the hold and win feature was introduced only a couple of years back.
This, however, does not mean that this slot is missing out! Ugga Bugga has a similar function called the Bonus Hold, which freezes one reel, while the other spin around releasing wins as they go!
Ugga Bugga Graphics & Sound
| | |
| --- | --- |
| Graphics | High-resolution 2D graphics |
| Optimised for Mobile | 👍 |
| Music | Tribal theme consisting of drums/symbols |
| Special features | Hold Feature, high RTP, combination wins |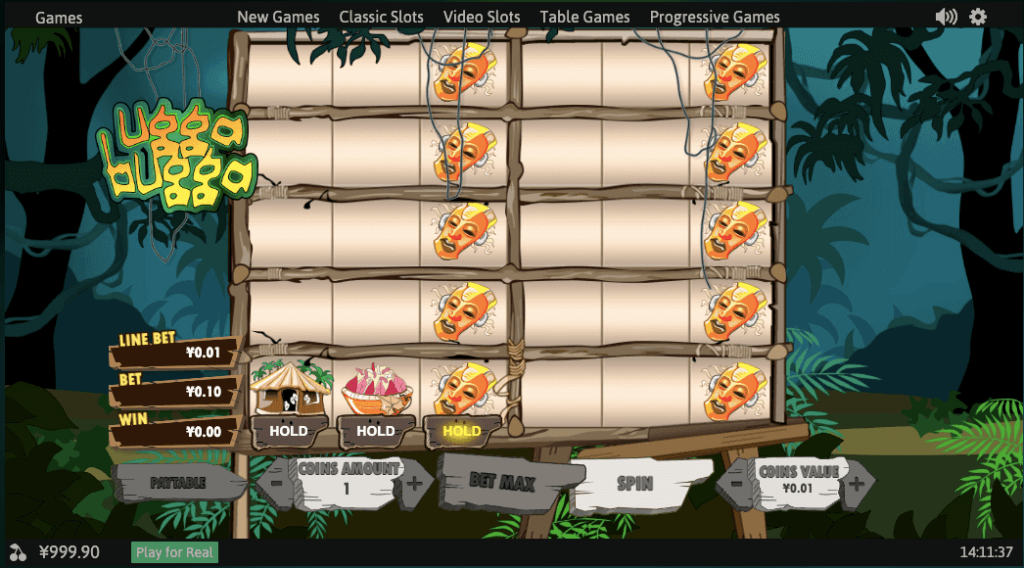 Ugga Bugga is built on a feel-good factor that still works 
The three-line reels appeal to a simple, clean playing experience where results are easy to view and the potential to influence them remains exciting. While the game mechanics are fairly tame they are not irksome, the visuals and sound are conducive to spending a longer amount of time in a session that a low volatility slot might demand. 
Solutions if you have some issues with the game
Should you experience an interruption during gameplay, simply restart the game to replay the round. As an alternative, you can skip the replay and winnings will be posted to your account.
If for any reason the replay function is not activated, contact the customer support team at the gaming website for a speedy solution.
In the event of a malfunction of the gaming hardware/software, any affected game bets and payouts are void and the affected bets are refunded.
Our Take
Ugga Bugga is a retro slot experience that can be a great entertainment diversion from the standard fare when players just feel like posting a win or two without blazing through all the bells and whistles.
The symbol Hold feature is admittedly a potentially addictive temptation when viewing the nine remaining reels about to spin.
Ugga Bugga brings a different, dynamic rhythm to slot play and based on its continued popularity with players, provides a backbeat worthy of the time spent.
Other slots to play if you like Ugga Bugga slot
If you enjoyed Ugga Bugga, you might want to check the below slots, which carry either a similar RTP percentage or theme:
White Rabbit Megaways
Blood Suckers
Azteca
Inca Jackpot
FAQs
Why is the Ugga Bugga slot game so popular?
Aside from the industry-leading RTP of 99.07%, Ugga Bugga presents players with a distinctive gaming experience that still continues to delight those who are looking for an alternative to the common gaming features most contemporary slots share.
Is Ugga Bugga a fair slot game?
Developed by Playtech, Ugga Bugga is a licensed slot game that depends on Random Number Generation (RNG) technology to reach a fair and unbiased result on every spin. Ugga Bugga is a fair and safe slot game.
What is the Ugga Bugga RTP?
The Ugga Bugga RTP is 99.07%. This return to player designation is the highest in the Playtech slot portfolio and remains among the highest available from online slot games. Ugga Bugga is considered a low volatility slot game that pays out with higher frequency.
Author
Casino Content Writer
M'Louisa spends most of her time chasing after a certain cheeky monkey that is growing up too fast. When she has a moment to spare you'll find her with a paint brush in hand or reading a good book. For the past 3 years she has enjoyed watching the industry grow and thrive, and thinks that is the most satisfying part of her job!