Ooh Aah Dracula Review
Move over Bram Stoker! Evidently inspired by actor Gary Oldman's suave blue shades and possibly a chocolaty breakfast cereal, the vampire and his minions in this Transylvania-themed slot are dangerously sweet.
Ooh Aah Dracula is a 5 reel/10 payline game that oozes thrills with an RTP that varies between 96% and 99%.
Players looking for a spike in blood pressure will recognize the stakes in a heartbeat. We review how and why Ooh Aah Dracula remains immortal.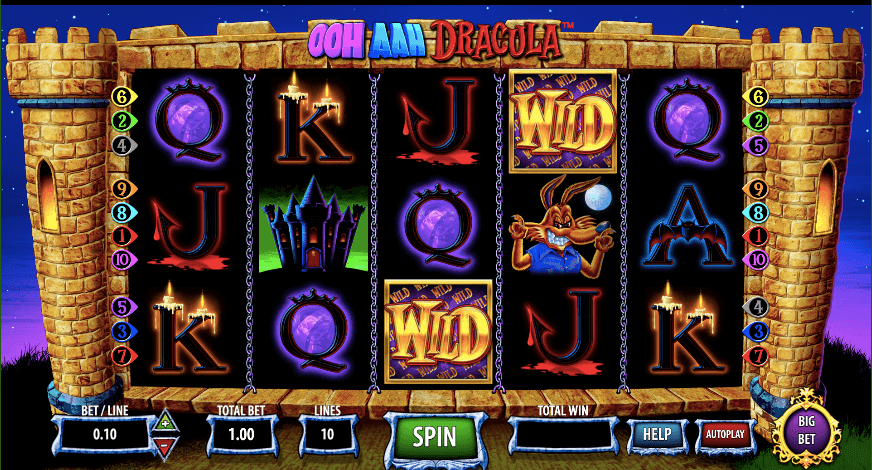 What you'll find in this Ooh Aah Dracula Slot Review
We tramped through Transylvania and rushed the castle keep of Ooh Aah Dracula to provide players with a first-person gaming experience.
Ooh Aah Dracula is a fantasy-themed slot game that offers players a generous taste of game features including high roller options that we reviewed and tested at length.
How I tested Ooh Aah Dracula
Produced by Barcrest Gaming in 2016, Ooh Aah Dracula is a slot game that still attracts a legion of die-hard (undead?) fans.
We took a comprehensive look at every nook and cranny of the vampire's castle and tested the game features that have stood the test of time.
Both new and experienced players looking for a gothic gaming experience will want to know about:
The slot symbols: I identify and explain what each of them is, their respective values during gameplay, how wins are generated and how much the potential payouts reach.
The minimum and maximum bet, autoplay option: I reviewed and confirmed the betting range of Ooh Aah Dracula to establish that this older slot will still appeal to the majority of players. Like all Barcrest games, this fantasy slot does have an autoplay option available.
The payout rate: The RTP (Return to Player) value was evaluated for player payback and compared with the online casino industry standard. Ooh Aah Dracula falls in line with competitive offerings in a similar genre, enabling players to make an informed assessment.
Volatility: The volatility measurement is always an important game aspect that indicates winning potential over time. I looked at it comparatively and balanced it against other game features.
Hit frequency: I checked Ooh Aah Dracula's hit rates against the industry average and also took payout values into consideration in order to get a balanced assessment of where the game lands in the competitive landscape.
Jackpot and/or maximum win: I identify the Ooh Aah Dracula maximum win values, how they can be factored, explain what it takes to compete for them and verify the ultimate win potential.
Wilds, re-spins and other functions: I identify the Wild and Scatter symbols, and describe how they work and how they can lead to larger payouts.
Graphics & sound: Ooh Aah Dracula is a lighthearted gothy fantasy slot game with animated graphics and audio tracks that reflect this theme. I review and advise on the overall quality that most players expect as a standard.
Play Ooh Aah Dracula with the best bonus
To make sure you have access to a selection of the best bonuses when playing Ooh Aah Dracula, we've recommended our top online casino sites here.
Ooh Aah Dracula Symbols & Payouts
The symbols
Led by the cereal box Count, this Transylvanian cast of characters also includes a vampish vampire Countess and a wild-eyed wolf.
Barcrest designers were imaginative with the card deck, creating fish-hook Jacks, magic-mirrored Queens, candle-crowned Kings and bat-barred Aces.
The Wild symbol is a plaque with the word 'Wild' stamped on it, with standard symbols providing additional Wilds when the reels begin to stack.
A heart with a stake through it is the prime Scatter symbol. Five reels play on the bastion of the Transylvanian castle.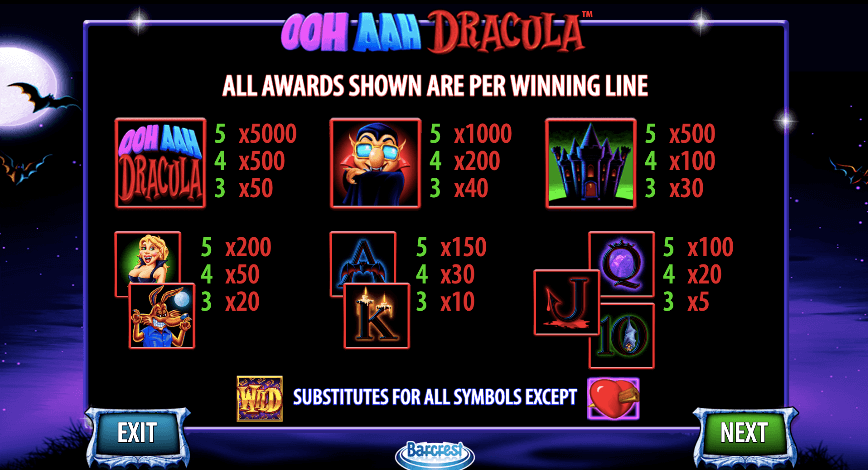 Paylines
Ooh Aah Dracula has 10 win lines with players being able to choose a wide range of bets.
The Ooh Aah Dracula game logo pays the highest prize in the standard version of the game – 5000 coins for 5 on a line, and 500 coins for just 4.
Count Dracula himself is worth 1000 coins for 5. The castle is next with 500 coins, followed by Vampirella and the Wolf and finally the playing card symbols.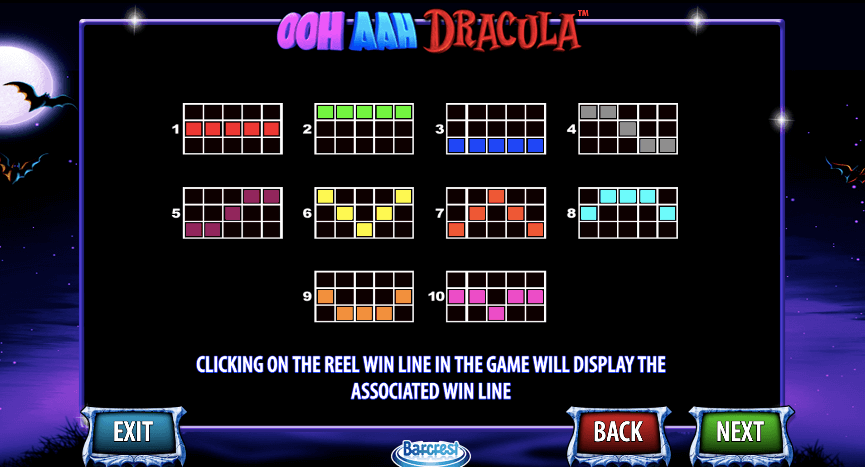 Min/max bet, autoplay option
The minimum/maximum betting range extends from 0.10 to $500 per bet line and the coin values from 0.01 to 100 coins. The Barcrest Gaming auto-spin (autoplay) feature is standard fare.
Ooh Aah Dracula RTP
The Return to Player percentage of 96% during standard gameplay is attractively generous on its own but when players move to the high-roller options the RTP jumps to 99%, making Ooh Aah Dracula's RTP among the highest available online.
Players bitten by Ooh Aah Dracula know the consistency of the payouts and keep coming back for more.
Volatility
Ooh Aah Dracula is rated as a medium volatility slot game. The variance in RTP between the standard game and high-roller format is what primarily weights this rating.
Barcrest Gaming offers two gaming experiences with this slot; one that produces a longer, more immersive and more involved player participation – standard – and an optionally aggressive castle burning riot when playing the high-roller options.
Jackpot and/or maximum win
Ooh Aah Dracula does not feature a progressive jackpot. The maximum win is 5,000 times the line bet and if played at the maximum betting range, (and all ten lines win) that amounts to a $2.5 million payout potential.
A standard and high-roller options with plenty of winning potential
The varying RTP is an interesting feature as is the highroller options. The latter offers high roller players the option to place larger bets, which combined with the higher RTP can land you one impressive win!
Game Features
The 'Hi Roller' button initiates a pop-up with two different options. Players can choose between 5 spins for $20, which will reward a special tombstone choosing bonus after the free spins.
Alternatively, there is an option to choose 5 spins for $30, which includes more and higher payout valued tombstones to select to get the super-graveyard bonuses on top of the free spins.
Both of these options trigger a very generous 99% return to player (RTP), putting the opportunity to build bankroll front and centre for more aggressive players.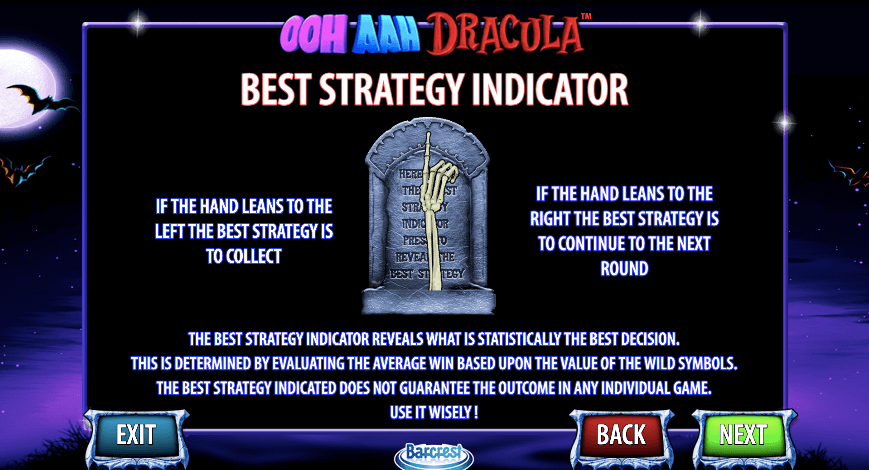 Wilds, re-spins and other features
Three of the (Stake-through-the-Heart) scatter symbols will start the base bonus game and free spins to a maximum of 15.
Once activated, the bonus round will begin with a symbol drawn to randomly select one icon from the paytable and turn it into a wild for the duration of the feature.
Triggering the bonus with four scatters gives players the added option to accept any free spins winnings at the end of the bonus, or trade them for another bonus of 10 spins with a different wild symbol.
Finally, if the bonus round is activated with five scatters, you get a third free spins round after playing out the first two free spins games, and additionally, it lets you trade your prizes for another 5 free spins with a new wild.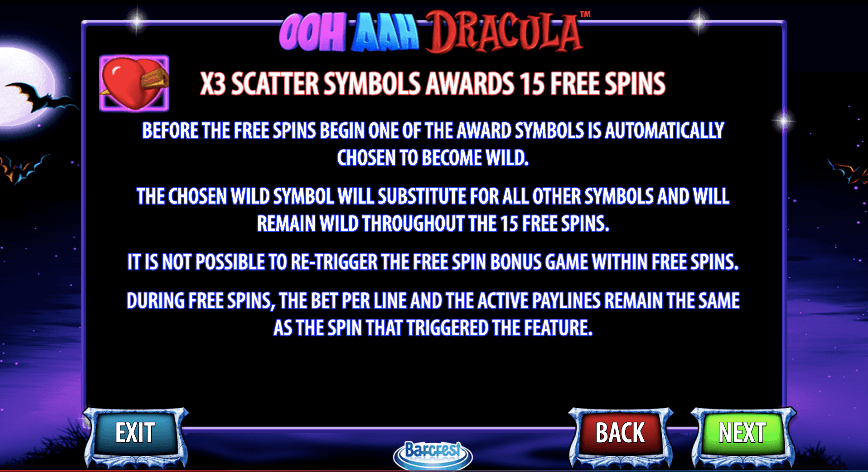 Ooh Aah Dracula Graphics & Sound
| | |
| --- | --- |
| Graphics | High-resolution 2D graphics |
| Optimised for Mobile | 👍 |
| Music | Hauntingly lighthearted organ music |
| Special features | High Roller Feature, high RTP, combination wins, Free Spins, Heart Attack and Tombstone bonus games |
A slot which combines plenty of exciting features with a decent winning potential
Ooh Aah Dracula is a vampire-themed slot game that will have an added appeal to fans of that genre.

From a playing experience, it offers a wide variety of game features that will keep players engaged and excited about the winning potential.

The high roller option multiplies the excitement factor and is a welcome feature for more aggressive players if the standard game session starts to feel a little tame. Count us in!
Solutions if you have some issues with game
Should you experience an interruption during gameplay, simply restart the game to replay the round. As an alternative, you can skip the replay and winnings will be posted to your account.
If for any reason the replay function is not activated, contact the customer support team at the gaming website for a speedy solution.
In the event of a malfunction of the gaming hardware/software, any affected game bets and payouts are void and the affected bets are refunded.
Our Take
Ooh Aah Dracula is a classic slot game that gives new players the option to build confidence and consistent small wins, and more aggressive players a shot at the big money stakes.
The game features are many and each offers a uniquely exciting experience. Wrapped in a gothically cartoonish package, Ooh Aah Dracula presents decent graphics tuned for iOS and Android, is mobile friendly and offers autoplay.
Taken as a whole, the temptation to play at the High Roller level is hard to ignore with the much bigger win value opportunities and 99% RTP.
Other slots to play if you like Ooh Aah Dracula slot
If you enjoyed Ooh Aah Dracula, we're sure you'll enjoy the following spooky slots too:
FAQs
1. Is Ooh Aah Dracula a fair slot game?
Produced by Barcrest Gaming, Ooh Aah Dracula is a licensed slot game that depends on Random Number Generation (RNG) technology to reach a fair and unbiased result on every spin. Ooh Aah Dracula is a fair and safe slot game.
2. What is the Ooh Aah Dracula RTP?
The Ooh Aah Dracula RTP is 96% when playing the standard game. During high roller gameplay, the RTP increases to 99%. Ooh Aah Dracula is considered a medium volatility slot game because of the variance between these RTP rates.
3. Does Ooh Aah Dracula have free spins?
Yes. Free spins are triggered by scatters and come in as many as three sets offering 15, 10 and 5 free spins respectively. Players have the option at the end of each round to collect winnings or select the next set of free spins.
Author
Casino Content Writer
M'Louisa spends most of her time chasing after a certain cheeky monkey that is growing up too fast. When she has a moment to spare you'll find her with a paint brush in hand or reading a good book. For the past 3 years she has enjoyed watching the industry grow and thrive, and thinks that is the most satisfying part of her job!