Lucky Halloween Review
Red Tiger is one of the top slot providers and doesn't make an exception for Lucky Halloween. Halloween-themed, spooky soundtrack and strong visuals, Lucky Halloween slot offers a distinctive experience for slot players in Canada.
We tested the game to see whether it's worth playing and how it compares to other slots.
Keep reading to see all the features of the Lucky Halloween slot.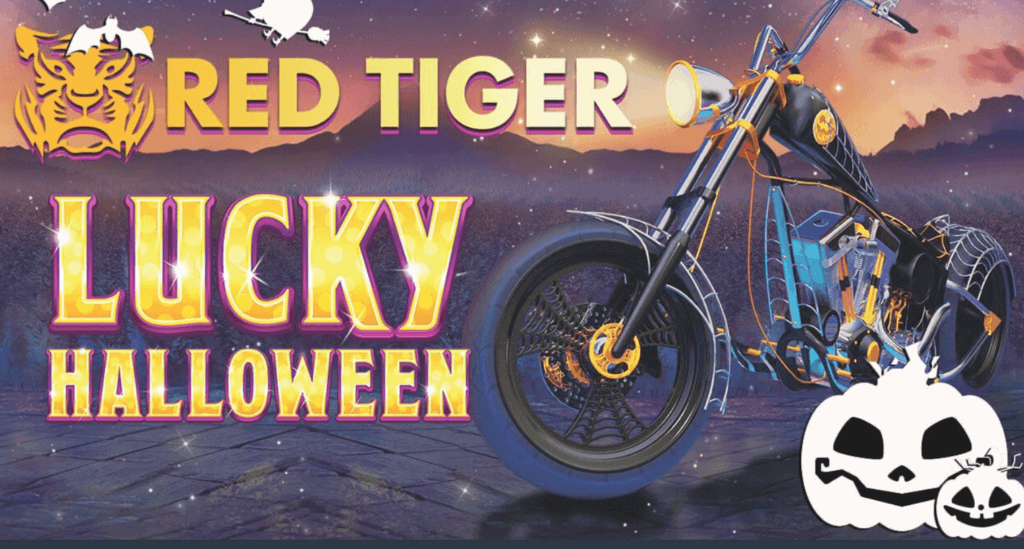 Lucky Halloween Review Contents
Slots have several important areas you have to consider, from the payout potential, bonus features, and graphics. Each slot we review is examined in detail, and below, you can see exactly what to look forward to.
The slot symbols: We explain the different symbols in the slot and the payouts of each one.
Min/max bet, autoplay option: Learn about the minimum deposit needed to play, the max you can bet and if autoplay is offered.
Return to player value: RTP provides a rough estimate of how well a slot will payout.
Volatility: We talk about the volatility of the game and its implications for hit frequency and payout size.
Hit frequency: With this, we look at how often you might win.
Jackpot and/or maximum win: The maximum amount you can win is explained.
Wilds, re-spins and other functions: We describe how each feature in the game works.
Bonus-buy option: If there's a bonus buy option, we discuss how it works and the price.
Bonus game: Learn about the bonus game such as how to trigger it and what happens.
Graphics & sound: We finish with an analysis of the graphics and sound.
Where to Find the Best Bonus for Lucky Halloween
While there are plenty of online casinos where you'll find this slot, you also want to choose the place with the best bonus. Have a look at our page to see the casinos offering the most generous promotions.
Lucky Halloween Symbols & Payouts
Let's start by looking at the symbols of Lucky Halloween and general information related to payouts like RTP and volatility.
The symbols
The five high-paying symbols in the game are the rider's bike, a witch's hat, a cat with bandages, a purple potion in a bottle, and a cupcake with bat wings. For the lower paying symbols, we see the standard royals A, K, Q, J, and 10.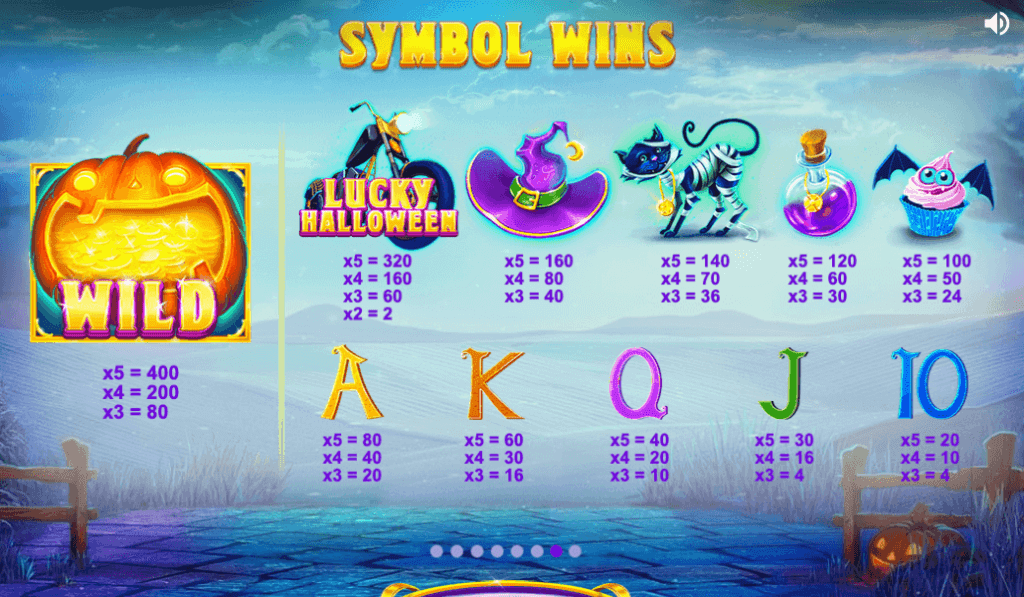 Paylines
There are a total of 20 paylines in Lucky Halloween, that move from left to right. Only the highest win is paid for each payline.
Minimum / Maximum bet and the autoplay option
You'll be able to place minimum wager of $0.20 per spin and a maximum of $100. We believe this range is fairly wide. Additionally, there's an autoplay option available too if you want to move faster from one spin to the next.
Lucky Halloween RTP
Lucky Halloween can be considered a high RTP slot – featuring a 96.16%. For the newbies, RTP (Return to Player) means the % return a player gets back once they land a win. The counter value for RTP is House Edge.
Volatility
The volatility in the game is high, meaning you shouldn't expect to win too often. However, when wins happen, they feature much higher win amounts.
Jackpot and/or maximum win
Lucky Halloween does not feature the highest payout – 800x – however it is considerably high and above standard to other slots.
A standard average payout value with a good range of symbols
Featuring only 20 paylines, and high volatility, this slot features less frequent wins. However, the maximum win of 800x and maximum bet of $100, can result in a pretty high payout.
Game Features
Let's have a look at the main game features next. Red Tiger has added several interesting bonuses that make for an exciting game.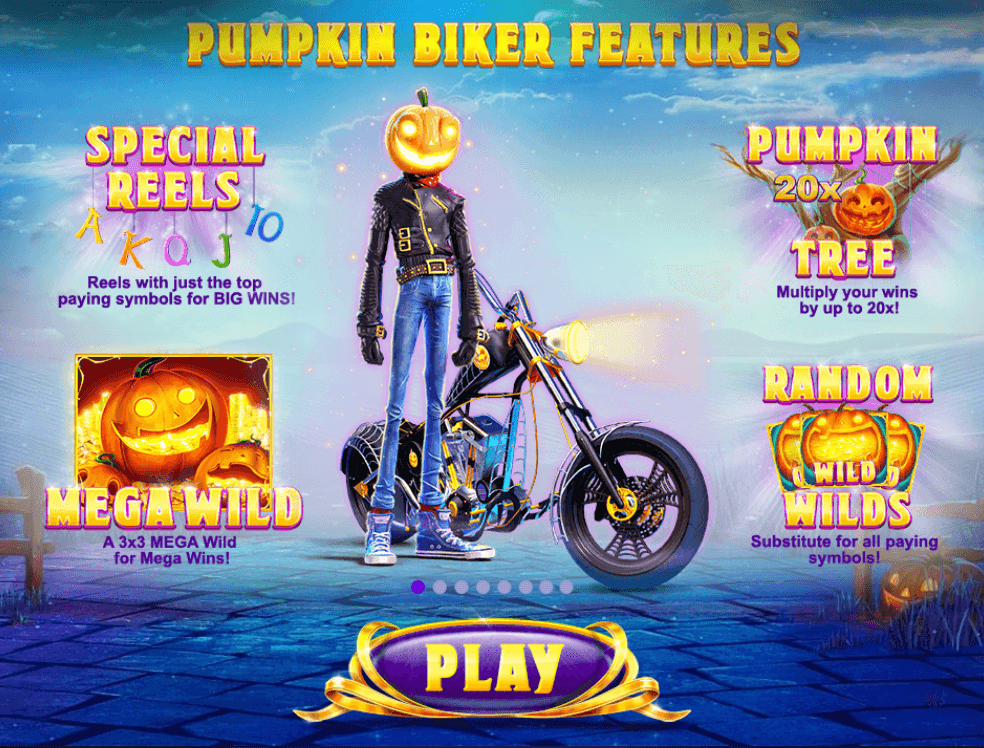 Wilds, re-spins and other features
Wilds and re-spins are the standard features you'll find in any slot game. We'll start with explaining these and then move on to the other unique features.
Wilds
The wild symbol in Lucky Halloween is represented as a large, carved pumpkin. Normally, wilds substitute for other paying symbols. In addition to the regular wilds, the pumpkin driver will occasionally toss his head onto the reels and cause additional wild symbols to appear for more chances to trigger higher payouts.
Mega Wild
Mega wilds can randomly occur on the screen. This 3×3 wild symbol can result in some massive wins.
Re-spins
By getting three free spins symbols (a gold pot of candy), you'll unlock the re-spin rounds. The number of free spins you get isn't set in stone though and can vary with each trigger.
Full Moon Bonus
The Full Moon Bonus is the main feature of the game. To trigger it, you need to land three bonus symbols on the reels. During the game, you'll see a long string of multipliers – and these can trigger the maximum win of 800x.
Each round, you pick one of six pumpkins to the left, which can give you the chance to increase your multipliers, or else cash-out the current multiplier you're on. If you decided to cash out, you'll receive a payout equal to your current wager times the multiplier.
Multiplier (Pumpkin Tree)
Randomly, the Pumpkin Biker can drive across the screen and light up the pumpkin tree to the right. This will cause your win from that round to be increased by a multiplier of up to 20x.
Lucky Halloween Graphics & Sound
Lucky Halloween's graphics are basic and enticing. Red Tiger put considerable attention into the different animations, such as the biker driving across the screen, lightning effects and others. The symbols and backgrounds are 2D, but you have some 3D parts as well.
The soundtrack to the game is spooky and sets your right into the spirit of Halloween.
| | |
| --- | --- |
| Graphics | Mix of 3D and 2D |
| Optimized for Mobile | 👍 |
| Music | Eerie music |
| Special features | Animations, lightning |
Easy visuals and graphics
It's easy to say that Lucky Halloween goes above and beyond most slots when it comes to the presentation. The graphics are top of the line and the cutscene intro you get into the bonus game was impressive. The Halloween theme is captured brilliantly.
Solutions to Common Issues
Here are a few things you can try in case you experience any trouble while playing Lucky Halloween.
If the game is slow or lagging, refresh your browser and also verify your connection hasn't slowed down.
If the game is failing to load correctly, we recommend turning off any extensions, such as ad blockers and refreshing the page.
In case you experience an error mid-spin or other malfunction, your wager from that round will be void and refunded.
Lucky Halloween is a Fun and Exciting Slot, Although With a Lower Payout Potential
We certainly enjoyed playing Lucky Halloween and found it to be extremely fun. The various bonuses and animations contributed to this greatly. While the bonus game can be more tricky to trigger, many of the base game features (like the different wilds) are activated often enough.
Where the game falls short is on the payout potential. The max win of 800x isn't that much. Still, if you're looking for an exciting slot to try around the Halloween season, this one provides a lot of thrills. Our final score for lucky Halloween is 80/100.
Other Similar Slots to Lucky Halloween
If you enjoyed the vibe of Lucky Halloween, have a look at these other similar games too.
Author
Casino Content Writer
Lara thinks that being happy is all about sipping beer by the sea with her favourite peeps. She understands people through conversation and tries to laugh her way through life. Cooking and writing are at the core of her being, and finds casino reviews to be the most interesting part of her job.