EggoMatic Review
When it comes to online Canada slots that are just that bit outside the box, but still exciting, players can always turn to NetEnt! Where else can you find an online slot that is themed around a coop full of robot chickens that lay some insane wins? Let us explore EggoMatic together!
How we tested Eggomatic
At Canada Casino we check what do our players in Canada prioritize when they choose a slot game over another. These are the aspects we went to when we tested the Eggomatic slot game:
Slot symbols: how they look and the value of their payouts.
Minimum and maximum bet, autoplay option: the minimum and maximum allowed amount for betting. Also, is there an autoplay function?
The payout rate: the Return to Player (RTP) % amount of the game.
Volatility: big profits and lower chances to win, or vice versa?
Hit frequency: amount of winning combination occurence.
Jackpot and / or maximum win: if slot has a jackpot; if yes, what type and what is the maximum win of a jackpot
Wilds, re-spins and other functions: What symbols act as wilds or scatters? Do they also act as re-spins?
Bonus-buy option: Is there a bonus buy option in the game?
Bonus game: Is there a bonus game?
Graphics & sound: The graphics and the sound.
Play EggoMatic with the best bonus
Launched in 2013 and powered by giant provider NetEnt has remained a favourite amongst players in Canada. It features some of the best bonuses in a slot game – where numerous bonuses can be triggered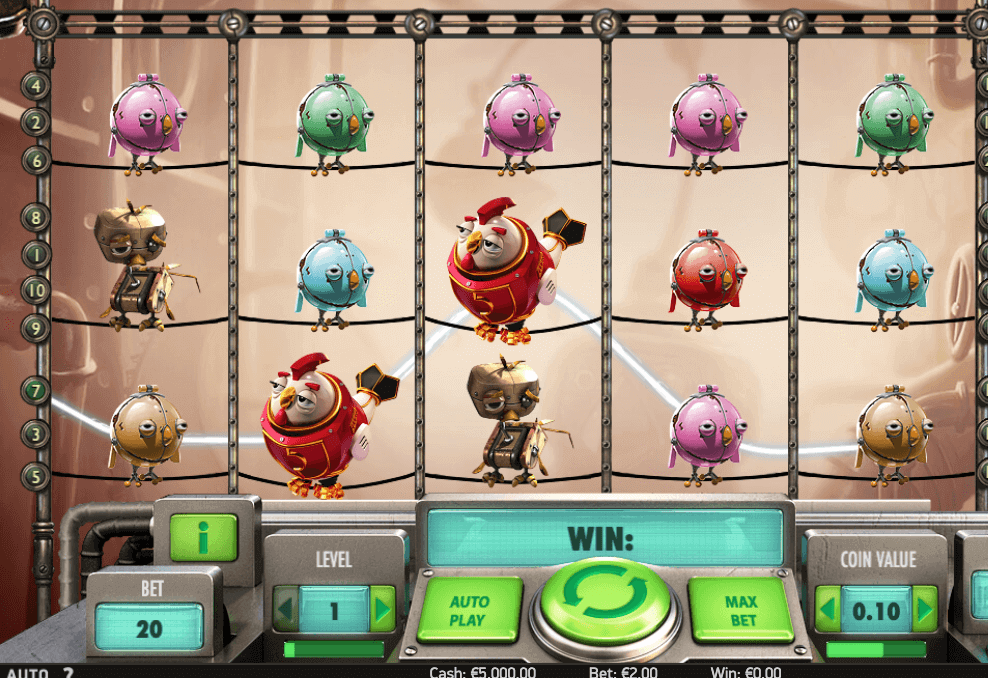 EggoMatic Symbols & Payouts
Eggomatic slot game features a 3×5 reel, a great number of symbols with different functions and payout values, as well as good volatility and RTP.
The symbols
What is a slot game without its symbols? Eggomatic features quirky, overworked chickens and hens. The Black rooster comes to the rescue as it acts as a Wild Symbol and acts as a substituting symbol – triggering different winning combinations.
The highest payout symbols are the Red Hen featuring an x50 multiplier and the Purple Hen with a 35x multiplying value. The lowest paying chickens are blue and brown and feature a 2.5x multiplying factor.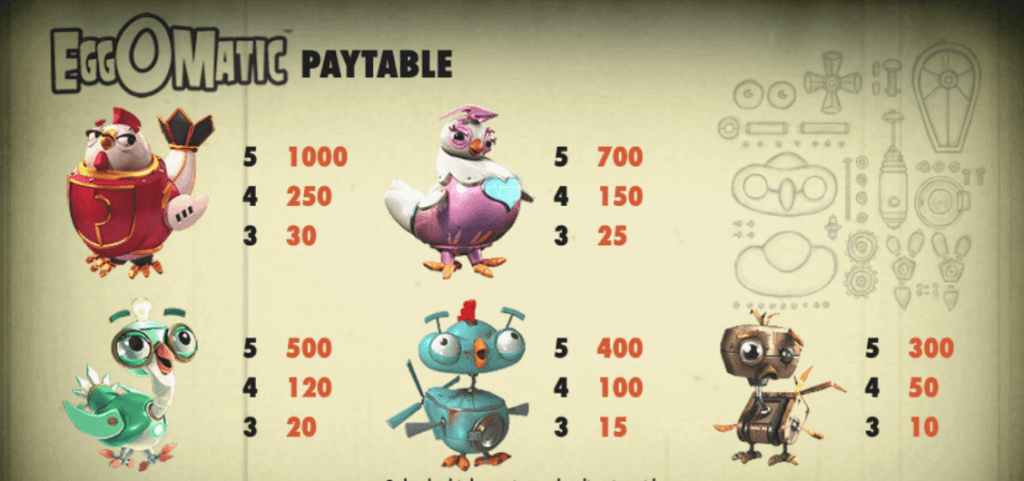 Paylines
Eggomatic 5×3 slot game features 20 fixed paylines.
The paylines land wins when moving from left to right. Wins are triggered if you land 3 or more of the same symbols mentioned above.
Min/max bet, autoplay option
Eggomtic slot games are good for all players in Canada with all sorts of budget types – since it features a low minimum bet of C$0.20 and a maximum bet that doesn't exceed C$200.
The game also features an Autoplay option that operates through a regulated RNG system.
RTP
Players in Canada also generally lookout for the game's RTP Value. RTP (Return to Player) is the percentage amount players get back from their original bets once they land wins. High RTP games in the online casino world are also referred to as high payout slots.
EggoMatic is a high RTP slot – featuring a good 96.48%. This means that if a player bets C$100. then they get C$96.48 once they land a win.
Volatility
The volatility of EggoMatic is considered to be medium. This means that the chances of winning vs the maximum amount won are balanced oud – neither too high nor too low.
Jackpot and/or maximum win
The maximum matching potential of wilds can reach you quite a decent Jackpot. The maximum jackpot for EggoMatic features a total payout of C$94,750.
Winning at EggoMatic is more accessible
Though not one of the highest Jackpots, the game features medium volatility and a low-maximum bet of just C$200.
When you compare this to other online slots, Eggomatic is more accessible for all players to get the most out of the game and possibly earn more wins – irrelevant of their budget limits.
Game Features
The game features different wild possibilities and substitutions as well as different symbols that have a range of multipliers that can trigger 20 fixed paylines.
Wild Symbol
The wild symbol features a big rooster that carries the sign 'Wild' on it.
The rooster acts as a substitute to the other non-wild paying symbols as it establishes itself across the lines to boost your wins.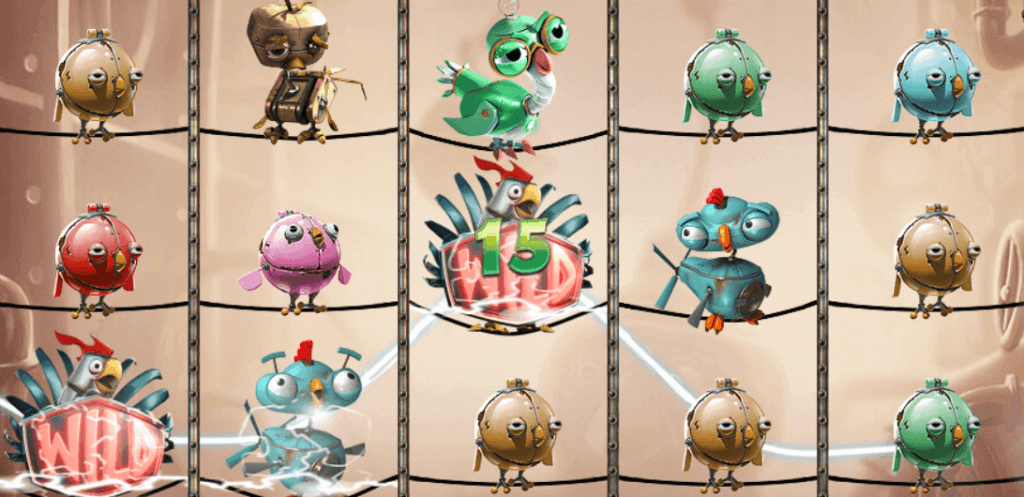 Wild Multiplier
The wild multiplier can be found below the egg of the conveyor belt. Once the egg drops, the wild multiplier is activated – causing all symbols to become wild and therefore giving you the chance to land higher wins.
Free Spins
When an egg drops, you as a player can land a maximum amount of 50 Free Spins. The number of free spins you get is very random – this is not a bad thing as it can enable you to collect even more free spin eggs.
Symbols' Multiplying Value
There are a total of 8 other symbols – and if 3 of the same symbols land within the reel, players land different winnings – depending on the type of payline landed.
The reel symbols are different chicken symbols with different colours – each featuring its multiplying factor that range between x2.5 and x50,
Bonus Buy
EggoMatic slot game features no Bonus Buy feature.
EggoMatic Graphics & Sound
Paste in here this table below with the following information:
| | |
| --- | --- |
| Graphics | 3D |
| Optimized for Mobile | 👍 |
| Autoplay Option | 👍 |
| Special features | Wilds, Spreading Wilds, Free Spins, Multiple Bonuses, Jackpot |
| Music | Factory Machine |
NetEnt never goes bad with the graphics – EggoMatic slot game is one of its finest examples
This slot game speaks fun and humour. The game's symbols and the platform's 3D visuals integrate that same sentiment to the game. The graphics and animations attest to NetEnt's distinct innovative streak that features highly interactive games such as EggoMatic
Sounds just like…an egg factory machine
The sounds of the game are the sounds of an ongoing factory machine – to be precise, an egg factory one – specifically as it weights, measures and packs the eggs for distribution. The sounds are pretty immersive as if you're right at the heart of it all.
Solutions if you have some issues with a game
Even the best of casinos and any platform experiences system errors or issues. Worry not – the provider gives excellent customer service to its customer, and you can rest assured that no money will be lost and the bets will be considered null and refunded to the plater accordingly.
Conclusion
EggoMatic is a quirky one – in a good sense. The game's concept is almost sweet – as the rooster represents a hero that saves the overtired chickens – acting as a substitute for them.
NetEnt is a giant in the gaming industry, and EggoMatic is one of their finest examples when it comes to their expertise in providing an immersive 3D graphic experience, featuring some highly tuned sound quality to the game.
What we loved most about the game though is that the highest bet is not too high – therefore players from high to low budgets can reap the maximum winning possibilities out of this game.
Other slots to play if you like EggoMatic slot
Top casinos in Canada feature some of the best slots in town. if you like Eggomatic you should check out these as well:
Author
Casino Content Writer
Lara thinks that being happy is all about sipping beer by the sea with her favourite peeps. She understands people through conversation and tries to laugh her way through life. Cooking and writing are at the core of her being, and finds casino reviews to be the most interesting part of her job.