Our latest Game Shows reviews
Dream Catcher
MONOPOLY Live
Crazy Time
Craps Live
An innovative blend of betting and old school TV shows, these games have only just recently made it to the online gaming world, claiming instant success for the entertainment they provide.
Held within a state-of-the-art studio, and managed by a host, Live Game Shows consist of a number of games that involve betting on a certain outcome of a game. Huge prizes await lucky ones and Canadian players are amongst those who can play these games at the best online casinos.
Our Live Casino Game Shows guide will introduce you to the most exciting online Game Shows available and will also share the best places where to play them!
Where to Play Live Casino Game Shows in Canada
Looking for the right casino to play Live Casino Game Shows?
The best online casinos in Canada feature popular Game Shows like Monopoly Live, Deal or No Deal, Dream Catcher and many others.
What's more, providers are always coming up with new interesting games to try out, and at the right casino, you can try them out for free by claiming a casino bonus!
Most Popular Live Casino Game Shows
When it comes to Live Casino Game Shows, provider Evolution Gaming is the undisputed leader of the industry.
It was Evolution that launched the first-ever Game Show and it was this provider who released subsequent shows based either on already popular games like Monopoly or else on real TV shows like Deal or No Deal.
The first show appeared amongst Live Casino games a few years ago and consisted of a game inspired by the traditional wheel of fortune, known as Dream Catcher. These days Live Dream Catcher is a staple amongst all Live Casino Game Shows.
Live Dream Catcher
Live Dream Catcher is quite an easy game to play and understand.
Inspired by the traditional money wheel, it appeals particularly to slot enthusiasts as its rules are simple to follow and don't require any strategy at all.
Under Evolution Gaming's careful tweaking, the game has taken the shape of a large upright wheel, set into a state-of-the-art studio where a host manages the game in true TV show presenter style.
The multiple cameras installed around the studio deliver an immersive experience, with synchronized sound effects to render the action even more authentic.
To play Live Dream Catcher players must place a bet on a number they think the wheel will stop at. The host spins the precision-engineered bespoke wheel and waits for it to stop on a random number that adorns the edge of the wheel. If it is the correct number, the player wins the corresponding payout.
The game comes with x2 and x7 multiplier segments, which add more excitement to the gameplay, especially as the game offers the possibility of winning up to $500,000.
Live Dream Catcher is one of the most popular Live Casino games making it one of the easiest games to play online at a Canadian online Casino. A visit to one of our recommended casinos will give you access right away to this incredibly fun game!
Live Deal or No Deal
Live Deal or No Deal is based on the original TV show that was aired in Britain with great success.
Just like Live Dream Catcher, Deal or No Deal offers seating to an unlimited number of players.
Although the game has its foundations based on the original show, a few modifications were carried out to render it more exciting, as well as, playable from a Live Casino capacity.
The game consists of a number of rounds and although it is faster-paced than the original show, it still takes a few minutes to complete the entire gameplay.
The game starts with a qualifying round, where every participating player must spin an RNG three-reel bank vault. Apart from qualifying players, this spin is quite significant as it sets the amount for the briefcase with the biggest prize with multipliers ranging from 75x to 500x, which are applied to the player's bet.
To make sure that the game is always fair, it is up to the player to choose one of the 16 briefcases to hold this grand prize.
Once these two rounds have been completed, the next part of the game involves a Top Up Wheel, where players have the opportunity to top up the prizes in any of the briefcases with multipliers of 5x-50x.
For the final and main round of the game, the participants are confronted with 16 identical and sealed briefcases. Each briefcase is home to an amount of money even though upon opening the only thing revealed is a number between 1 and 16.
This part of the game is made up of 4 different rounds and is very similar to the original game. With each round, a predetermined number of briefcases are opened.
With each opening, 'The Banker', an off-screen entity that communicates with the host through a phone, offers a sum of money, prompting the host to ask 'Deal or No Deal'.
When there are only two briefcases left, the player's and one other, the participant is given the opportunity to swap his for the mysterious other.
It is a game that is based purely on chance and luck. Still, it can be highly entertaining and the possible prizes are exceptional!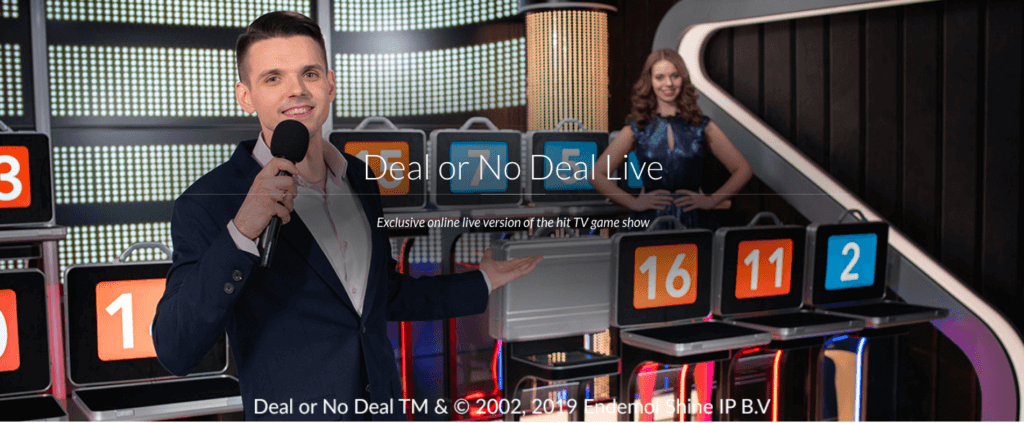 Monopoly Live
Monopoly Live is exclusively an Evolution game, created in partnership with Hasbro, the original creator of the board game of the same name.
Unlike the original game, Monopoly Live takes on the shape of a Money Wheel, similar to Dream Catcher, but with some of the original game's elements.
Monopoly Live comes with a vertical wheel, divided into number and segments. Players need to bet on what they predict will be the winning number or segment.
If the bet was made on the victorious number, the appropriate payout is handed to the player. If on the other hand, the wheel stops on one of the segments a different scenario will play out.
There are three different segments; 'Chance', '2 Rolls' and '4 Rolls'. The former segment presents the opportunity for instant cash prizes and multipliers, while the latter two activate a 3D game based on the adventures of Mr. Monopoly, who is virtually stationed next to the wheel.
During the 3D bonus game, players follow Mr. Monopoly as he enters the virtual Monopoly board collecting prizes all the way.
This part of the game is conducted through the use of Dice and players will find all of the elements of the original game: the Community Chest, Hotels, Houses, Jail, Tax and much more.
Those players who did not place bets on these two segments can still watch the bonus game unfold, although they won't be able to collect any prizes.
Monopoly Live has achieved incredible popularity and in 2019 it was awarded the EGR Game of the year prize and the 2020 Gaming Intelligence Game of the Year award.  

Lightning Roulette
Lightning Roulette combines traditional Roulette with some seriously advanced RNG gaming.
The game still features a Roulette wheel and the betting table but the exhilarating studio hides a few twists that make this game truly exciting.
Players still need to place the usual Roulette bets, however, once the spinning has been completed a set of lightning bolts strike 1 to 5 numbers, known as the Lucky Number, which are displayed on panels behind the wheel.
Multipliers are added to these numbers which can range from 50x to 500x. Players who placed straight-bets on any one of the Lucky numbers can win a substantial amount of cash especially as the total multiplier is x500 the initial bet.
Mega Ball
Mega Ball is the latest innovative game by Evolution Gaming.
This Game Show is a combination of lottery and Bingo.
The game features a ball-drawing machine, which houses 51 numbered and coloured balls, together with bingo-style cards which appear on the player's interface.
The game starts when 20 balls are drawn in quick succession, with the numbers they display, crossed out on the player's cards automatically, just like a game of Bingo.
As the last ball is drawn, the Mega Ball is triggered, causing the lighting in the studio to change dramatically and spectacularly, creating even more anticipation.
The Mega Ball multiplier which can be anything from 5x to 100x is generated, and if it completes a line, the player's winnings are multiplied accordingly. The rules are quite simple to follow and the best part about it is the possibility to win up to 1,000,000x. 

What are Live Casino Game Shows?
Live Casino Game Shows are games adapted for the Live Casino studio.
They could be existing games or else new games created specifically for this setup.
The games come with beautifully designed studios, multi-cameras, and exciting sound and light effects.
The studio features specific equipment which is paramount for the gameplay, like wheels and tables. These could either be operated by an RNG computer or else by a live host, a human being tasked by the provider to welcome players, give instructions and run a commentary as things unfold.
Through all of this, players sit behind their desktop computers or else their mobile phone, placing electronic wagers from their player's account.
The games are streamed in real-time, and players have the opportunity to watch the action from various angles and close-ups, immersing themselves in an authentic experience that is only possible through modern technologies.
What are Live Casino Game Shows like?
Casino Live Game Shows were designed to appear and feel like a TV show, regardless of the game being played.
What characterizes Game Shows from other live dealer games, is the host, whose friendly manner welcome all players to the game and provide clear and concise instructions, while at the same time offering a commentary of everything taking place.
There is also the studio design, which is very similar to that of TV shows, the lightning and sound effects which create a feeling of awe and excitement.
One thing, though, that makes them different from the TV aired Game shows is the speed with which they are conducted.
Deal or No Deal, for example, might be based on the popular British show, however, the live game is simpler and the process shorter, leaving space for many more rounds in a single day.
How do Live Casino Game Shows work?
Live Game Shows are strictly something you can only find within an online casino.
Their concept is a recent development in the gambling world and although they are based in a studio just like games of Live Blackjack and Live Baccarat, they are created to be as similar as possible to a TV show.
There is no live dealer and there is no need for strategy here. Another major difference is that table games like Blackjack and Baccarat don't bear the interference of an RNG computer but are conducted by human hands.
With a Game Show, most of the equipment, generates results through an RNG computer, while the host is purely there to act as a presenter, his main job to create suspense.
The RNG computer used for Live Game Shows is not that different from other casino games that use such technology for their randomness.
Each game's RNG is programmed with the odds of the game and then it is up to the computer to generate random results based on those odds.

How do you play Live Casino Game Shows?
Participating in a Live Casino Game Show is as easy as playing any other casino game.
The first step is always to create an account with the gambling platform that offers these games and accepts Canadian players.
Each individual game comes with its own betting range and a specific minimum bet to be able to participate.
Truth be told, participating in Live Casino Game Shows is a lot easier than qualifying for an invitation for an actual TV show.
Register with a Canadian online casino
Registering with an online casino that offers Live Game Shows is becoming easier and easier from Canada.
These days there are hundreds of operators who have opened their doors to Canadian players, many of which have partnered with Evolution Gaming, featuring a large number of live games, including Live Game Shows.
Finding a game to join
We also have to point out that not all Game Shows are available 24/7, and some might have a specific time when they start.
Deal or No Deal and Live Dream Catcher are two games that are open to players around the clock, making it possible to join at any time of the day.
Unlike other RNG games, Game Shows cannot be played for free, as it costs a lot of money to run the game, especially since there is a real host managing the show.
Participating can only be done by betting with real money. The betting range of each game is usually displayed underneath each table, directing players to the tables that suit their budget most.
The best thing about Live Casino games is that they tend to span a vast range of betting options, allowing even players on the tightest of budgets to participate.
Live Casino Game Shows on Mobile
Evolution Gaming is a modern company that keeps abreast with modern technology and demand.
That is why from the onset it created its games to work on both desktop computers and mobile.
The smaller-screened navigation is not compromised at all, allowing players the complete enjoyment of Live Games from anywhere they might be.
Are Live Casino Game Shows rigged?
The Live Casino Game Shows we've mentioned in this guide are all by Evolution Gaming, a trusted and well-respected provider throughout the gaming industry.
Furthermore, the studio has obtained licenses from various gambling jurisdictions, subjecting its games to intense scrutiny by several strict regulators.
Since Game Shows are based on tested RNG computers, we deem the games to be totally fair and transparent.
Each game might have its very own odds and tough possibilities to trigger the highest payout, but each result is random, conjured by an advanced RNG computer that cannot be tampered with.