Get on Board With Your Favourite Board Game, revamped for Live Casinos!
Enjoy a Dream Catcher-type wheel that features your favourite board game
Win up to $500,000 with the brilliant bonus games in Monopoly Live!
Hasbro's Monopoly has been thrilling and entertaining the world for generations. We were obviously thrilled when we learnt of their collaboration with Evolution Gaming to create a one-of-a-kind Monopoly game based on the award-winning 'Dream Catcher.' 
In this review, we'll investigate the Monopoly Live features and learn more about the gameplay. We'll also give you some pointers about where to play Monopoly Live from some of the best casinos in Canada.
Monopoly Live Game Show Overview
| | |
| --- | --- |
| Game Name: | Monopoly Live |
| Provider: | Evolution Gaming |
| RTP: | 96.20% |
| Features: | Bonus Games, Chance Cards, Multipliers |
| Min Bet: | $0.10 |
| Max Bet: | Betting limit depends on casino |
| Top Win: | $500,000 |
Monopoly Live Info
Where to Play the Monopoly Live Game Show from Canada?
Even though Monopoly Live is a relatively new arrival to the Live Casino experience. It's available at many different operators. Undoubtedly, we can attribute this to Evolution Gaming's reach in the online casino industry.
Ensure that you research any operator that you're considering carefully, but you shouldn't struggle to find an excellent casino with this game. Here are a few that we'd suggest:
What Is the Monopoly Live Game Show?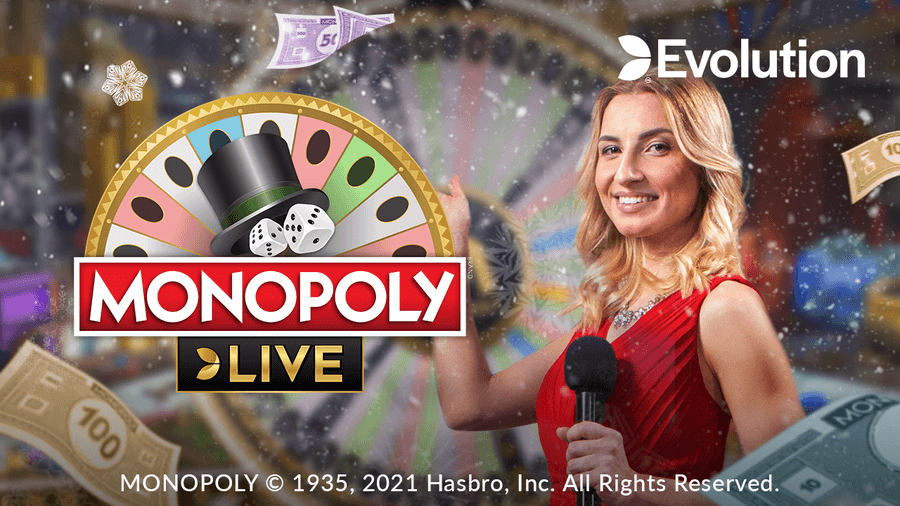 Monopoly Live is a game show based on the classic board game by Hasbro. In truth, it's a hybrid game since it prominently features many of the mechanics used for Dream Catcher.
The game features both the base wheel, on which most of the game relies, and a virtual monopoly board. The virtual board relies on a random number generator and an automatic dice roller to reward random prizes and multipliers.
How to Play Monopoly Live Game Show?
If you're looking for a game with a lot of intense strategy and other challenging aspects, this game isn't for you. Monopoly Live is a relatively simple game show that anyone can play in their free time.
If you've ever played the Evolution Gaming classic Dream Catcher you're already familiar with many of the basics. The central part of the game revolves around the wheel, so that's where we'll start.
The wheel is entirely manual and doesn't rely on a random number generator or other technology to deliver an answer. The game features a live presenter at all times, who is responsible for spinning the wheel.
The Monopoly Live wheel is divided into 54 segments and features four different colours of Monopoly money. Furthermore, the board has two chance slots, three '2 rolls' spaces, and a single '4 rolls'.
Monopoly Live features a layout with 4 banknotes and the 2 bonus signs at the bottom of the game screen. By placing a digital casino chip on any of those six options, you make a wager on that number or bonus.
You can choose between a one, two, five, or 10 currency note. If the presenter spins the wheel and it lands on the number you wagered on, you earn back your stake and profits. We'll discuss the payout mechanics in the next section.
It's possible to wager on all six options at once, but you're likely to lose a lot of money that way. If you need to step away for a moment, or you're angling for the bonus game, you can also use the 'autoplay' feature.
As with a slot machine, you set your wager amount and a number of spins. Unlike the slots, you also need to choose what you'd like to wager on. The game will then automatically make the bid you set it on for every round.
Chance cards
The chance cards are available to anyone that's wagered on the round. Irrespective of which space you've wagered on, you get to partake in the chance cards.
Chance cards can give you either a multiplier or an instant cash prize. If you get a multiplier, the presenter spins the wheel again, and your original wager stays in place. If your initial bet pans out, you make your stake back times the multiplier.
If your wager doesn't pan out, you get nothing. It's worth noting that the chance multipliers are stackable. If you manage to get two chance cards in a row, by some stroke of fortune, then the game multiplies your wager by the sum of the two multipliers.
The chance cards are the most straightforward part of the wagering since they don't depend on your making a specific wager. Let's move on to the central part of the wheel and discuss the Monopoly money.
Monopoly Live Bonus Game
The final essential part is the bonus games. As with the money, you have to wager on a bonus to benefit from it. If the wheel stops on '2 rolls' and you were only betting on '4 rolls', you don't get to participate in the bonus game. 
Conversely, if the wheel stops on '4 rolls' and you only wagered on '2 rolls,' you're excluded from the bonus game. If you haven't wagered on either bonus space, then you can't play the bonuses at all.
If you manage to wager on the correct bonus slot, the game will sweep you away to a digital Monopoly board. First, you'll get to watch as houses and hotels land on the board, sprouting multipliers as they go.
Once the multipliers are in place, the first roll takes place. The game makes use of an automatic dice roller to stream live rolls. Following this, Mr. Monopoly moves the number of spaces that the dice indicated.
The place where Mr. Monopoly stops dictates how big a multiplier you get. Every time you land on a space, you get your wager times that multiplier. The nice thing about the dice is that the rolls are stackable.
Every time you roll a double, you get another roll. Theoretically, this indicates that you can continue the bonus round for quite a while. With a couple of well-landed rolls, you can play your multiplier up to around the 1000x mark.
It's worth noting that you can also land on chance cards during the bonus game. As in the main game, they give either multipliers or cash prizes.
Monopoly Live Game Show Payouts
Now that you're familiar with the gameplay and basics let's discuss the Monopoly Live RTP and payouts. This game compares favourably with other game shows and the return to player (RTP) of 96.20% is surprisingly high.
The payouts are slightly complicated for this game as each banknote or slot has its own specific odds and payout. We'll look at each number in turn and tell you how much you can expect to earn if you land on it.
The one offers a payout of 1:1. You can earn between $0.10 and $500,000, depending on your wager size. If your wager is $20, you'll make $20 from a winning bet.
Twos boast a payout of 2:1. Whatever you wager, you'll get twice as much from a winning spin.
Any budding mathematicians among you have likely spotted the pattern by now. Fives offer a 5:1 payout, and tens host a payout of 10:1.
The exception to the above rules lies in the chance cards. If you happen to get a chance multiplier before your winning wager, you can earn more from your winning spin.
Let's turn our attention to the bonus games now. Remember that, to participate in a bonus round, you must have wagered on the appropriate place. As with the other spaces, you can wager any of the standard chips on these slots. 
However, unlike the other spaces, there's no fixed payout. The bonus games are the true gold of this game, and you can win the game maximum on them. At the maximum base payout of 10:1, it would take quite a few lucky spins to win the game's max. However, with stackable dice rolls and many multipliers, either of the bonus rounds can stack to the maximum.
It's far from likely that you'll manage to win $500,000 with a $0.10 bet, but it's theoretically possible. One of the larger multipliers on the digital board is 500x, so imagine the stacking potential.
Monopoly Live Game Show Strategy
Since this is a live game show, it relies heavily on chance, and you can't strategize overmuch. However, there are a few things that you can do to help boost your chances.
For instance, you can know the probabilities of the various slots. If you break down the wheel into its multiple parts, you can work out the odds on each space.
There are two chance slots, three '2 rolls' slots, and one '4 rolls slots'. Furthermore, there are 22 ones, 15 twos, four 10s, and seven fives.
For the sake of the calculations, we'll treat the bonuses as a group. You have approximately a one in 14 chance of landing a prize. Theoretically, that means you should land on one once in every 14 spins. It's not perfect, but it helps nudge your bets in the right direction. Calculate the probability for each field and let that guide you.
Finally, try to keep a consistent wager on both bonuses since that's where the real winning potential is. You don't want to lose out on winning big because you got distracted by the other wagering.
Graphics & Sounds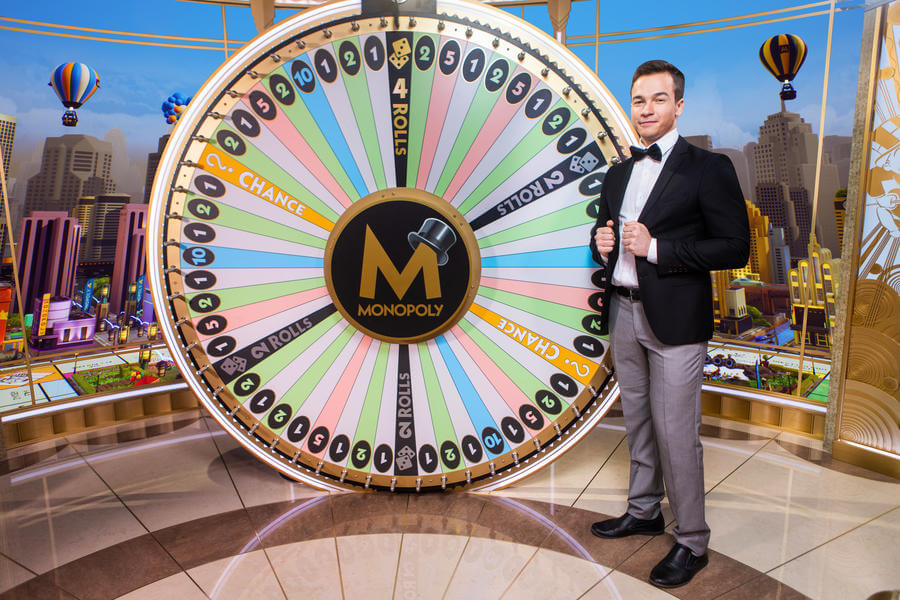 This game graphics in Monopoly Live are phenomenal. During the live spins, the outside of the studio features a vibrant Monopoly city. At the same time, Mr. Monopoly sits comfortably in an armchair, awaiting his feature.
Furthermore, the bonus features are beautiful. You get swept away from the studio to a Monopoly game board. The design is so cunning that you can watch Mr. Monopoly walking among the animated trees as he walks out your dice rolls.
As for the audio, the voice and rambling of the presenter dominate the live spins. That's not a bad thing when the presenter is good but can become overbearing when they're not.
During the bonuses, you have Mr. Monopoly talking to you as lively background music plays. Altogether, the game comes together spectacularly.
Other Game Shows to Play If You Like Monopoly Live Game Show
If you find that you enjoy the Monopoly Live game show, you may wonder about similar games. An excellent place to start when you're looking for similar games is Dream Catcher. The classic Evolution Gaming wheel is the inspiration for some of their other game shows, and there are many.
Dream Catcher is similar to Monopoly Live, but the stakes and payouts can be much higher with that game. Nevertheless, both are simple spin-the-wheel type games where you wager on where the wheel will stop.
Lightning Roulette is another similar and top-rated game show. As with Monopoly, Evolution Gaming has added a whole new gaming layer to this version of roulette. It's considered the largest live roulette game in the world.
Perhaps it's the Monopoly theme that drew you, and not the game show part so much. In that case, there are many other Monopoly-themed games that you could try. Super Monopoly Money from SG Digital is a beloved slot game. The Monopoly Big Event slot is another such innovation.
Monopoly Live Review – Conclusion
Monopoly Live has definitely marked its territory when it comes to the best Game Shows that online casino has to offer – and that is why we find it a must in all the best online casinos in Canada.
Additionally, the graphics and design elements of this game are incorporated well. If you love Monopoly and spin-the-wheel type games, you're sure to enjoy this hybrid.
And now, why not have a go at Monopoly Live at some of the most reliable casinos in Canada? We wish you the best of luck!