Evolution's first game show title released in 2017
Fully immerse yourself in anticipation of exciting multipliers!
Take a look below to find out where to play Dream Catcher from Canada!
Dream Catcher is Evolution Gaming's first live money wheel, and practically the first game show to enter the live casino scene. Simple yet captivating, the game continues to be a favourite among players and has served as inspiration for some of Evolution's other games.
In Dream Catcher, players make a bet on what number the wheel will stop at. If they pick correctly, they win a payout that corresponds to the number on the wheel. This game is easy to play and has enormous winning potential.
Keep reading our Dream Catcher Review to find out more on how and where to play this game if you're in Canada!
Dream Catcher Overview
| | |
| --- | --- |
| Game Name | Dream Catcher |
| Provider | Evolution Gaming |
| RTP | 96.58% |
| Features | 52-segment wheel, Live host, multipliers |
| Min Bet | C$0.10 |
| Max Bet | $2,500 |
| Max Win | $500,000 |
Dream Catcher Info
Where to play Dream Catcher from Canada?
Several online casinos offer this game to Canadian players as part of their live casino collection. For a chance to play it with a live casino bonus, check out the below casinos:
What is Dream Catcher?
Dream Catcher is an online casino game of chance inspired by money wheel games at physical casinos and TV game shows.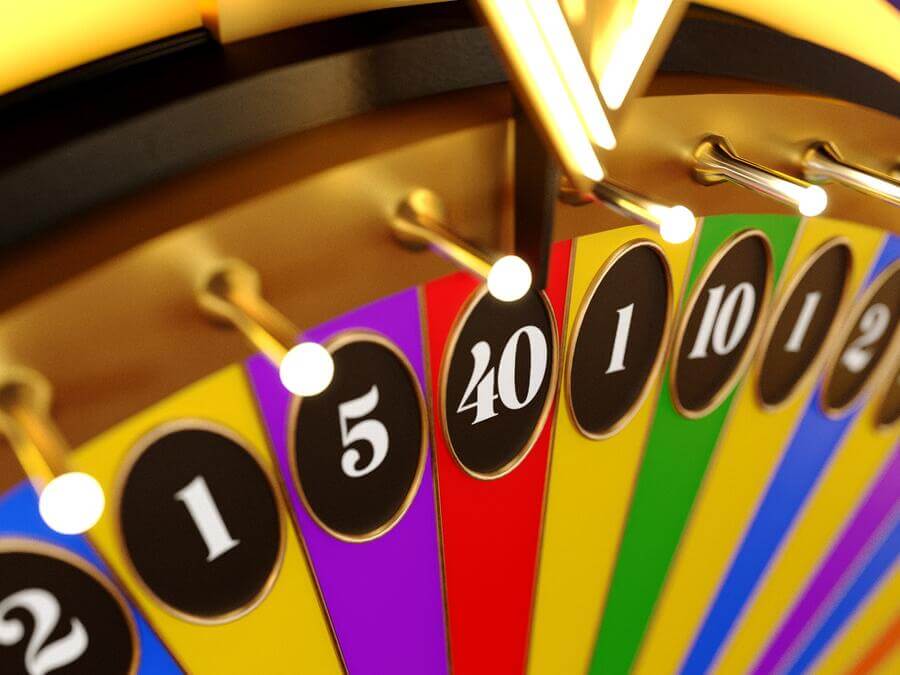 Dream Catcher has a large, vertical spinner that is manned by a live presenter. This wheel consists of 52 segments displaying the following numbers: 1, 2, 5, 10, 20 and 40, together with two multiplier segments: x2 and x7 (more on how these work further down below). In a nutshell, players bet on what number the wheel will land on before the presenter spins the wheel.
Evolution Gaming are well known for their friendly hosts. They are not only there to spin the wheel but are also known for being incredibly entertaining. Using fantastic wit and humour, they interact directly with players. This showmanship naturally helps immerse players and tempt them to play more rounds.
How to play Dream Catcher?
A round of Dream Catcher is simple. First, you bet on the number which you predict the wheel will land on. If the arrow lands on your number, you get a payout!
At the beginning of the round, you will need to place your bet in the paytable. The paytable is located along the bottom of the screen.
On the left, you will see your balance and your last win amount listed. You will also see a chatbox. Here you can talk directly to the other players or the host. You will see circles with numbers on them on the right, representing every section on the wheel.
In the middle of the paytable, you will see chips of various values (one, five, 25, etc.). These represent the money you have available to bet. Click on the amount you want to bet. Next, you will need to choose what number you want to bet on.
Above the chips, you will see two rows of rectangles with the numbers one, two, five, 10, 20, and 40. These represent all the numbers on the wheel. Click the number you want to bet on. If you wish, you can place bets on multiple numbers.
In the middle of the screen, you will see the wheel and the dealer. Once betting has closed, the dealer will spin the wheel. When it stops spinning, a graphic showing the winning number will appear. If you placed a bet on that number, it would also tell you how much money you won.
If the wheel lands on a times two or seven spot, your bet will be locked in place and the host will spin again. If you win, your payout will be multiplied by two or seven, respectively.
Dream Catcher Payouts
Payouts in this game match up with the number on the wheel. For example, if it lands on a 10, your bet increases by 10. The payout numbers include one, two, five, 10, 20, and 40. Each number appears on the wheel a different amount of times.
The game also has multipliers, x2 and x7. When the wheel lands on a multiplier, bets remain the same, and the wheel is spun again. Payouts for that spin are multiplied by the number on the multiplier.
There is no limit in the number of times the dealer can spin a multiplier consecutively. Theoretically, multipliers could continue to stack until the maximum win is reached.
Dream Catcher Strategy
Dream Catcher is a game of chance. However, some smart strategies can increase the likelihood of winning. For example, by betting on the numbers with the most slots on the wheel (one, two, and five), the player increases their odds.
Another low-risk strategy is the "twenty-twenty-two" strategy. A player covers all the two, 10, and 20 spots. This strategy covers a total of 21 sections.
Then the player bets as much on two as they do in total on 10 and 20. If the winning number is two, the player gets their bet back. If the winning number is 10 or 20, the player gets a decent profit.
There is also a medium-risk strategy, the "Simple Five" strategy. A player covers all five spots. This strategy covers a total of 54 sections. This simple betting strategy gives an average chance of winning a little more than once every four spins.
One high-risk strategy is the "Big Risk" strategy. A player covers only the 20 and 40 spots on the wheel. This strategy involves hoping to land on the multipliers and make a large profit. While a player can win big with this strategy, it can also lead to losing a lot of money.
You should always have a set amount of cash you are willing to spend while playing an online casino game. This way, in the worst-case scenario, you have only lost this amount. You avoid the temptation to spend a lot of money, and you minimize your chance of loss.
Graphics & Sounds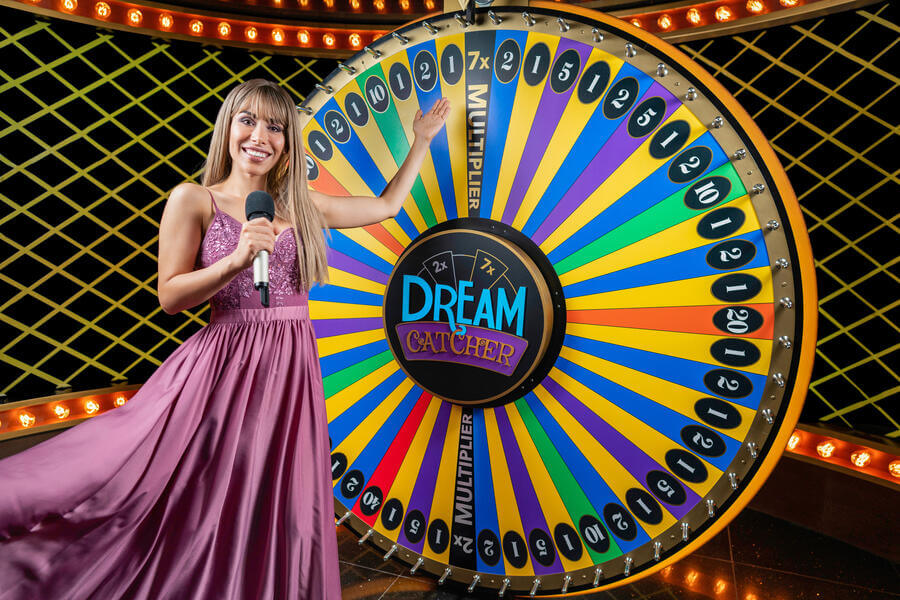 Dream Catcher uses a studio camera, lights, and sound effects that are synchronized with the game.
While the wheel spins, the live dealer entertains the players. Lights and sound effects incite celebration as the winning number is announced.
There are other subtle sounds, as well. You can hear the wheel spinning and there is light background music.
The game is streamed in HD. If a player does not have a good internet connection, the stream automatically adjusts so that it loses as little visual quality as possible.
Other game shows to play if you like Dream Catcher
If you enjoy playing Dream Catcher, Evolution has other game show casino games. Their game Crazy Time is another live money wheel similar to Dream Catcher, with the addition of four exciting bonus games. 
They have games based on popular TV game shows, such as Monopoly Live and Deal or No Deal Live. Other similar games include Lightning Roulette, Mega Ball, Lightning Dice, and Football Studio. 
Dream Catcher Review – Conclusion
Dream Catcher is an entertaining online casino game that's ideal for those who are after uncomplicated gameplay that doesn't require much strategy. The friendly hosts help make the game even more immersive, as does the high-quality HD streaming by Evolution Gaming.
If you don't mind games of chance and you'd like to experience the most popular live casino game show to date, then we highly recommend you treat yourself to a round of Dream Catcher at a licensed online casino. As a Canadian player, you'll be spoilt for choice!