Crazy Time is one of the craziest, most entertaining games from Evolution Gaming
Catch the live action with a sensational host and 4 exhilarating bonus rounds
Take a spin at the wheel to win your share of 160,000x your bet
Read on to find out how you can play this electrifying game
Crazy Time allows you to feel like a participant in a live game show. It's by far one of the most innovative games from Evolution Gaming, which takes the form of a wheel of fortune that can also lead to exciting and rewarding bonus rounds!
We'll unpack all the Crazy Time features, the groovy bonus rounds' ins and outs, and explain how to play Crazy Time in our full review below.
Crazy Time Game Overview
Game Name
Crazy Time
Provider
Evolution Gaming
RTP
95.5%
Features

multipliers
4 different bonus rounds

Min Bet
$0.10
Max Bet
$1000
Top Win
$500.000
Crazy Time Info
Where to play Crazy Time from Canada
Are you ready to dive into the magical game show world of Crazy Time? Lucky for you, multiple online casinos in Canada give you a chance to spin the Crazy Time Wheel.
Since the game has become outrageously popular, it's not difficult to find a casino to play at. Griffon Casino has a great live casino, so you'll definitely be able to find Crazy Time at this casino.
Check out the casinos above, all of which have Crazy Time as part of their live casino collection!
What is Crazy Time?
Crazy Time is a live online casino game show. Picture this: you've been called upon to take a chance at a fantastic jackpot. In front of you is a game show host or hostess.
Beside them is a gigantic multicoloured wheel. All you have to do is place your bet, the host spins the wheel, and it could land on several exciting bonus rounds, a coin flip, a number, or (if you're lucky) the crazy time bonus round.
The spinning wheel, colourful design, strikingly different bonus rounds and high-spirited game show hosts will remind you of the T.V. classics loved by all. If you experience F.O.M.O. (Fear of missing out) while sitting on your couch watching others compete for huge prizes on T.V., then fear no more!
Crazy Time is a simulation of the game shows frequently aired on popular T.V. channels.
How to play Crazy Time?
At the live casino section of your casino of choice, pick Crazy Time.
Once you do this, you'll be transported to Evolution Gaming live studio, where you're greeted by a dashing host who's presenting the vibrant wheel and sharing some particulars of the game.
You'll see the studio and find the betting options at the bottom.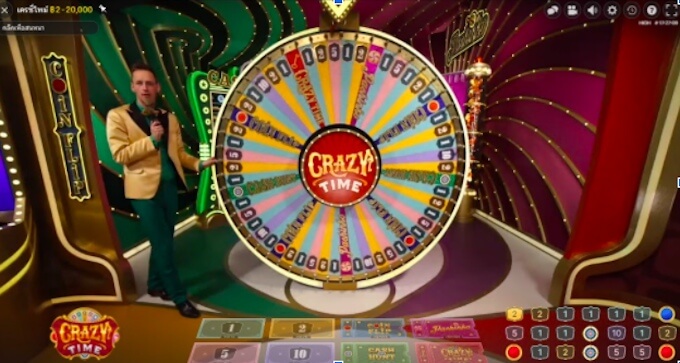 Place Your Bets
Pick the amount you want to bet. You can place anywhere from 1 to 8 bets.
Thanks to the variety of the wheel, you can wager on numbers or bonus rounds. It's crucial to keep in mind that if you don't bet on a bonus round and the arrow lands on one, you can only watch the others play.
So try to bet on bonus rounds if you can- you don't want to miss out on the fun.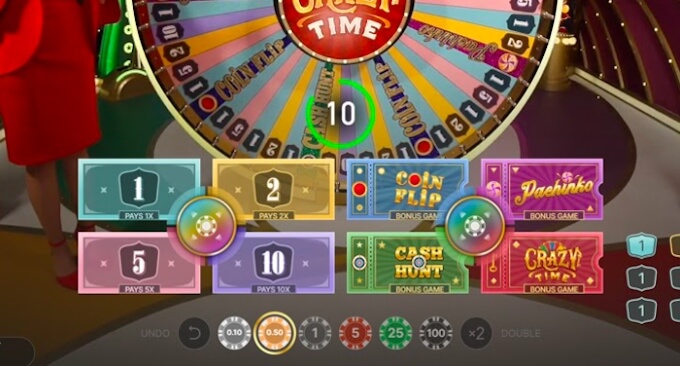 The Wheel is Spun
The host will spin the wheel. If you look at the top left of the screen, you'll find comments from other players. This chatbox adds to the entertainment and level of interaction in the game.
Feel free to crack some jokes or share good luck messages with other players. You can send a message to the host but chances are they won't respond.
The Chosen Multiplier
In every game, a different multiplier is selected. As the wheel spins with its 54 divisions, the eight bets are divided. If the wheel stops at a division with that particular bet, then the multiplier is triggered.
The Wheel Halts
If the wheel stops at a number that you placed a bet on, then everyone who bet on that number gets an instant win. If you bet on a bonus round and it lands, then that round is played, and all winnings are paid immediately after. Easy Peasy!
Once the bonus round is complete and winners get paid – the game starts all over again. Keep your eyes peeled because you may even see a new host.
Bonus Rounds
When we say a bonus, we mean BONUS! The bonus rounds in Crazy Time are captivating, nail-biting and enthralling. Each one has a unique theme and a completely different game.
What's more, each bonus round has a different payout structure. The striking differences between them is one of the best features in Crazy Time.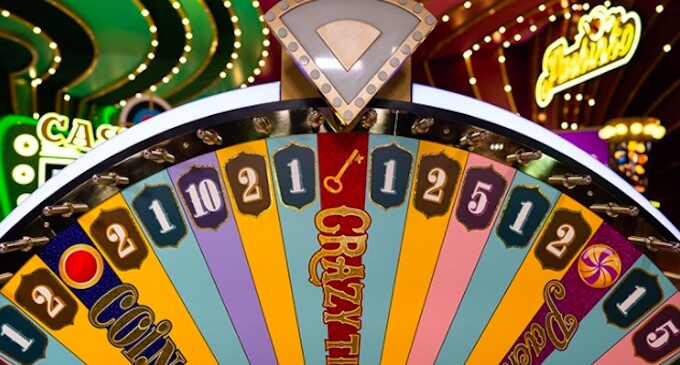 Pachinko Bonus Game
Pachinko is an elaborate pinball-type game with origins in Japan. Its simplicity may be what makes it so popular. In this bonus game, the host will drop a ball that bounces in random directions going through multiple stops.
When it lands on a slot, you win a prize, and you could win up to 500x.
Cash Hunt Bonus Game
On your screen, there'll be a colossal shooting gallery featuring 108 random multipliers. Random symbols such as pink cupcakes, cute bunnies and gift boxes block them from view. The multipliers go up to 75x your bet.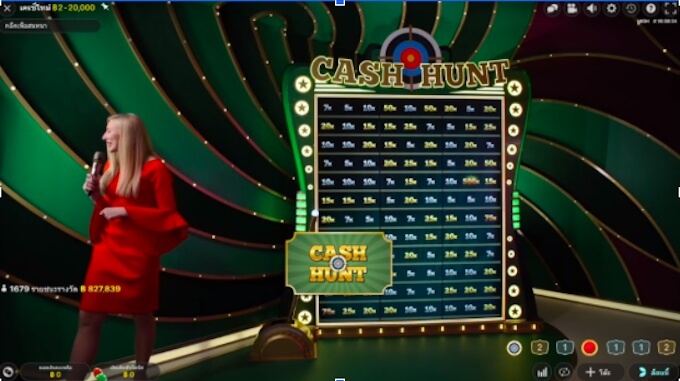 Each player must select their target (where they feel the most massive multiplier is hiding). The cannon shoots the selected icon when the time is up, and it reveals the multiplier to each player. All players win different multipliers which could work for or against you.
Coin Flip Bonus Game
The Coin Flip Bonus is a super simple game involving a coin with red and blue sides. Before the coin is flipped, two multipliers appear on the screen- one for the red and blue sides.
The multiplier could go up to an astonishing 5000x the stake. When the coin lands, you win either the blue or red prize depending on which side the coin lands on.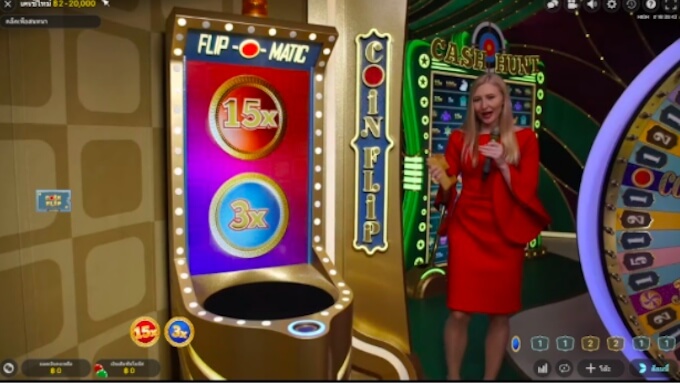 Crazy Time Wheel
Possibly the most exciting bonus round, but the chances are once in a blue moon because there's only one 'Crazy Time' division on the wheel.
Each player chooses between a blue, green or yellow flapper beforehand. The host pushes the big red button, and the wheel starts spinning. Your prize depends on where the wheel stops.
If it stops at 'Double' or 'Triple,' then the wheel spins again, and all wins are doubled or tripled accordingly. This round is something to hope for because multipliers can reach 20,000x.
Aside from the possible wins, it's also the most captivating round both visually and mentally.
Crazy Time Payouts
The payout possibilities all depend on how much you bet and how lucky you get. We've created easy formulas depending on your bet and the number.
Number 1 (1:1) – Every $1 bet on the number 1 will pay $1, plus Crazy Time will refund your stake
Number 2 (2:1) – Every $1 bet on number 2 will pay $2, and your original stake
Number 5 (5:1) Every $1 placed on the number 5 will win you $5 plus your stake
Number 10 (10:1) For every $1 bet on the number 10, you get $10 plus a refund of your original stake
As you can see, the payout process is pretty simple, and you definitely get more than you put in if you win. Here's a summary of the maximum payout for bonus rounds (read above for more details)
Pachinko: 500x
Cash Hunt: 75x
Coin Flip: 5000x
Crazy Time: 20,000x
Crazy Time Strategy
Having a plan is essential when playing any game. The key to Crazy Time is the bonus rounds. If you try to play it safe by betting only numbers, you won't win in the long run.
On the one hand, betting only on numbers could result in low odds, payouts and substantial losses.
On the other hand, multipliers have a significant impact on your overall profits.
That's why we recommend betting on both numbers and bonus rounds. It's a good idea to bet on more bonus rounds, as the chances you'll reap more rewards, in the long run, are better.
As with any casino game, you should try timing your bets in accordance with the probability of the game.
Graphics and Sounds
The stage and sounds create a real game show ambience. The studio is vibrant and flashy with a touch of elegance and a mound of pizzazz.
The wheel is a stunning array of hues, including pink, yellow and purple, as well as glitzy bits representing the bonus rounds. Each bonus round has its unique graphics and sounds.
The Coin Flip Bonus has an elegant gold-coloured machine wrapped in golden lights. Purple and pink light encapsulated in a glass box is seen throughout the Pachinko round.
A real treat for your eyes is in the Cash Hunt Bonus Game – a gallery of cute animated objects.
If you want to experience something genuinely whimsical and out of this world, the Crazy Time Bonus Game is sure to deliver.
You'll find a golden, opulent wheel against a backdrop of adorable animals like penguins, golden coins and keys, starfish and fairy dust.
The overall theme is magical and interactive. You'll find that the hosts are also dressed in exciting costumes. Some look like characters from fairytales.
There are sound notifications from the chatbox, which you can turn off if it's distracting, and you can also mute the host if you'd prefer complete silence.
Other game shows to play if you like Crazy Time
If you enjoy the realistic game setting of Crazy Time, then you should give Monopoly Live and Dream Catcher a try. These are both virtual games and have a game show aesthetic just like Crazy Time.
However, we feel that they're not as crazy, colourful and entertaining as this option.
Is it worth playing Crazy Time?
The best way to answer this question is to weigh out the pros and cons. Here's a list of the good and bad we experienced when playing Crazy Time.
Positives:
High Entertainment Value – Lots of bonus rounds and elaborate decor
Simple Gameplay – The only work you do is place bets
Grand Payouts – Win up to 20,000x in the Crazy Time round
Interactive – Chat feature allows you to talk with other players
Negatives:
Too Crazy for some – the unique bonus rounds and colourful decor might be a bit much
Busy Host – No interaction with the host like there is in live blackjack or roulette
No demo available – Thrown into the deep end if you don't learn about the game beforehand
Crazy Time Review – Conclusion
Evolution Gaming has built a name for itself as one of the most innovative creators, and Crazy Time is another one of its hit wheel games.
It's hard to fault because the effort put into it is easy to see. The only downside is that if you play it safe and don't bet many bonus rounds, then you won't get to experience the game at its best.
The entertainment value is unbeatable, and the gameplay is simple and interactive. We recommend this game to all adventurers and thrill-seekers. It's time to get crazy!
Frequently Asked Questions
Absolutely! Crazy Time is played using a huge bonus wheel, full of different prizes including cash rewards.
Crazy Time was created by Evolution back in 2020.
Apparently, a potential win of 12,500x was triggered back in January of 2021 during a Cash Hunt bonus round!