Evolution does it again! Its first LIVE craps casino game lands at online casinos!
All the tools you need to join the fast-paced action instantly.
First-time ever 1st-person live craps game
Evolution Gaming has a longstanding reputation as a leader in the field of live casino games. They reaffirmed their position by bringing one of the all-time favourite casino games to its live dealer collection – Craps Live! Get ready to be awed as you watch the robotic mechanical arm throw the dice at different strengths and speeds every time while enjoying a choice of different bet types and features!.
Evolution streams its Craps Live game from an underground-like studio casino setting. It takes you right back to the good old days when players were all wearing tuxes while sipping on Martinis. The dealers are professional, and the fast-paced action doesn't stop. The best of both worlds collide here as you can enjoy an interactive game of craps while sitting in the comfort of your home.
Read our Craps Live Review to find out how you can also play the 1st-person live version craps game from Evolution. It's the perfect way to practice your betting strategies before joining the live table with the press of a button.
Craps Live Overview
| | |
| --- | --- |
| Game Name | Craps Live |
| Provider | Evolution Gaming |
| RTP | 83.33% – 99.17% |
| Features | My Numbers, Easy Mode, Tutorial and Dynamic Statistics |
| Min Bet | $0.10 |
| Max Bet | $1,000 |
| Max Win | ? |
Craps Live Info
Where to Play Craps Live from Canada
Evolution Gaming is a massive favourite amongst Canadian players, and you'll quickly find an online casino that is powered by its live casino software. You can select one of the Evolution Gaming Live Casinos we recommend below for quick access.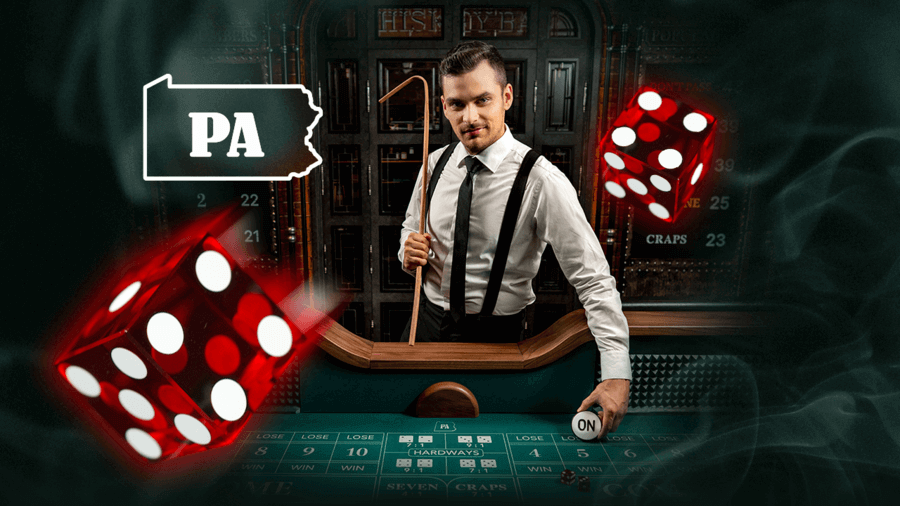 What is Evolution's Craps Live?
Evolution's Craps Live is the long-awaited and unique live dealer version of the legendary Craps game. Fans of this highly popular game can now enjoy it at any online betting site with a live casino powered by Evolution Gaming.
Craps can seem overwhelming to new players, but Evolution did a marvellous job of taking the confusion out of learning a new game. The developer designed the interface to make it super easy to understand and follow the game rules. They loaded it with helpful features, and it can usher in a new generation of Craps players to this already much-loved casino game.
On top of delivering a top-notch live dealer experience, you can also opt to play a first-person version of the game that employs RNG technology. It means you can play without the pressure of a live dealer until you're comfortable with the gameplay and features. Once you're satisfied with the rules and strategies, you select the option to join a live game, and it will redirect you to the one that's in play.
How to Play Craps Live
The first step, as with all casino games, is to place your bet on the game. The interface makes it very straightforward, and you can select from the numbers at the top of your dashboard which you'd like to bet on for the win. You choose your number, your betting size and option, and the game does the rest for you.
Once all players have placed their initial bets, the first roll of the dice will take place. It's also referred to as the 'come-out roll.'
The mechanical arm is the shooter in the game. In a traditional live game, the croupier would complete this action. The developer has deployed a spectacular piece of technology to ensure fairness in the live online game version.
From the first roll of the dice, there are three possible outcomes. To fully grasp online craps, it's essential to know these:
The shooter wins if the total value of the dice adds up to 7 or 11. It's called a 'Natural.'
The shooter loses if the value adds up to 2, 3 or 12, and it's called 'Craps.'
All other values are called 'Point.' For the shooter to win, it has to follow up the next round with the same total value.
If the dice lands on a total of seven, the shooter loses, and it's called a '7-out.'
You can choose between two bet types: one roll bets and multi-roll bets:
One roll bets
These bets can be placed at any time, and are valid for just one roll. They are great for novices, as you can place these bets without being too knowledgeable about the game.
Multi-roll bets
There are several multi-roll bets that may require any number of rolls before the bet is resolved.
The safest bets to place is the Don't Pass bet and the Pass Line bet. They have small house edges of not more than 1.41%, and they pay 1:1. The best paying wager is the Craps 2 and Craps 12 bets, and they pay out up to 30:1.
Craps Live Payouts
The game offers solid payouts to its gamers in Canada. Here's a look at the Payout list: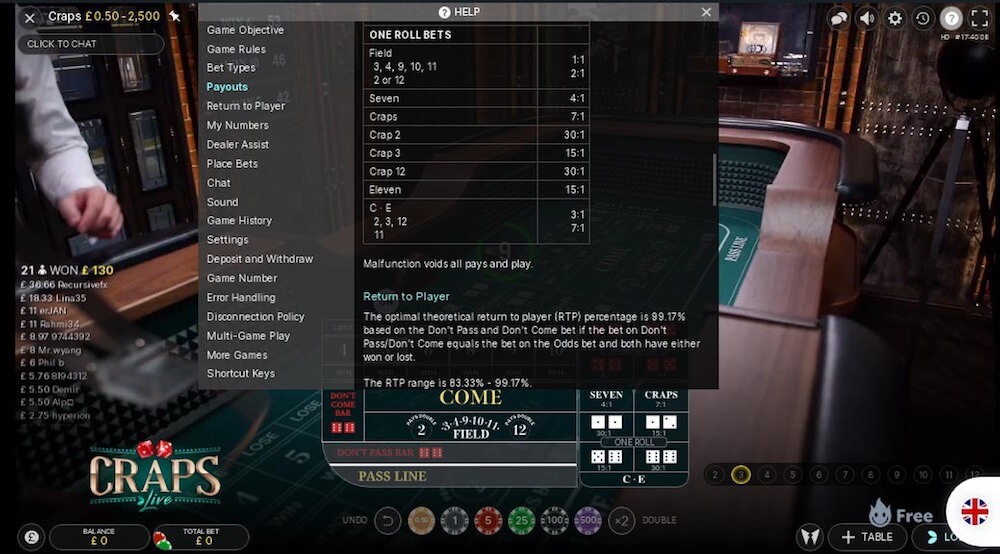 Craps Live Strategy
Craps outcomes, like most casino games, are based on pure luck and wise betting strategies. It mostly means playing smaller for longer. As you can't control the dice in any way, the best method to follow is to play as few as possible Pass and Come Bets when you're playing live online Craps.
The aim is to keep the house edge at the lowest minimum possible and increase your winning potential. It'll allow you to win more regularly and eventually claim a bigger payout.
Graphics & Sounds
The studio theme built for Craps Live is a trip down memory lane and looks like a typical 50's underground casino. You can almost visualize a mafia boss sucking on a thick cigar sitting somewhere at the table with you.
The croupiers have dressed accordingly in white shirts and suspenders to match the mood. The table is clear, and the dashboard where you place your bets is displayed in crisp giant print and is easy to distinguish. The game immerses you into the mood and atmosphere, and it transports you to an exciting era of gambling luxury and adventure.
Other Game Shows to Play If You Like Craps Live
Vivo Gaming has a live dealer craps version available online that makes use of two dealers. One is the shooter, and the other one is the host. The host interacts with you via a live chat feature while the shooter rolls the dice.
A dice game with a difference is another unique live show from Evolutions studio called Lightning Dice. It's not the same as Craps, but still delivers a fast-paced dice game with exciting multipliers that can increase your stake x1,000 instantly.
Craps Live Review – what we think
All the best casinos in Canada feature Evolution Gaming, including Live Craps as an essential part of their portfolio – and it can't be otherwise since they are the gurus when it comes to the best providers for live casino.
Evolution Gaming delivered another superb live casino experience for players new and old alike. The game is easy to start playing no matter what your Craps skill and knowledge levels are. The interface is user-friendly and makes it easy to play the game and follow what other players are doing. It's very interactive as you can communicate with the dealer via a live chat feature.
The studio design pays homage to days gone by when visiting a casino was still an underground affair. If you're ready to escape for a few hours of fun, be sure to pay a visit to Evolution's Craps Live casino game and be transported to a world of fun!