One of the latest game shows from Evolution Gaming
Take to skies in a blimp, and climb the ladder to the top win
Draw a red ball, and it means game over
Cash or Crash is a new game show from renowned developer Evolution Gaming. This game centers around the drawing of a ball, with each colour determining whether you'll go on to the next round or crash. With an RTP of 99.59%, it gives players an exceptional return.
Pros
Cons
– High RTP of 99.59%
– Straightforward gameplay
– The golden ball can significantly increase the payouts
– Unique setting
– No significant bonus features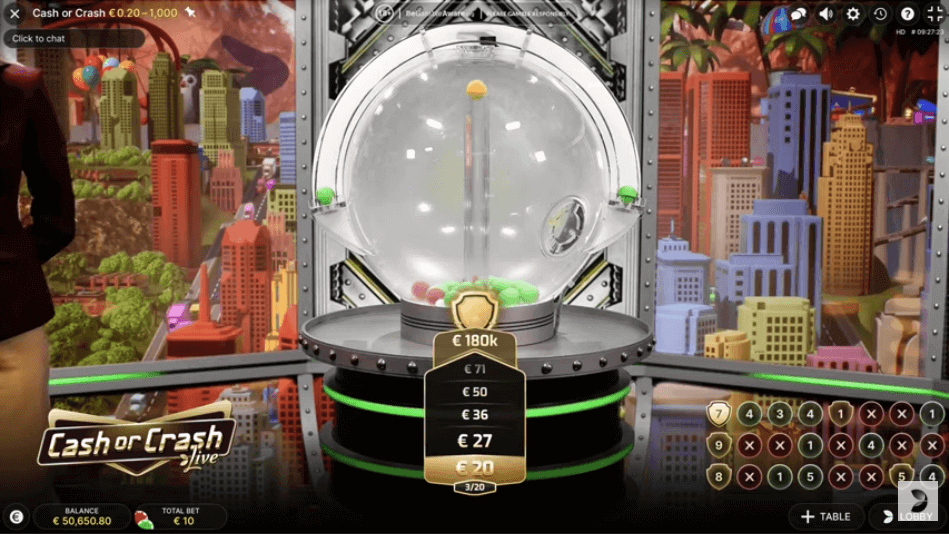 | | |
| --- | --- |
| Game Name: | Cash or Crash Game Show |
| Provider: | Evolution Gaming |
| Volatility: | NA |
| RTP: | 99.59% |
| Features: | Gold Ball Multiplier, Gold Ball Safeguard |
| Paylines: | NA |
| Min Bet (all lines covered): | $0.10 |
| Max Bet: | $1,000 |
| Top Win: | 50,000x |
Where You Can Play Cash or Crash
Are you interested in where you can play Cash or Crash? We've found some of the top casinos in Canada where this game can be found. Check it out below:
Cash or Crash Mechanics
Cash or Crash is a fairly straightforward game, and that's one part of its appeal. There are no complex rules, symbols, or anything specific that you need to remember.
The game has a total of 20 levels. Each level you move up will multiply your win based on your initial wager by a certain amount. Of course, with each level, this gets higher and higher. At the very last level (level 20), your win is multiplied by 18,000x your bet.
In between each round, a ball will be drawn, which determines the outcome of the game. In other words, will you continue to the next level, or will you crash? There are three ball colours, green, red and gold. In total, there are 19 green balls, eight red balls, and one gold ball.
If the green ball gets drawn, you're safe. You're now presented with three choices. You can take all the money you've won so far and leave. This means you can't win any further in this game, and you can't lose anything either.
The second option is to take only half of your money and continue playing with the rest of it. In some cases, this could be considered a safe option. You're guaranteed the money you took out, and you can still win more with the money you have left.
The final option is to leave all the money and keep playing as you move up a level. In both of these options, a new ball is drawn, and the process repeats itself.
Now, the above scenario is if a green ball was drawn. What happens, though, if you get a red ball? Unfortunately, this means you crash, and it's game over for you. All the money you had is lost for this game.
The second scenario is the one you want to avoid. Keep getting those green balls and avoiding the red ones. That's the key to continue progressing in the game. There's still one colour we haven't covered, the gold ball, which there is only one.
The gold ball serves two roles. If it's drawn, it gives you one extra life. Should you get the red ball at some point later in the game, it gets negated, and you don't lose. The other important feature is that it unlocks the 50,000x grand prize if you get to the top.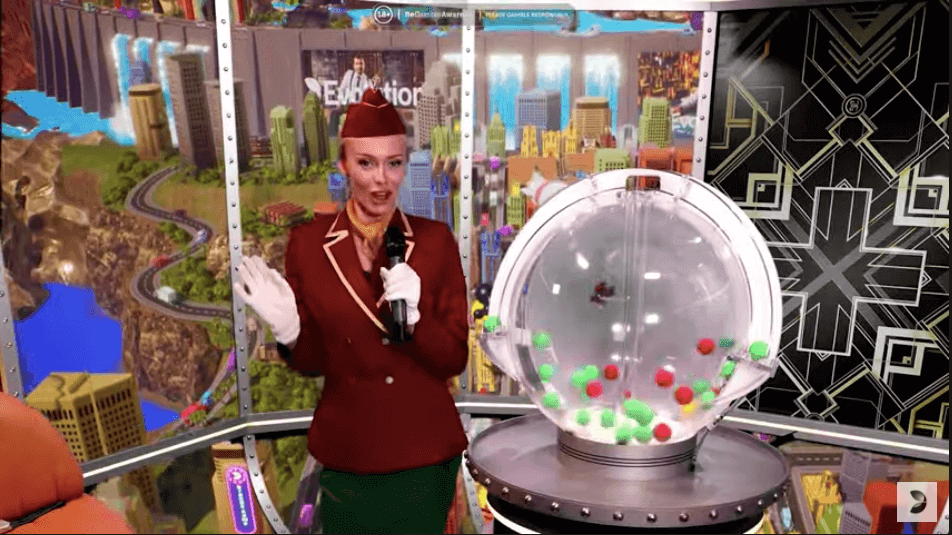 Cash or Crash has exhilarating and simple gameplay
Cash or Crash does a great job of capturing that game show feel. The gameplay is very straightforward, and in each round, players have to make the tough decision of whether to continue or cash out.
Basically, it comes down to how long do you think you can last? There are more green balls than red, so luck is somewhat on your side. However, if you wait too long, you could find the red ball drawn and crash.
Cash or Crash Symbols & Payouts
Here we cover the game's values, like RTP, payouts, betting range and other factors. Since this isn't a slot game, some things will be different. As always, we give a detailed look at everything there is to know.
The symbols
Cash or Crash doesn't have any symbols. Instead, each level you climb acts as a multiplier for the initial bet you placed. The first few levels only provide a slight increase to your wins. However, once you get past the early rounds, the multipliers start increasing a lot more quickly.
Paytable
There's a total of 20 levels overall. Below you can see how much you can win at each level. Remember, if you draw the gold ball, the multipliers will increase even further.
| Level | Payout |
| --- | --- |
| 1 | 1.2x |
| 2 | 1.6x |
| 3 | 2x |
| 4 | 2.7x |
| 5 | 3.6x |
| 6 | 5x |
| 7 | 7.1x |
| 8 | 10x |
| 9 | 15x |
| 10 | 21.5x |
| 11 | 33x |
| 12 | 54x |
| 13 | 95x |
| 14 | 160x |
| 15 | 310x |
| 16 | 550x |
| 17 | 1,200x |
| 18 | 2,900x |
| 19 | 6,800x |
| 20 | 18,000x |
Min/max bet, autoplay option
Evolution Gaming has allowed for a wide betting range in Cash or Crash. You can bet as little as $0.10 up to a maximum of $1,000. This ensures players of all budgets and tastes will be able to play. 
More casual players who don't want to risk too much can experience the fun with a very low bet. On the other hand, high rollers can drop as much as they wish.
Due to the nature of the game, there's no autoplay function here. This is because you have to make the decision yourself from one of the three options we mentioned above.
RTP, volatility, hit frequency
The RTP of the game is exceptional. At 99.59%, this far exceeds what you find with slot games, which average around 96%. In fact, the RTP is one of the main attractions and reasons to play.
If we consider a "hit" to be a green ball, it's not hard to calculate. 19 divided by the total number of 28 equals a 67% chance of moving on to the next round at first.
Volatility is harder to analyze. Since this isn't a slot game, we're not sure it can be looked at in quite the same way.
Jackpot and/or maximum win
Usually, the maximum win is 18,000x your wager. The top prize only happens if you get to the top. To do this, you just have to last the whole time without crashing. If you happen to see the gold ball during the game, the jackpot goes up to 50,000x your stake.
Cash or Crash has an extremely high RTP
Where the numbers are concerned, this game does very well. The RTP is among the highest of slots and game shows. Compare Cash or Crash to Crazy Time or the recent Gonzo's Treasure Hunt, and you can see what we mean.
With a 67% chance of having a green ball drawn, you'll likely move up to the first level. Players can even take the money here if they wish and leave. Playing in this manner could give a relatively consistent (though small) return.
Special Features
Cash or Crash is a bit light on the bonus features. This could leave some players a little disappointed. The only thing resembling a bonus feature would be the golden ball which serves two functions.
If it's drawn, it will safeguard you against the next red ball and prevent you from losing the game. The other role is to unlock the maximum payout of 50,000x. So overall, expect a fairly straightforward game with no major bonuses.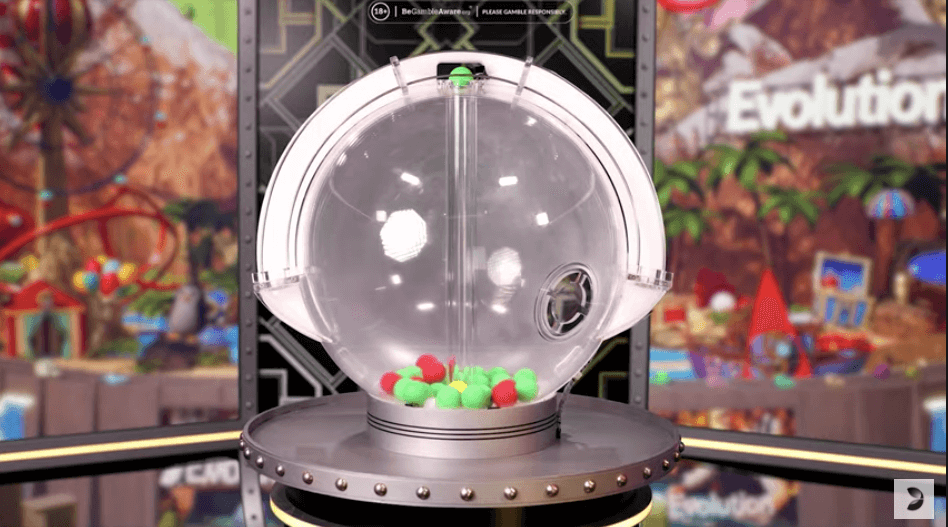 Cash or Crash has almost no bonus features

Player opinion over this could be split. We know some people won't mind, and the whole simplicity of the game is part of its charm.
Others could be disappointed over the lack of any major bonus features. In our personal opinion, it's far from a massive drawback, and the game still plays very well.
Cash or Crash Graphics & Sound
The game takes place in a blimp flying above the city. With that in mind, the "crash" part of the name becomes a bit more obvious. Right in the middle is the machine that holds the balls that are drawn. From the front of the blimp, you also have a view of the city down below.
There's no particular music or soundtrack playing in the game. You'll hear the usual game show music and sound effects at specific moments, like when a ball is drawn, or you move up a level.
| | |
| --- | --- |
| Studio set | Inside a blimp |
| Optimized for Mobile | 👍 |
| Music | Some sound effects |
| Special features | – |
Cash or Crash's location is different from the norm
Having a game show in a blimp was certainly an interesting idea by Evolution. We're used to seeing these in studios, and a blimp isn't something that most people would think of.
As a live casino game show, it's part real and part graphics. The city below looks good enough, as do the icons on the screen. The game also plays just as well on mobile, with no problems. Overall, a solid job.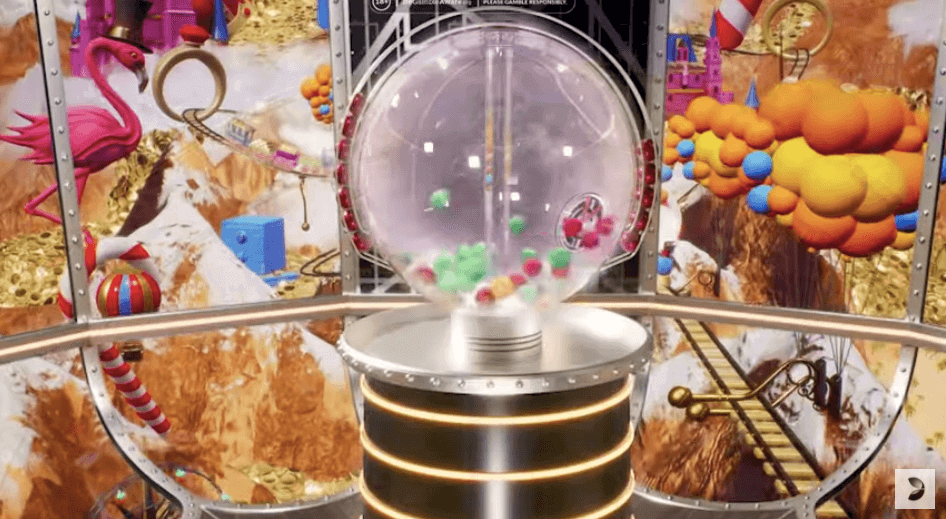 Verdict
Cash or Crash could well become the next fan favourite. The game is wonderfully enjoyable to play. It's very straightforward, and it shouldn't take players long to grasp its nature of it. The lack of any significant bonus features hurts, but that's the only real complaint we have. 
With an RTP of 99.59%, one of the highest of all games, it's even more reason to play. Ultimately Cash or Crash gets an excellent score of 90/100.
Frequently Asked Questions
Yes, Evolution Gaming is one of the best-known live casino game developers in the industry. Its games are all safe to play.
The RTP is 99.59% which is higher than other live game shows by Evolution and far higher than the majority of slot games.
Usually, the maximum payout is 18,000x if you get to level 20. However, if the gold ball is drawn during the game, this goes up to 50,000x.
Author
Casino Content Writer
M'Louisa spends most of her time chasing after a certain cheeky monkey that is growing up too fast. When she has a moment to spare you'll find her with a paint brush in hand or reading a good book. For the past 3 years she has enjoyed watching the industry grow and thrive, and thinks that is the most satisfying part of her job!