Crash Gambling has quickly hyped the casino experience up a notch or two, and SmartSoft Gaming is at the forefront of creating some of the best crash games in town.
At the top of their portfolio, lies the ascending-ballooned-themed Cappadocia.
In this Cappadocia Review, we shall go into all the constituents of this popular crash game which is becoming increasingly common at Canadian online casinos.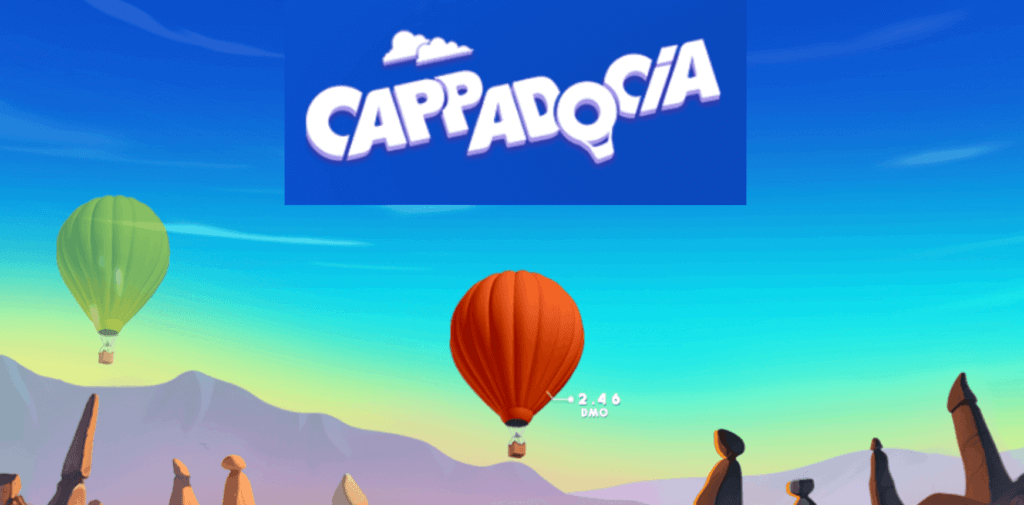 What you'll find in this Cappadocia Review
In this Cappadocia review, we shall go into all the below features that our players in Canada seek out when they choose their crash game.
Gameplay: Is the navigational menu straightforward? This section will discuss the overall experience of the gameplay.
Betting options: What is the minimum and maximum bet option? We will check out the betting range
Auto-Features: We shall look if the game has an auto feature.
Fairness: we check how the game is tested to make sure that it is not rigged.
RTP / Maximum Win: We look at the RTP of the game, and what is the maximum win.
Graphics: What is the theme of the game? We shall discuss sound and graphics, and how do they accompany the theme.
Cappadocia Statistics
For this Cappadocia review, we have provided the below list of statistics as an easy reference for our players in Canada
Cappadocia STATS
Min bet
$0.50
Max bet
$200
Max win
NA
RTP
97%
Autoplay
👍
Free Play
👍
Features
Auto Bets, Simultaneous Bets
Min/max bet, max win
Cappadocia has a good betting range that allows different players with different budgets to play. The minimum bet is $0.50; the maximum bet can go up to $200.
RTP
Cappadocia has a good RTP standing at 97%, which is above standard compared to other crash games.
Autoplay option
This crash game features 10 Autoplay options – where you can easily press on 1o options for 10 different bet amounts – colour coded.

High RTP and a Range of Auto Multi Bets Options
Featuring High RTP as well as a wide betting range, in this Cappadocia review, we see how this crash game makes for high winning opportunities for our players in Canada
Game Features
The best thing about Crash Games is that they all follow the same basic rules – place a bet, trigger the ascending object, and stop the bet just in time before the ascending object crashes down. No bonuses. No drama. Still, Smartasoft gaming has prepared the following game features to push the game a notch up or two:
Live Bets are featured on the left-hand menu
A list of 10 auto bets
More than two simultaneous bets can be played in one go.
Cryptocurrency is used as a betting method
Cappadocia Graphics & Sound
Cappadocia displays one of the most original themes around. Set in a colourful sunset sky, the game is named after the popular Turkish village Cappadocia – mostly known for the popular hot air balloon rides.
The crisp 3D Graphics enhance the gameplay. There is no soundtrack, but relevant sounds are played once the hot air balloons are launched into the sky.
| | |
| --- | --- |
| Graphics | 3D |
| Optimized for Mobile | 👍 |
| Music | Whooshing sounds when the Hot Air balloons are released |
A colourful palette
The colourful palette of different sky colours and ascending balloons makes this gameplay a soothing experience for the mind. The sounds used are simple and non-distracting.
How to play Cappadocia
As part of our Cappadocia review, we list the steps below on how best to play Cappadocia crash game.
Place one or more bets from anything between $0.50 and $200.
Click 'GO,' and the Hot Air balloons will escalate into the sky.
Press 'Cash Out' if you want to stop the balloon from ascending
You win if you make it in time to press 'Cash Out' before the balloon bursts away, losing your bet as a consequence.
Solutions if you have some issues with a game
Here is a list of common issues and the action plans we generally recommend for system errors or any related issues whilst playing the Cappadocia crash game:
The game has been interrupted due to a connection error or another issue: most of the time, the game returns to where you left it, once the connection is restored.
I landed some wins, but my game crashed. Will my wins be lost? All the casinos we review as well as all providers, use high-end technology that saves live-time information. So all your wins are recorded in the system. These might re-appear in the crash game once the gameplay is retrieved, or in your payment account.
For any other queries or if you're in difficulty, all the casinos we feature have 24/7 efficient customer care service to promptly assist you with any queries and issues.
Final Words on Cappadocia
Most new casino sites in Canada are now offering this crash game. Why? We have seen In this Cappadocia review, how this game is jam-packed with pleasant visuals and a dynamic range of auto bets. The multi-bets that can be played simultaneously make this crash game a distinctive game experience for our players in Canada.
Other crash games to play if you like Cappadocia
Here's a list of other popular crash games that are on the rise in Canada.
Frequently Asked Questions
The betting range features a minimum bet of $0.50 and a maximum bet of $200.
The RTP is high - featuring a 97% RTP.
Cappadocia Crash Game is a high volatility crash game.
Cappadocia Crash Game accepts all the popular crypto currencies, including Bitcoin, Solana, Ether and Tether.
The software provider that created Cappadocia Crash Game is SmartSoft Gaming - a pioneer in the creation of online casino crash games.
Cappadocia Crash Game was released in June 2021.
Author
Casino Content Writer
Lara thinks that being happy is all about sipping beer by the sea with her favourite peeps. She understands people through conversation and tries to laugh her way through life. Cooking and writing are at the core of her being, and finds casino reviews to be the most interesting part of her job.