Master Blackjack Rules & Odds
Looking to learn how to master one of the most popular live dealer games in town? We will cover the objective, values, and odds of Blackjack.
Below is our Canada Casino Blackjack guide to will learn it all.
Blackjack Objective
All top casinos in Canada offer this table card game – but before diving into the game, what is the objective of the Blackjack game?
With blackjack, each player in the game aims to beat the dealer by scoring a total count of, or close to, 21.
Card Values in Blackjack

Blackjack card values go as follows:
Ace: it's up to the player to decide if it should value 1 or 11
Jack, King, Queen: 10
All other cards: the pip (number) value.
The Odds in Blackjack
If there's one thing you should note, it's blackjack odds. What you are dealt with as a player should matter because understanding the odds means you're well aware of what chances you have to win or go bust within an instant.
To excel in this regard, you have to take the time to understand the concept of probability and odds, as well as the house edge. Here's the likelihood of you hitting blackjack (21) according to the number of decks in play in a straightforward blackjack odds chart:
| Number of decks | Probability of hitting 21 |
| --- | --- |
| 1 | 4.827% |
| 2 | 4.780% |
| 3 | 4.764% |
| 4 | 4.757% |
| 5 | 4.752% |
| 6 | 4.749% |
| 7 | 4.747% |
| 8 | 4.745% |
Blackjack House Edge
House edge is the advantage casinos have over players during games. Even with the right strategies and decisions, casinos always have an edge to win during games in the long run.
On average, most blackjack variations have a house edge of less than 1%. However, variations like Hi-Lo Bet, Perfect Pairs, 21+3, Poolside Blackjack, Super Fun 21, Royal Match Bet, Blackjack Bonus Pairs, High Streak Blackjack, Over/Under 13, Super Sevens Bet, and Lucky Ladies Bet have house edge values of 2.08%, 5.79%, 4.14%, over 2%, 1.16%, 3.78% to 6.67%, 4.10%, 16.74%, 6.55% to 10.07%, 11.4%, 17.6%, respectively.
Blackjack Moves
When you're playing Blackjack, you need to make sure that you have some awesome moves to use during the game. You can find more details on our Blackjack Strategy page!
Hit – When a player requests another card.
Stand – A player decides to hold their total and terminate your turn.
Split pairs – When players have two cards that are the same value, they can split them and play each of them separately.
Double down – When players match their own initial bet and get another card.
Bust – A player loses their bet.
Blackjack Payout rules
Another important part of understanding blackjack rules is understanding the payout rules. You'll have different payouts according to how the game ends up. Here are some possible outcomes if you win, including one for blackjack rules split:
Blackjack served right away: Win x1.5 of your wager
Normal hand: Win 1:1 of your wager
After doubling your bet: Win x2 of your accumulated wager
Splitting: Win 1:1 of each hand
Did you know?
Some online casinos pay faster than others. Check out our list of Fast Payout Casinos.
Understand all the side bets in blackjack
During a blackjack game, you have the main bets that you can make, and then there are also additional side bets in blackjack that you can also place. Here, you will get the chance to predict the card that you or the dealer will get.
The blackjack side bet options you have, include:
Insurance
In this case, the side bet will include only half of the stake you placed and will pay out on a ratio of 2:1 if the dealer has blackjack. By placing a side insurance bet, you reduce the general casino house edge.
Insurance is a common side bet in blackjack that allows you the chance to cover or "insure" yourself should the dealer have an Ace.

Perfect Pairs
Placing a side bet of perfect pairs only affects your cards. You will receive a payout if the dealer hands you two of a kind of the following:
Mixed pair – The cards will hold the same value but have different suits and colours. The ratio payout here is 5:1.
Coloured pair – The cards will hold the same value and colour. The ratio payout here is 12:1.
Perfect pair – The cards are exactly the same. The ratio payout here is 25:1.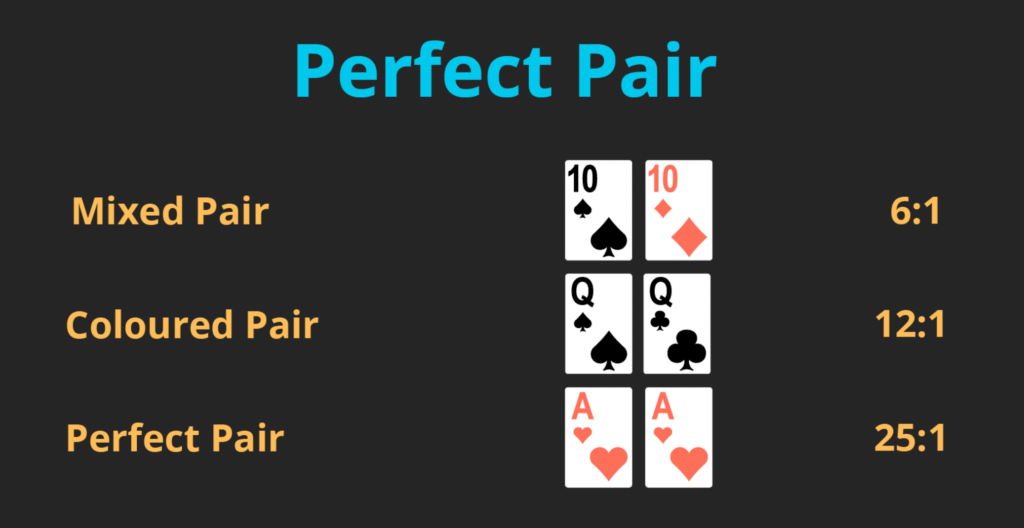 21+3
With 21+3, the side bet will involve two cards belonging to the player against an upturned card from the dealer. In this way, the following combinations will appear:
Flush – With a flush, all the cards will be suited, offering a payout ratio of 5:1.
Straight – With a straight, all the cards will be consecutive, offering a payout ratio of 10:1.
Three of a kind – With three of a kind, the cards don't have to be the same suit. This bet offers a payout ratio of 30:1.
Straight flush – With a straight flush, the consecutive cards will appear to be of the same suit, offering a payout ratio of 40:1.
Suited triple – With a suited triple, all three cards will be the same, offering a payout ratio of 100:1.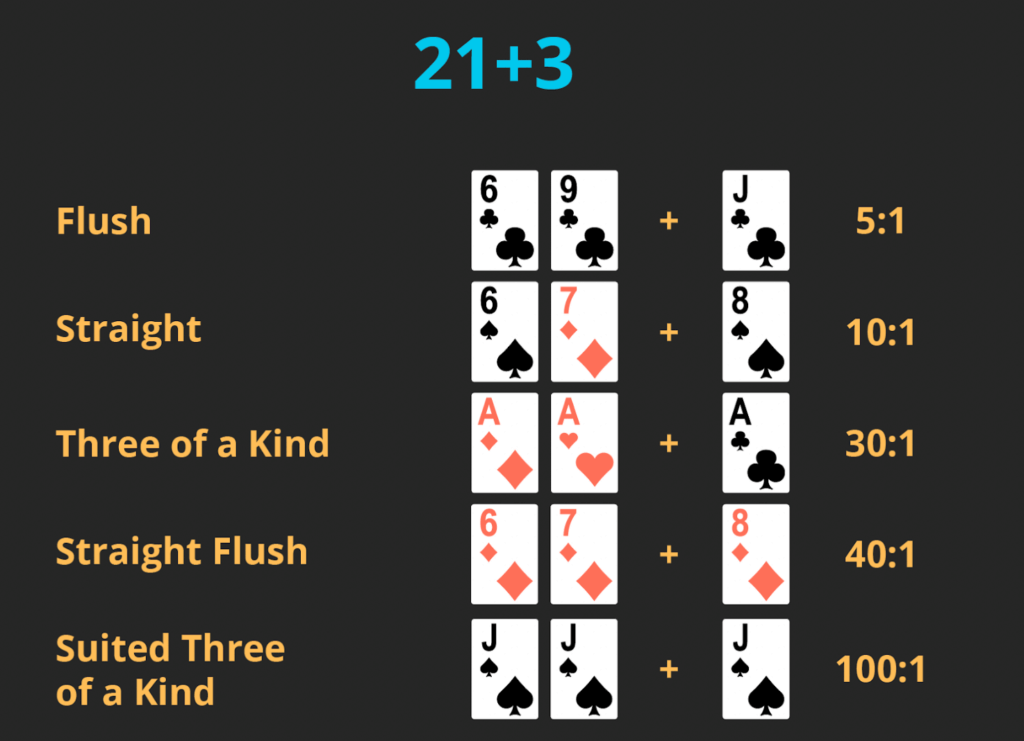 Bet Behind
With the bet behind side bet, you place your wager on the hand of another player. It can be done while the other player is waiting for their seat at the table or when the other player is playing at the table.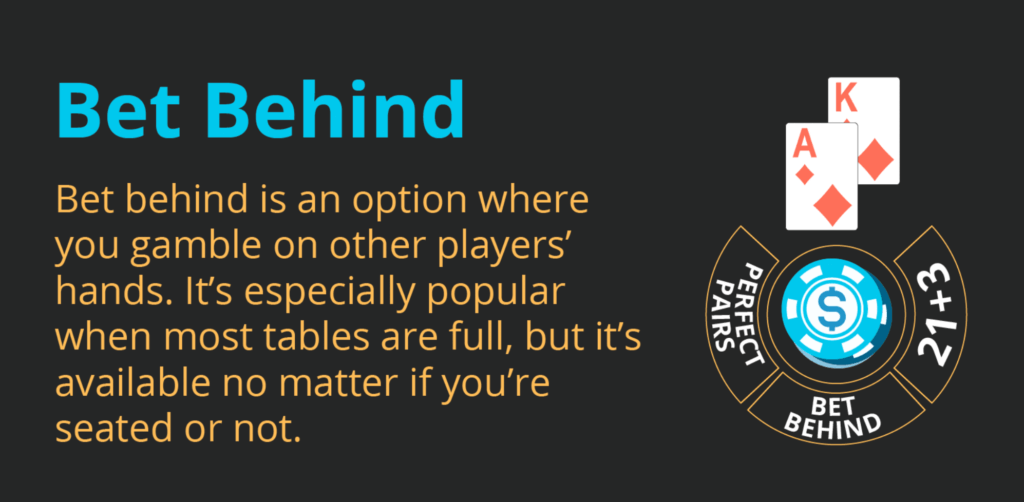 Royal match
Should the player receive any suited cards, the payout will be at a ratio of 5:2. Should the player get a suit of a king and queen, the payout ratio will be 25:1.
Over/under 13
With over or under 13, this side bet pays an even amount of money to the player for correctly guessing the sum of the total player's cards as a value less than or greater than 13. In blackjack, if the player gets 13 they will lose; however, many casinos still allow side bets to be placed on the exact card value of 13.
Super sevens
This side bet offers players the chance to get paid out should they get one or more sevens. A single seven will give you a payout of 3:1.
Two sevens that are unsuited will pay out 50:1. Two sevens that are suited will pay out 100:1. Should the third card also be a seven, the payout will be 500:1 if it's unsuited and 5000:1 if it's suited.
Lucky ladies
Should all the cards the player has, add up to 20, the unsuited combination will pay out 4:1, and a suited combination will pay out 10:1. If you find a matched combination of 20 with the same rank and suit, the payout will be 25:1.

If you have two queens that happen to be hearts, the odds ratio will be 200:1, and if you get a blackjack from the dealer, then the payout ratio will be 1000:1.
Honey Bonus
This kind of bet depends on the player's two initial cards and what face-up card the dealer has. If the outcome is:
Three of a kind, the payout is 20:1
Straight, the payout is 10:1
Flush, the payout is 5:1
A suited blackjack, the payout is 3:1
Lucky 7
This side wager requires the player to have as many 7 cards as possible, based on their starting hand. The more 7s you have, the better the payout, as follows:
One 7: 3:1
Two unsuited 7s: 50:1
Two suited 7s: 100:1
Three unsuited 7s: 500:1
Three suited 7s: 5000:1
Top 3
Top 3 also looks into the first two cards of the player together with the up-card belonging to the dealer to create a hand consisting of three cards. Should the winning hands be made up of a suited three of a kind, non-suited three of a kind, or straight flush, then the player will score a win.
Hot 3
Also, with hot 3, it looks into the first two cards of the player together with the up-card belonging to the dealer to create a hand consisting of three cards. You win when you score a total value of 19, 20, or 21.
Buster
The buster side bet relies on the dealer going bust, with payouts increasing depending on how many cards are used. For example, if the dealer goes bust after five cards, the payout is typically 4:1, whereas if they go bust after eight or more cards, the payout can be 250:1.
How to play blackjack – Breakdown of a round
Blackjack is easy to play – and that is why it is a popular live dealer game and a must-game to have in all casinos in Canada. Still, Blackjack is hard to master.
Luckily, we've broken down a typical game structure for you to follow.
Step 1: Fund your Balance
The first step involves you funding your account. Login to your account and select the payment option that's ideal for you. Remember that new casinos are now also including cryptocurrency options such as Bitcoin and Litecoin for payment methods.
If you happen to be a new player, you can also sign up for an available welcome bonus.
Step 2: Place your wager
Choosing an amount to bet with can be slightly challenging, but your range depends heavily on the Blackjack table you're betting. Typically, this can range between $10 to $1,000.
Step 3: The Dealer will now deal the cards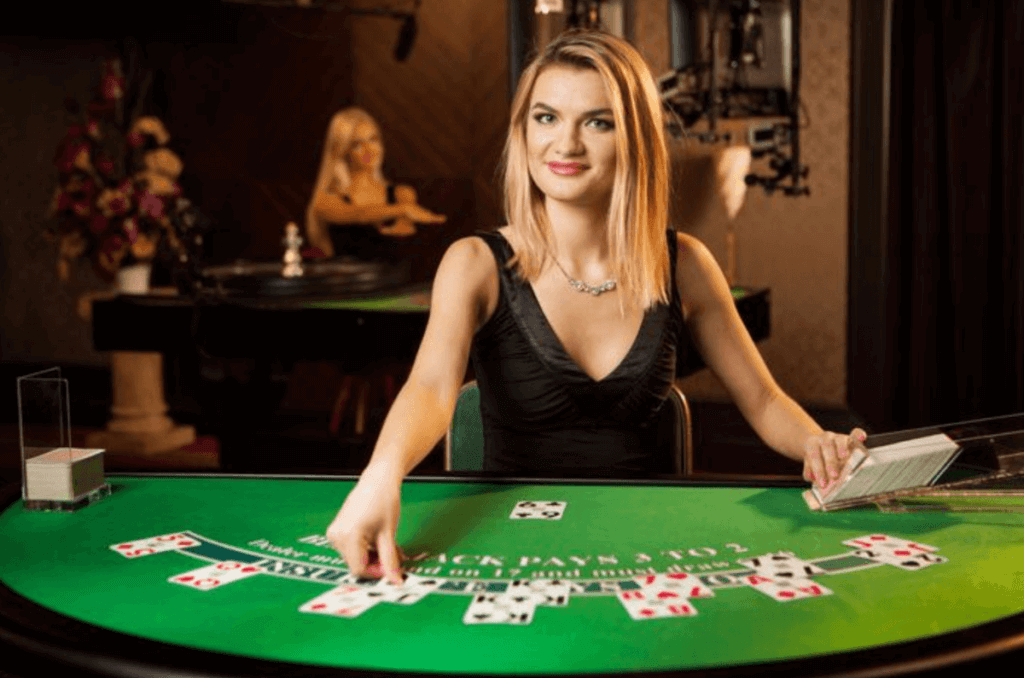 You've placed your wager and are now ready to play. The dealer will deal two cards to you and have one card dealt to themselves at the start of the game. The next subsections will explain two instances that you'll encounter once the dealer has dealt the cards and other blackjack dealing rules.
The dealer gave me a Blackjack!
If you get a Blackjack (21), this is good news for you, as everything will be pretty straightforward from here. Depending on what the dealer's last card is, this will determine what you've won.
The dealer gave me cards that triggered my side bet(s)!
If we're talking about side bet options, then this means you've made won some of your money back but need to make another move. This will be explained in the next step.
Step 4: Time to make a decision!
This step involves making the next move now that your side bets have triggered. Depending on the odds, and card values, you have the following options to try:
Stay by ending your turn or holding your total
Hit by requesting another card
Double by doubling your bet
Split by getting the cards split into two hands and getting another card for each hand
When you've made a decision, based on the above, this will either continue or end the game.
Oh no, I busted!
In the instance that you hit, and your card value is over 21, this means an automatic loss. This will be regardless of what card the dealer has with them.
Still in the race
If you asked to stay and your card value happens to be anywhere close to 21, then you're still in the game.
By reading about blackjack strategies and taking time out to find out more, a player can increase their knowledge on the game, and ultimately, increase their chances of winning.
Step 5: Dealer plays hand
Now you and the other players have made your decisions based on the steps above, and it's now time for the dealer to reveal his/her last card. There are four outcomes to expect:
The dealer busts, meaning all players would have won
You lose because your card value is lower than that of the dealer's
Your draw because your card value and the dealer's card value are equal
You won because your card value is higher than that of the dealer
Step 6: Collect your winnings and repeat the process!
Based on the outcome of the game from the steps above, these are the payouts you can expect:
An instant blackjack (first option in step three) will have you receive a payout of 1.5X your wager
A normal hand will award you on a 1:1 ration to your wager
Choosing to double your bet means you'd win 2X the wager you've accumulated
If you happen to win after splitting, your payout ratio will be 1:1 per hand and if you doubled a hand after having requested a split, your win will pay you 2X your wager.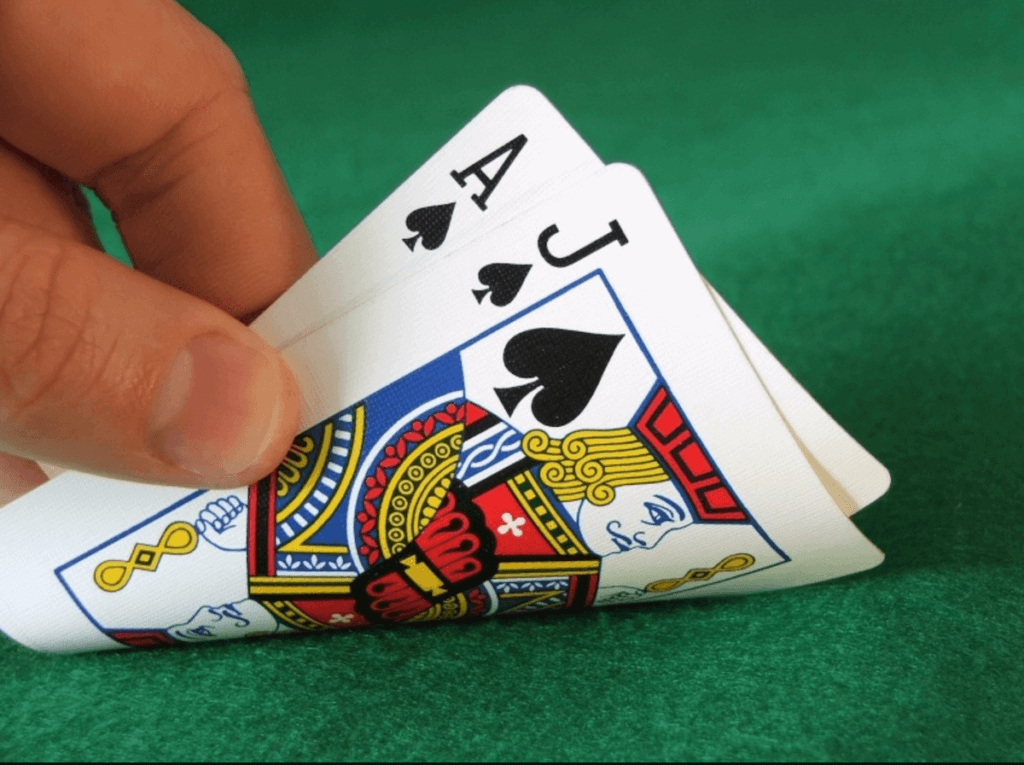 That's Everything!
So there you have it! Everything you need to know about the rules of Blackjack. Remember to keep this page bookmarked, so you can always refer to it when you need a refresher or need to learn something new.
While you're here, remember to look at the other blackjack guides we have available on CanadaCasino.