Second only to poker, Blackjack is a highly popular card game, both at land-based casinos and online, and it's very obvious why: the game is simple yet exciting, and involves just the right balance of skill and luck – not to mention a very low house edge!
Thanks to the various Canadian online casinos that are offering this game, Blackjack has become very accessible nowadays, and you don't even have to spend a fortune to enjoy a good round or two.
How to play Blackjack – the basics
Blackjack is played with the standard 52-pack of cards, and at most casinos, multiple decks are shuffled together, with the six-deck Blackjack being the most popular.
When more than 4 decks are used, the cards are dealt from a shoe, which is actually a box that will enable the dealer will remove the cards one at a time.
In Blackjack, players will never play against each other – only against the dealer.
Each player's aim is to beat the dealer by getting a card value that is as close as possible to 21, but without going over this amount (hence Blackjack's nickname as '21').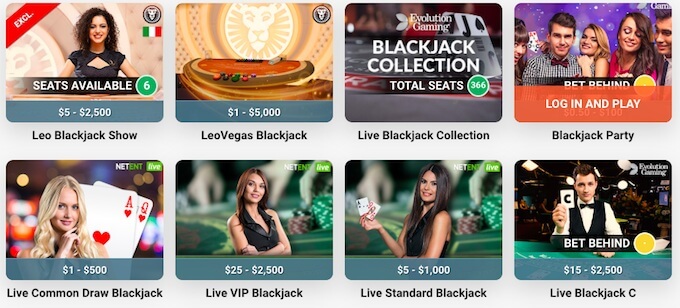 Before the game begins, each player will place a bet in chips (virtual chips will be displayed on the screen if you're playing online Blackjack).
Casinos will set minimum and maximum limits to betting to cater to different budgets – you could easily find a table where you can bet as little as $1 and as much as $5,000, as you can see from the screenshot above, taken from LeoVegas casino.
Once all players have placed their bet, the dealer will deal one card face up to each player and another card face up to himself. Players get a second card face up, but the dealer keeps his face down.
If a player is really lucky, he may bet an Ace (which counts as 11) and a 10-card (10, J, Q, or K), which would amount to exactly 21. In this case, the player gets a natural Blackjack and is paid out one and a half times his initial bet.
If it's the dealer that has a natural, he will collect all the bets of the players who don't have blackjacks, whereas if both the dealer and one of the players have a Blackjack, the bet is considered a tie, and the player takes back his chips without winning any additional amount.
The excitement in this game really kicks off when nobody gets a natural Blackjack. In this case, there are Blackjack dealer rules that have to be followed as well as a different set of rules for players.
Blackjack rules for players
Once they get dealt their two cards, the players must take one of two decisions, based on their cards and the dealer's face-up card:
Stand – they decide not to take another card so as not to risk going over 21.
Hit – they decide to take another card in the hope that it will get his count closer or equal to 21, but not over.
If a player decides to hit, but the new card brings his amount to over 21, he is said to go 'bust', and the dealer will collect his stake.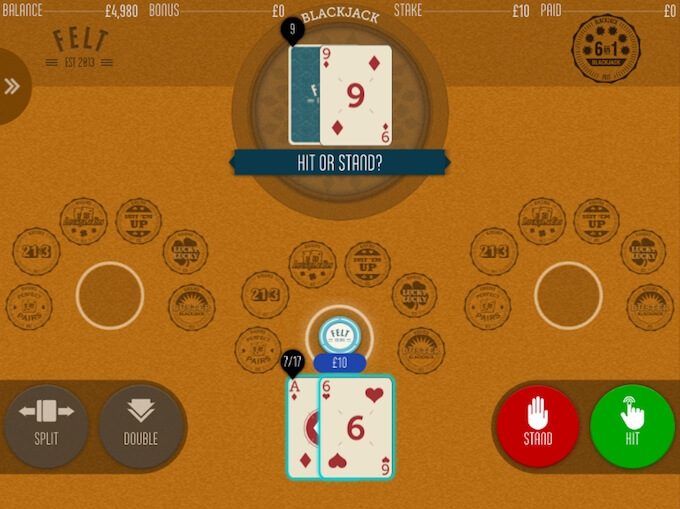 Blackjack splitting
If a player's first two cards are the same (for example 2 kings or 2 sevens), most Blackjack variants will allow them to treat them as two different hands. In this case, the bet amount goes towards one of the cards, whereas an equal amount is placed on the other card.
The player then plays the hand on his left, and then the hand on his right by hitting or standing each time.
The hands are then considered separately, and a player may win with one and lose with the other. If the player gets a pair of Aces, he gets one card for each Ace and cannot hit again.
What's more, if a ten-card is dealt on one of these hands, the payout will be equal to the original stake (and not 1: 1.5).
Doubling down
When a player's original two cards total 9, 10, or 11, he will also have the option of doubling down.
This is done by placing a bet equal to the original one to get another card face down (only one card is allowed!).
This card is only turned up when the bets are settled at the end.
Blackjack Insurance
One other option that some online Blackjack variants offer is Blackjack insurance.
This is offered when the dealer's card is an Ace, to 'safeguard' the player from losing due to an eventual Blackjack for the house.
In this case, the players can place a side bet of up to half the original wager that the dealer's other card is a ten-card.
This bet is treated independently of the original wager, and If it really is a ten-card and the player has taken out the insurance, the player is paid out 2 to 1.
This means that although you lose your original bet, you will break even thanks to the insurance.
Normally, we advise players against taking out insurance, unless they are sure that there's still a high number of ten-cards that are still undealt.
Blackjack dealer rules
On his part, the dealer also has to follow his own rules of Blackjack, which differ from those applicable to players. If his total is 17 or more, he must stand.
If it is 16 or under, he must take another card, and must continue to take cards until his total is 17 or more.
If he has an Ace, and it would add up to 17 or more if counted as 11, then he must count it as 11 and stand.  
What this means is that Blackjack dealer rules are automatic and predictable (there is no flexibility).
On the other hand, the players will always be free to decide whether to hit or stand, and can take as much risk as they would like.
Blackjack Strategy
If you really want to learn how to play Blackjack, then you've also got to master some Blackjack strategy.
This involves knowing whether to stand or hit depending on your cards and the dealer's face-up card.
To help you with this, there are Blackjack charts that show you exactly which action to take in each situation.
To mention just a few strategies, when the dealer's face up card is 7 or higher, players should decide to continue drawing cards until their total reaches 17 or more, then stop.
On the other hand, when the dealer's upcard is poor – 4, 5 or 6, the player can stop drawing as soon as he reaches a total of 12 or higher.
The idea is to avoid going bust by drawing more cards, in the hope of letting the dealer go bust with his next hit!
Play free online Blackjack
Until you get familiar with Blackjack rules and strategy, it might be a good idea to play free Blackjack online to avoid risking any unnecessary losses.
Luckily, most Canadian online casinos will offer you this opportunity in their table games section. All you've got to do is choose the game and opt to play for fun.
You will then place 'fake' wagers and play against the machine (i.e. against a program linked to a random number generator).
In this way, you can take your time to learn how to play Blackjack. You can play free online Blackjack by joining any of the below casinos and trying their Blackjack games in demo mode:
Another way of playing free Blackjack involves claiming a good Blackjack bonus, either as a welcome offer or as a reload bonus or special promotion.
For more information, we suggest you consult our guide to playing free online casino games in Canada.
Blackjack live casino
Once you've mastered the Blackjack rules, we believe that the best way to play this game is by heading to a virtual live casino – in this case, you'll be playing against a real professional dealer, who you can also chat to, and therefore you can enjoy a more authentic experience without having to commute to a land-based casino.
There are plenty of online casinos offering variants of live Blackjack with different table limits, and some of them also offer cool bonuses.
Check out our live casino guide to find out more!