How does an EcoPayz casino work?
EcoPayz started operating in the year 2000 and it is primarily an e-wallet, although it offers the possibility of having both a virtual card and a physical card. Setting up an ecoPayz account is quite easy, especially if your country is listed in their registration form. Opening an account is free of charge and they have a brand-new mobile app, compatible with any Android, iOS and Windows device, to help you manage your money from anywhere. To add money to your ecoPayz account you need a debit or credit card, however, it is possible to use the EFT method to send money directly from your bank account to your ecoPayz account.
Advantages of ecoPayz casino payments
EcoPayz offers a number of advantages to its customers, especially to Canadian casino players. Let's take a look:
Fast and simple casino withdrawals and deposits – deposits to online casinos are quite simple and free of charge. Withdrawals take up 2-3 days to reach your ecoPayz account, however, compared to other payment methods this is quite fast.
Enhanced security – ecoPayz acts as the middleman between your bank and your favorite casino, especially if you don't like sharing sensitive information online.
Partnership with Western Union – a partnership with Western Union allows you to transfer money almost anywhere free of charge. This is one of the payment methods you can use if you want to withdraw your winnings from your ecoPayz account.
Disadvantages of ecoPayz casino payments
Although ecoPayz has many advantages, there are some fees that players need to be aware of. Let's take a look at some of the ecoPayz fees:
A fee of 1.69%-2.9% on ecoPayz top-up depending on your location
A charge of €5.9 – €10 on withdrawal to your bank account.
€1.5 per month if the account was inactive for 12 months.
It is advisable to check the ecoAccount fees chart for further details.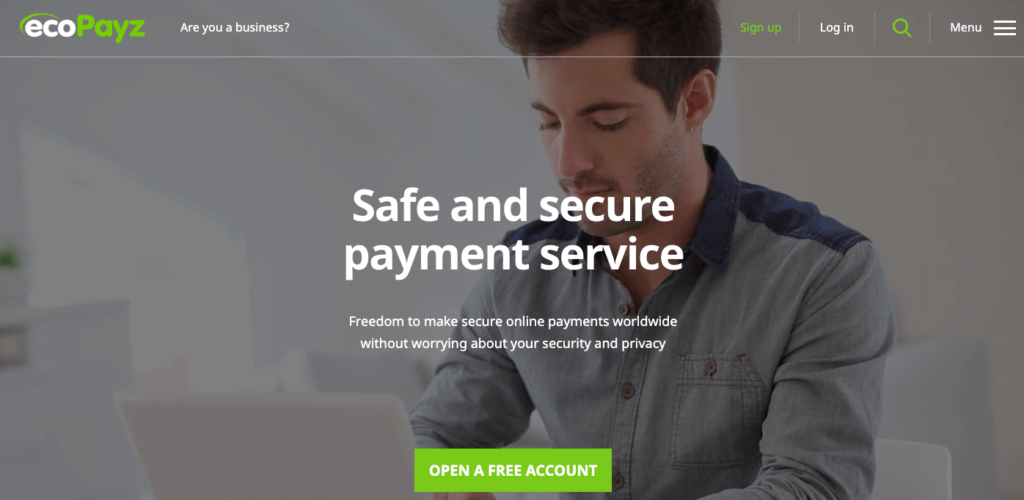 EcoCard for casino players
Opening an account with ecoPayz comes with the added benefit of having a pre-paid Mastercard debit card known as the EcoCard. As ecoPayz is an affiliate partner of MasterCard, the EcoCard can be used anywhere displaying the Mastercard symbol including for deposits and withdrawals from Canadian online casinos. And what's more, using the EcoCard to deposit into your favorite Canadian casino is free of charge. All you need to do is load up your ecoPayz account and you can access your funds instantly with the EcoCard. You can also do multiple currency deposits and you can transfer your casino withdrawal directly into your Ecocard to be used anywhere a Mastercard is accepted or transfer them into your bank account (subject to EcoPayz fees).
EcoPayz casino bonus
If you're always on the lookout for a good deal, then you must check out our best online casino bonuses, as using ecoPayz for your first casino deposit does not exclude you from the welcome bonus – this is another advantage of using this payment method in fact, since certain e-wallets are excluded from bonuses and special offers.
Alternatives to Ecopayz
If you're not quite convinced about Ecopayz, or your favorite online casino does not support it, we can suggest the following as reliable and convenient e-wallet alternatives:
PayPal – recognized worldwide, this e-wallet is gaining in popularity across online casinos. You can learn which online casinos accept PayPal here.
iDebit – a great option for Canadian players, which allows you to make deposits directly from your bank account. Learn more about how an iDebit casino works here.
Ecopayz casino review – our Conclusion
EcoPayz is growing in popularity every day. It is fast and reliable, offering security and control to its customers. What's more, ecoPayz was shortlisted for the 2019 FSTech Awards for 'Partnership & Collaboration' of the year for their work with Western Union and shortlisted for the 2019 Global Gaming Awards for the 'Payment Solutions' of the year award. With so many EcoPayz casinos opening their doors to Canadian players, you can use this method at several online casinos, as your payment solution to your gambling activities!