Some are saying that the worst is over; others that it's still to come – in any case, gamblers may have started to miss heading out to their local casino, and we don't blame them for being on the lookout for news on casino reopenings in Canada and beyond. The good news is, things seem to be finally moving, with casino reopenings being a part of each province's gradual Post-Covid reopening plan. CanadaCasino has taken a look of the current situation and the developments in various provinces.
Land-Based Casino Reopenings in Canada
Every province in Canada has its own reopening plan, each of which is unfolding in separate stages. Casinos were far from being among the first businesses to reopen, and for most citizens, the best alternative at the moment is to join one of the many Canadian online casinos which provide a totally safe gaming environment from a public health perspective!
Below is a brief outlook of casino reopening plans by province for those who prefer a brick-and-mortar experience.
September Update! Ontario and New Brunswick Casinos to Reopen
Great Canadian Gaming has finally declared that its casinos in Ontario and New Brunswick will reopen on the 28th of September! This is great news after months of closure.
11 casinos will reopen in total in Ontario, with a capacity limit of 50 people each. Table games will sadly remain closed for the time being. Other casinos in Ontario have not announced their reopening date, after the 50-people limit was deemed unviable by certain casinos last month, among them the Caesars Windsor casino. Similarly, Fallsview Casino Resort and Casino Niagara have not confirmed their reopening dates.
The New Brunswick Casino will reopen with 25% capacity limit, and with half of its slot machines available, in its effort to maintain social distancing.
Alberta – land-based casinos now open!
To start off with the good news, casinos in Alberta have already reopened, with various measures in place to prevent the spread of Covid-19. The doors to several casinos opened on Friday 12th June, after having been closed since the 17th of March
River Cree Casino opened with capacity limits, increased cleaning, barriers between slot machines and some other measures. All the games, with the exception of Blackjack and Poker, are open, and so are the restaurants.
Other casinos that have reopened in the last week include Century Casinos in St. Albert, Edmonton and Century Mile, and Pure Casino on Yellowhead Trail.
Nova Scotia – casinos reopening soon!
The operator behind land-based casinos in Halifax and Sydney, Great Canadian Gaming Corporation, has been given the green light to reopen back in June, although there is still no official date set. Residents should be able to visit the Casino Nova Scotia venues in Halifax and Sydney soon.
British Columbia – no timeline for reopening
Casinos in British Columbia can only reopen as part of the province's Phase 4 plan, alongside conventions, professional sports, international tourism and concerts. Unfortunately, Phase 4 actually requires a vaccine to be available to the broad community… so gamblers should seek an alternative for the time being!
Manitoba
Manitoba announced that some indoor venues such as Bingo halls and billiard rooms will be opening on June 21 as part of Phase 3. However, the province hasn't reopened its casinos yet.
Quebec
Casinos in Quebec are now reopening! Casino de Montreal plans to open six sections on the 3rd of August, each of which will host a maximum of 250 guests. Guests should book their spot through an RSVP system.
What's more, land-based casinos in Quebec will be the first to open table games in Canada following the COVID-19 crisis. Masks are mandatory, gamblers must santitize their hands before and after playing table games, and they will also be provided with a stylus to avoid touching devices.
Saskatchewan
Saskatchewan reopened its land-based casinos on the 9th of July, although card tables are closed. Masks are mandatory for both staff and guests.
Prince Edward Island
Prince Edward Island has progressed to Phase 4 of its reopening plan on June 26, with and the reopening of casinos is included as part of this stage. The Red Shores casinos in Charlottetown, as well as the gaming floor in Summerside are open, with limited capacity.
Yukon
The Diamond Tooth Gerties Gambling Hall (Dawson City) is the only gaming establishment in Yukon. On June 12, the venue has announced that it's working closely with the Chief Medical Officer of Health and the Yukon Government with the aim of opening in the very near future.
NorthWest Territories
There are no government-regulated casinos in the NorthWest Territories, and the province is still at Stage 2 of its reopening plan.
Casino Reopenings in the US
Meanwhile in the US, casinos in Las Vegas have opened up on the 4th of June, after 78 days in lockdown. The reopening was celebrated with fireworks and a water show at the Bellagio fountains. All protocols at each specific venue had to be approved by the Nevada Gaming Control Board, all casinos have opened with limited capacity and additional measures such as hand sanitizer stations, and the wearing of masks by casino staff. It's still not the Vegas we've grown to know, but at least things seem to be moving in the right direction, and thousands of gamblers have already flocked to sin city!
Other States saw casino reopenings far earlier than Vegas, as early as May 1st in Idaho. The first casino in Washington, the Northern Quest Casino, reopened on May 5th, whereas in Florida, Iowa, Missisippi, Pennsylvania, Missouri and West Virginia, all commercial casinos were allowed to reopen by the end of May (you can see a full list of States and casino reopenings here).
Clearly, Canada and the US are taking very different approaches to Post-Covid reopenings, with plans being far more gradual and stricter in Canada.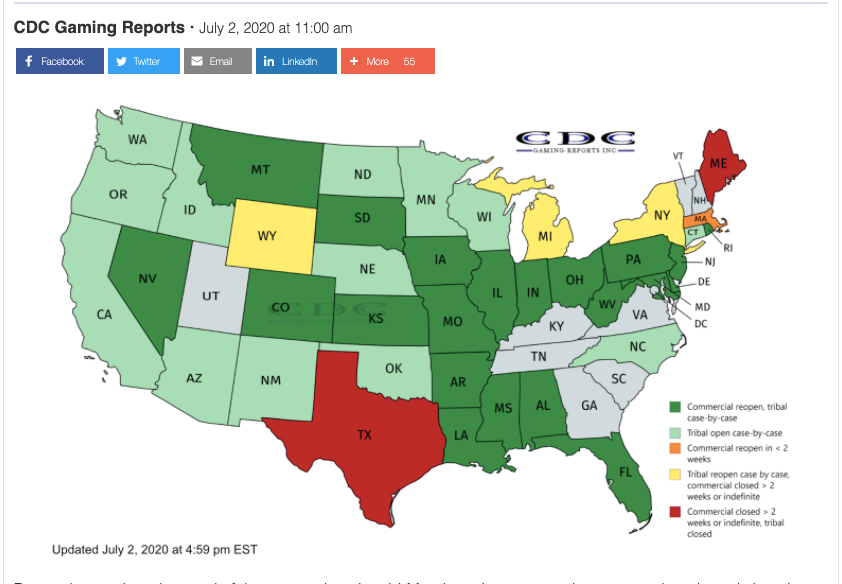 Online Casinos vs Land-based casinos
Nothing can beat the thrill of playing at a brick-and-mortar casino now and again. But of course, in these past months, gamblers have mostly resorted to online casino sites to enjoy slots and table games. Live casino games also make for a great alternative for those who love to play table games at land-based venues, since they enable players to interact with a live croupier in real-time while enjoying classic casino games like Roulette, Blackjack and Baccarat.
What's more, most players will find a greater variety of games at online casinos, and can generally benefit from bigger bonuses and promotions, given the fierce competition between online operators. Since online gambling laws in Canada do not prohibit residents from playing with offshore casino sites, the choice when it comes to playing real-money online is quite vast.