Crash Gambling is becoming a popular type of gambling among players at leading Canadian online casinos. Many software developers have started to release Crash Games to meet the growing list, and one of the top options is Space XY from BGaming.
This crash game features a high 97% RTP, the opportunity for Canadian players to claim up to 10,000x their wagers, and a flexible bet range. Keep reading our extensive Space XY Crash Game review to determine if this game is worth playing.
What you'll find in this Space XY Crash Game Review
To ensure you don't get surprised by any game, we recommend our team of experts properly evaluate all aspects of the game. Here are some of the areas we covered during our Space XY Crash Game review:
Gameplay: Is the game entertaining and user-friendly? Our experts played the game to find out.
Betting options: We evaluated the minimum and maximum bet options available
Auto-Features: We check to see if the Crash game has autoplay features to make playing easy.
Fairness: Our specialists determine if the game has been deemed fair and if winnings are random.
RTP / Maximum Win: We evaluate the game RTP and the maximum win available for Canadian players.
Graphics: How is the theme of the game? We analyze the graphics and sound properly and see how they help with immersion.
Learning about the aspects of a crash game is one of the best ways to get ahead when playing for real money. Below, we will cover all the essentials of Space XY, that you need to begin.
Space XY Crash Game STATS
Min bet
$0.10
Max bet
$1,000
Max win
X10,000
RTP
97%
Autoplay
👍
Free Play
👍
Features
Double bets, Rocket Play, Multipliers
Min/max bet, max win
Space XY Crash Game has a flexible betting range, making it ideal for low and high rollers. The minimum bet is $0.10, while the maximum bet is $1,000, which is impressive.
RTP
The RTP of the Space XY Crash Game is outstanding at 97%, which is above average. Depending on your chosen strategy, it can also get as high as 98.92%.
Autoplay option
The Space XY Crash Game features an autoplay feature which allows set rounds from as low as 5 to up to 1000. You can also make it infinite, so the rounds keep going until you exhaust your funds.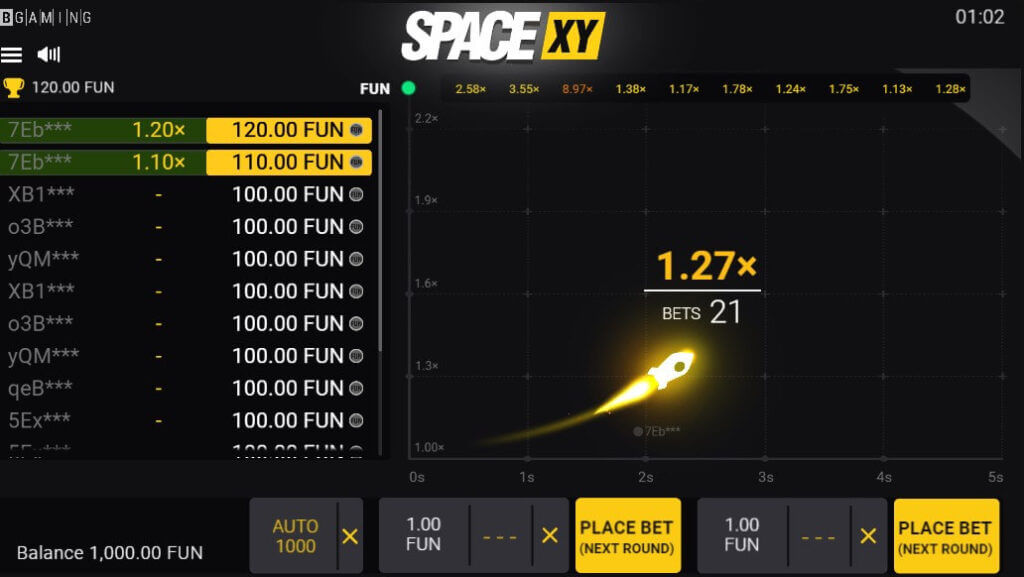 Decent Range of Options
We were very impressed with the range of options we found during our Space XY Crash Game review. The RTP is impressive, and the minimum and maximum bets make the game ideal for every player.
Game Features
BGaming, the software provider behind this title, has opted for a simple game. However, this has not prevented it from incorporating a few features to make this unique game worthwhile. While you won't find symbols or progressive jackpots, it features a rocket play, multipliers, and multiple bets features.
Rocket Play
The Rocket Play feature allows you to wager and what the rocket launch into space through the graph. The horizontal or X part of the graph displays how long the rocket stays in the air, while the vertical or Y area of the graph shows the potential winning multiplier. You'll need to jump off before the rocket flies into deep space to win a bet.
Multiplier
This is like the typical multiplier feature you'll find in online slots. While the rocket moves through the graph, it lands on specific coordinates with a multiplier value attached.
Multiple Bets
This is an impressive feature we found during our Space XY Crash Game review. As you could have guessed from the name, you can make numerous bets at a time with this feature. This puts you in a better position to win more.
Auto Cash-Out
The Auto Cash-Out feature ensures Canadian players can cash out automatically before the rocket crashes. You'll need to set a specific point on the Y area of the graph, and once the rocket arrives at this point, the feature is triggered. However, you lose your wager if the rocket crashes before it reaches the auto cash-out point.
Space XY Crash Game Graphics & Sound
Space XY features very simple graphics that ensure it is easy to play and understand the game. It also comes with simple cosmic-themed sound and music that makes playing soothing and immersive.
| | |
| --- | --- |
| Graphics | 2D Chart-Like Graphics |
| Optimized for Mobile | 👍 |
| Music | Cosmic-themed music and sound |
| Special features | Ability to Mute Sound, Auto Play |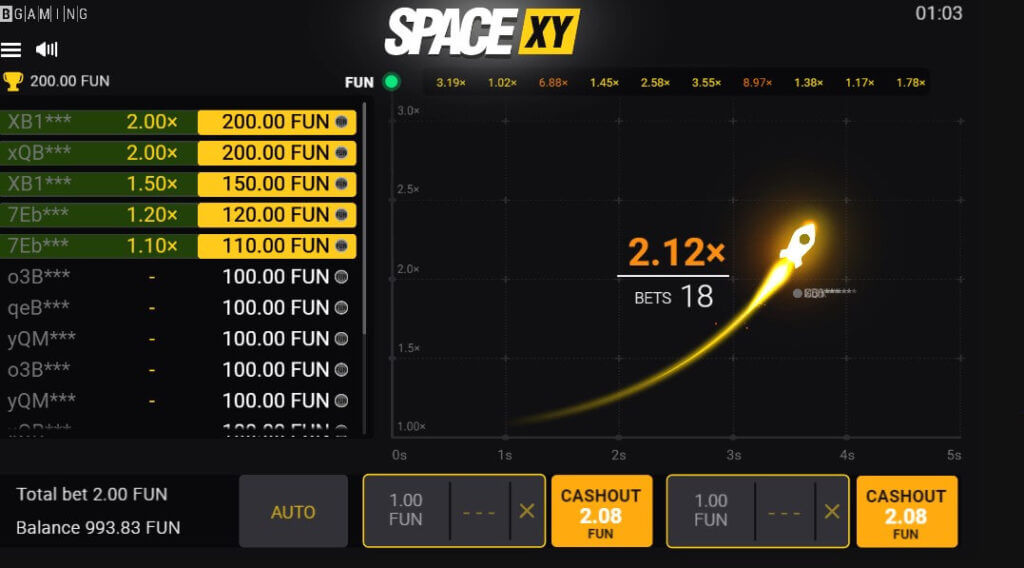 Straightforward Graphics
This crash game features straightforward graphics with awesome sounds, which fits the game's overall theme. If you want something that offers basic graphics without compromising gameplay, it seamlessly does the trick.
How to play Space XY Crash Game
During our Space XY review, we learned that the game is very easy to play. To help you out we have put together a step-by-step guide to help you out:
Register on one of our recommended Canadian online casinos
Place one or two bets ranging from $0.10 to up to $1,000 each on the X and Y sectors
Click the special "Place bet" icons to place a wager
Watch the rocket's trajectory, and the amount you can cash out becomes visible. When you feel the time is right, hit the cash-out button to claim your winnings, before the rocket crashes.
Solutions if you have some issues with a game
Space XY Crash Game is a properly designed title, but this does not mean you can't experience issues. Here are the common problems we found during our Space XY Crash Game review and how to correct them:
If you lose your internet connection and your game is interrupted, you can restart the session and replay the game round.
All bets are void if the game software/hardware malfunctions
Reach out to the support team if aspects of the game don't work
Final Words on Space XY Crash Game
The Space XY Crash Game is engaging and thrilling allowing every type of player to claim up to 10,000x their winnings in space. It comes with awesome features, including a multiplier and auto cash-out that can save you cash in the long run.
All you need to do is watch the rocket flying over the two X and Y coordinates and cash out before it crashes – making it a very simple game. Overall, we rate this title a 7/10 and recommend you sign up on one of our top Canadian online casinos to begin. You can claim welcome bonuses and free spins to play the Space XY Crash Game or other of your favourite titles and win real cash!
Other crash games to play if you like Space XY
If you like Space XY, here are some other titles you can try out:
Frequently Asked Questions
Space XY is a crash game from BGaming. It allows you to explore the ends of space via a rocket with the goal of cashing out before your rocket crashes. Lucky players can get up to 10,000x their wagers on this title.
Yes, you can play Space XY on any of our recommended online casinos for real money in Canada.
You can find this title on any of our recommended online casinos. Read through our in-depth reviews for the ideal casino to register and start playing.
Space XY features a great betting range of $0.10 - $1,000, depending on your preference
The Space XY Crash game has a high RTP of 97%.
Absolutely! Many online casinos like those on our list will let you enjoy Space XY for free in Canada.
Author
Casino Content Writer
Peter is a Canadian content writer with over six years of experience in the iGaming scene. During this period, he has covered content for numerous markets, including the Canada, US, and UK. He uses his knowledge to provide accurate and detailed iGaming content for CanadaCasino. When taking a break from writing, he enjoys playing Call of Duty with his team.