Pixel Samurai Review
Pixel Samurai is a retro-themed slot from the top developer Playtech. As you must have guessed from the name of this slot, it features Samurai, so you are in for some fun if you are a fan.
Set in a moody backdrop showcasing Japanese temples and shrines, this online progressive jackpot slot sets the scene for a samurai battle across a five-by-five grid.
Let's dive into this Pixel Samurai slot review!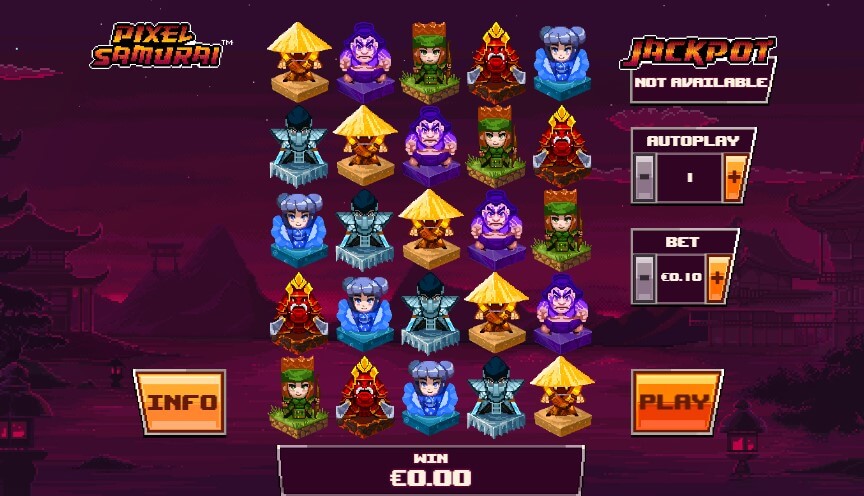 Its RTP is below average at 93.98%, but it features other features to make up for this including low volatility, and a maximum jackpot of up to 5,000x your wager. Read on as we uncover more about this slot.
What You'll Discover in This Pixel Samurai Review
A video game feel won't stop us from giving this title the usual slot review treatment. We put it through its paces by checking the following points.
Min and max bet: we explore what size bankroll this slot suits.
Volatility: we find out if the wins are large or small and frequent or infrequent.
RTP: The payout tells us about the theoretical return players get over time.
Maximum win: The maximum win lets us know how high players should set their expectations.
Symbols: we check the symbols to understand the payouts and the theme.
Features: Extra icons or mechanics, such as multipliers, are what bring some added excitement to the game.
Bonus games: We like it when a slot has another round, ideally with a different format.
Graphics and sound: For a slot to be immersive and fun, the audiovisuals need to be top-notch.
Play Pixel Samurai With a Top Bonus
Ready player one? There aren't any cheat codes for this game, but you can get ahead by claiming one of our excellent casino bonus offers.
Pixel Samurai Symbols & Payouts
It's time to line up your favourite fighters and explore the symbols and paylines.
The Symbols
The symbols are all characters that resemble fighters from old video games. There are nods to Mortal Kombat and Street Fighter. They are lower-paying Green Robin, Purple Sumo and Yellow Monk, and the higher-value Subzero, Blue Lady and Red Samurai.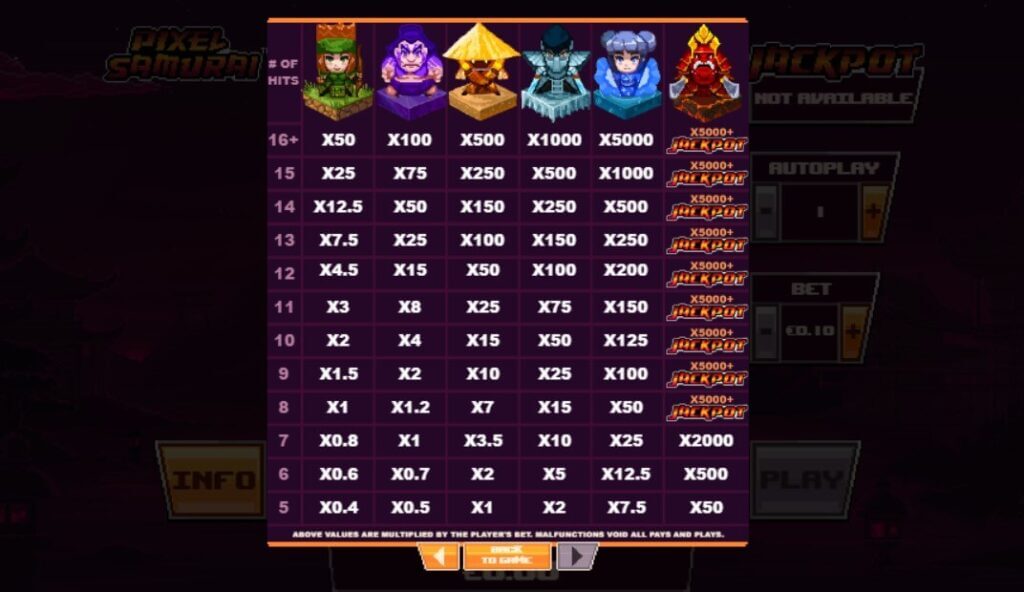 Paylines
It's a cluster slot, so there aren't any paylines. Land five or more of one kind in a group of horizontally or vertically adjacent symbols.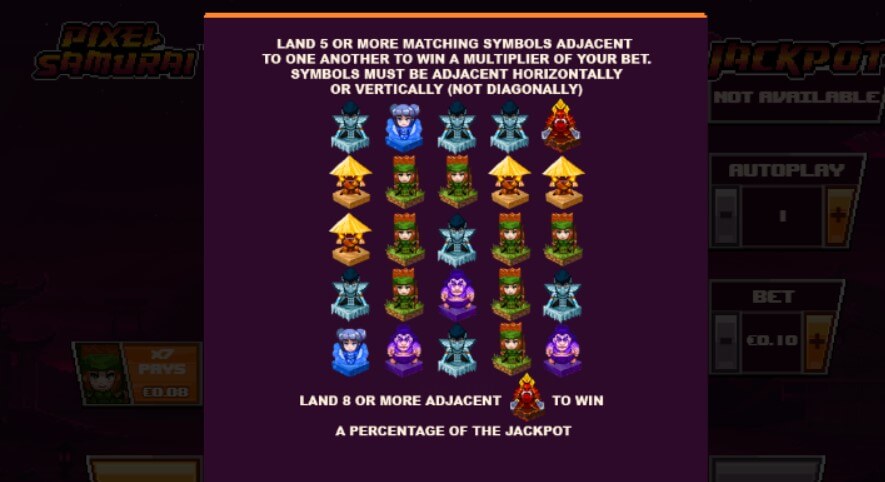 Min/Max Bet and Autoplay Option
The lowest wager available is $1, and the highest is $10. Use the retro plus and minus signs to set your number of autoplay spins.
Pixel Samurai RTP
The RTP for this slot is 93.98%. This is lower than the industry average of online slots today. If you would rather play slots with higher RTP, We recommend that you check out our high-RTP slots page.
Volatility
With fairly frequent small wins, it's a low-volatility slot. There are many slots that payout more frequently on our high-RTP slots page, which we recommend you check out.
Jackpot and Maximum Win
The maximum base game win is 5,000x your bet. That doesn't include the jackpot, which comes from a progressive pot and depends on your bet size.
A Blast From the Past
The standout feature of this game is the use of retro game characters as the symbols. Otherwise, the bet range isn't particularly wide.
Game Features
Time to progress to level two, where we expect even more from a slot. From our research, we observed that Pixel Samurai slot offers numerous features including a high-paying jackpot. Read on to learn more.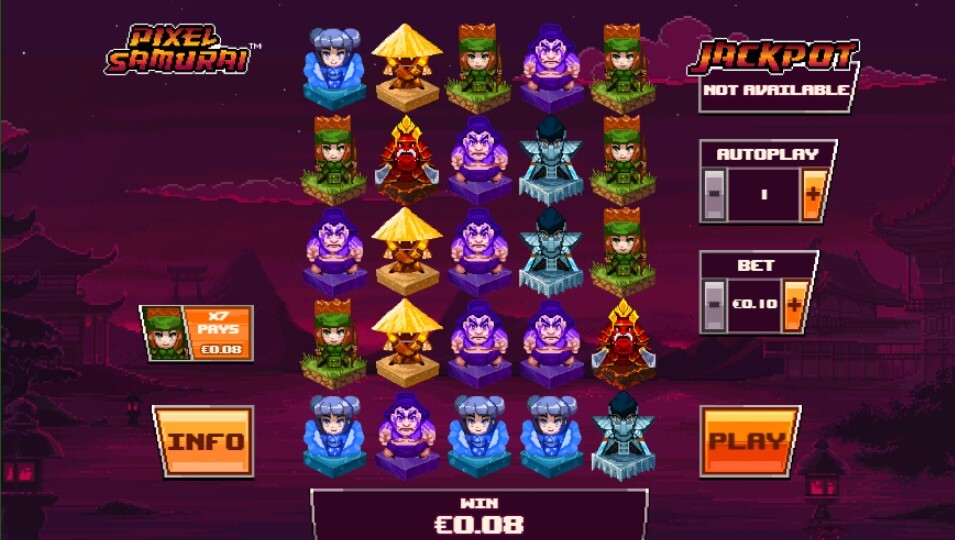 Cascading Reels and Jackpot Wins
This slot takes things back to simpler times, which means simpler features too. There are only two: the jackpot and cascading reels.
Cascading Reels
When you land a winning combination, those fighters disappear and new ones drop down into the grid. It gives you another chance to get a win, but doesn't cost you a thing.
Jackpot
Getting eight or more of Red Samurai gets you the max win of 5,000x your bet plus the progressive jackpot. For each bet, 0.975% is added to the pot. The size of your bet dictates what percentage of the jackpot you win.
Pixel Samurai Graphics & Sound
The appeal of this slot is the way it looks and how that makes you feel.
| | |
| --- | --- |
| Graphics | 3D |
| Optimized for Mobile | 👍 |
| Music | Asian-style slow electro beats |
| Special features | N/A |
Video Game Sound Effects
While some slot sound effects can get annoying, these link well to the theme and the nostalgia, with samurai fighter sounds coming from random characters.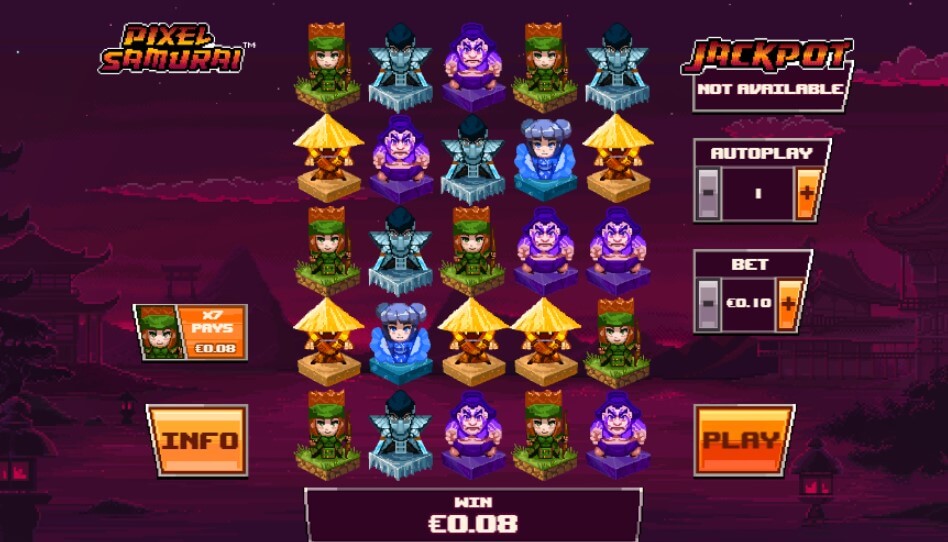 Solutions To Issues With the Game
Although this slot relies on more modern technology than old games consoles, things can still go wrong. Here's some advice on how to proceed when they do.
If the game freezes, try to restart. You might be able to pick up from your last spin.
If the game malfunctions, your last spin won't have counted. The play is void and your bet will be refunded.
Nice Title for the Nostalgia
The characters, graphics and sound effects really sell the theme. It's a fun hit of retro gaming, but when it comes to features and wins, the slot is underwhelming, especially when looking at the RTP. It's about average for a jackpot slot, but we've definitely seen higher. It scores 6/10.
Other Slots To Play If You Like Pixel Samurai
We recommend these other video game-themed slots and a higher RTP jackpot slot.
FAQs
How do Canadian players trigger the jackpot on Pixel Samurai?
The jackpot is triggered by landing eight or more Red Samurai symbols in a cluster.
What's the theme of the Canadian slot Pixel Samurai?
The theme is a mix of two styles: Japanese fighter and retro video game.
Can Canadians play Pixel Samurai for real money?
Yes, Canadians can deposit and play the real-money version of the game at Playtech casinos.
How much can Canadian players win on Pixel Samurai?
The maximum win for the slot is 5,000x your bet. However, a higher win might be achieved by winning the jackpot. You can check the jackpot amount from the total displayed in the box at the top right of the game screen.
Does the Canadian slot Pixel Samurai have free spins?
No, this slot doesn't have free spins. The two features are cascading reels and the jackpot win.
Where can Canadian players find the Pixel Samurai slot?
Canadian players can find the slot at our recommended Playtech online casinos.
Author
Casino Content Writer
Peter is a Canadian content writer with over six years of experience in the iGaming scene. During this period, he has covered content for numerous markets, including the Canada, US, and UK. He uses his knowledge to provide accurate and detailed iGaming content for CanadaCasino. When taking a break from writing, he enjoys playing Call of Duty with his team.