Payeer casinos review
Payeer is an excellent e-wallet that you can link to your bank account, and its primary selling point is that you can buy and sell with cryptocurrencies making it a popular choice for crypto casinos. Like many online payment methods, Payeer is safe and it protects your data from DDoS attacks and other hacks.
Although most online Canada casinos are safe, concern about your privacy and security is normal. Casinos need to follow the GDPR and other regulations, and they're required to get information from you to verify your identity. We promote only licensed and safe casinos.
Did you know?
Avoiding public Wi-Fi can help keep your information safe from hackers. Don't let your browser remember your banking password, either.
How to use Payeer at Online Casinos?
To use Payeer with online casinos, you need to set up an account. Then, you'll need to load up your Payeer account before using it with a casino. After that, make sure to select Payeer as your chosen deposit method when you top up your casino account.
What Fees does Payeer Charge for Depositing and Withdrawing?
Usually, the best Payeer casinos won't charge you anything if you deposit or withdraw with Payeer. The e-wallet will charge you when you transfer money to a card or bank account, which is a significant downside. This fee varies, but it's between 0-5% of the withdrawal amount.
Casinos like Nomini advertise that they accept Payeer. Others will take Payeer as an option, but may not promote it. Some casinos online in Canada will require you to make minimum deposits and withdrawals of around $10.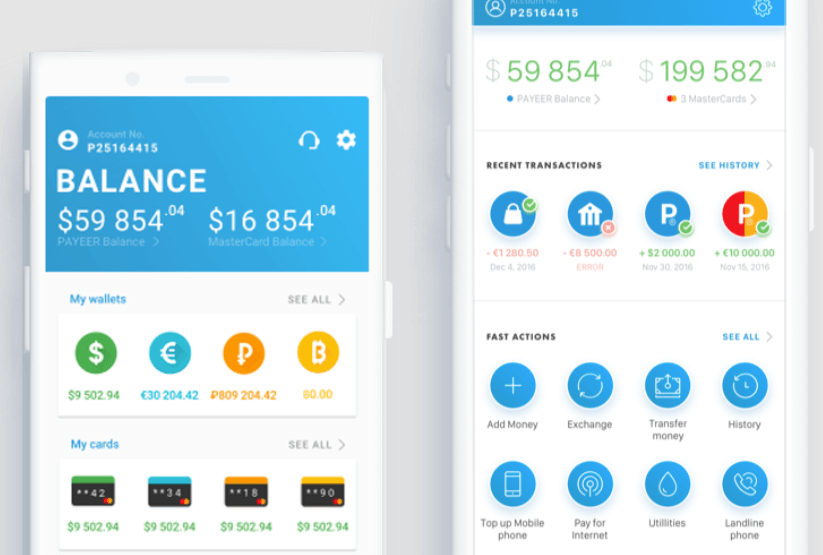 How to Deposit and Withdraw Winnings Using Payeer
To place deposits and withdrawals, you need to create an account with Payeer. If you plan to use a banking account, credit, or debit card, you'll need to give Payeer that information. If your would prefer to not do this, you can use cryptocurrencies such as DOGE COIN, Litecoin, and more.
When you're done setting up your account, you can use it with any safe Payeer casinos. Once you decide to withdraw or deposit money, you need to specify the amount you want and pick the Payeer option.
Did you know?
You don't need to provide Payeer with your credit or debit card information, and if you decide to, they'll keep it safe for you. They don't reveal that information to casinos or vendors.
Solutions to Common Issues when Using Payeer at Online Casinos
I can't withdraw my winnings.
You may be using an international bank that Payeer doesn't accept. You might need to contact your bank or Payeer to let them know that you're trying to withdraw money.
I can't remove Payeer from my account.
You may need to contact customer support for either Payeer or the casino you're using.
I can't verify my account with Payeer.
This is a common issue with Payeer, and you'll need to contact customer support to fix this problem.
Did you know?
If you need help with your account, you can contact Payeer customer support. They'll usually respond within one day.
Pros and cons of using Payeer at Online Casinos
| PROS | CONS |
| --- | --- |
| Many online Canadian casinos accept Payeer. | Withdrawals may have fees. |
| Using Payeer is safe. | You may have issues with international banks. |
| Depositing money to Payeer is easy. | Customer service is lacking. |
| You don't need to connect your bank to Payeer. | The Payeer website is poorly translated. |
| Depositing to the casino with Payeer is straightforward. | |
| The developers designed Payeer for cryptocurrencies. | |
Payeer vs. Other Payment Methods
A significant difference between Payeer and most other payment methods is that you can buy and sell cryptocurrencies. Payeer also lets you deposit money to casinos and pay for things without giving unnecessary personal information to vendors. Like PayPal, Payeer enables you to add multiple cards and bank accounts.
In addition to using cryptocurrencies such as Bitcoin with Payeer, you can also buy and sell all types of currencies. E-wallets like Skrill and PayPal might let you use cryptocurrencies, but you won't be able to buy and sell.
Although payment methods vary from casino to casino, most accept e-wallets like Payeer, PayPal, and Skrill, but you should always double-check. Payeer is still relatively new, so not all online casinos will take it.
| Features | Payeer | Visa/MasterCard | PayPal | Skrill | Bitcoin |
| --- | --- | --- | --- | --- | --- |
| Use different cryptocurrencies | ✔ | ✖ | ✔ | ✔ | ✖ |
| Buying/selling other currencies | ✔ | ✖ | ✖ | ✖ | ✔ |
| Accepted at major casinos | ✔ | ✔ | ✔ | ✔ | ✔ |
| Data protection | ✔ | ✖ | ✔ | ✔ | ✔ |
| Link multiple cards or bank accounts | ✔ | ✖ | ✔ | ✔ | ✖ |
Did you know?
Bitcoin is technically free because it's built on an open-source freeware protocol, allowing users to build on top of the original blockchain. You only get charged fees if you use apps or exchanges.
Conclusion
Although there are a few advantages to using Payeer, including privacy and cryptocurrency, there are many drawbacks. Payeer isn't common option yet, and it has a lot of issues connecting to international banks.
On the other hand, crypto casinos are on the rise in Canada, so we envisage Payeer usage to also increase. We also like the fact that this payment option protects your data when you make transactions online, but withdrawing from your account is difficult at best!
Frequently Asked Questions
Yes, Payeer is safe to use with online casinos. Payeer protects your data from vendors.
You need to pay fees if you want to withdraw money from Payeer to a bank account or debit or credit card.
No, not all online casinos accept Payeer. Always check with a casino to see if they accept it.
Usually, you won't get a special bonus if you use Payeer, but you'll have to check with the individual casino.
Yes. Payeer has a designated mobile App that is available for download on both Android and iOS devices from their respective online stores.
Yes. Payeer is a digital e-wallet that works with the biggest fiat and cryptocurrencies. When you create an account with Payeer, you can use it to make transactions, and trade and exchange currencies within the system. However, not all casinos online in Canada work with Payeer.
Author
Casino Content Writer
M'Louisa spends most of her time chasing after a certain cheeky monkey that is growing up too fast. When she has a moment to spare you'll find her with a paint brush in hand or reading a good book. For the past 3 years she has enjoyed watching the industry grow and thrive, and thinks that is the most satisfying part of her job!
Co-Editor
Casino Content Manager
Antoine is the content manager for the team at canadacasino.ca. He has been working in the industry for over 6 years, and has written content for a number of big casinos in the past. In his free time, he enjoys relaxing in the garden or smashing away on his Nintendo Switch.