Money Train 2 review
Pros:
Fun and exciting Wild West theme with the use of high-quality graphics
A generous top prize of up to 50,000x
Fantastic bonus features
Cons:
High volatility
Slightly complex approach to the Money Cart Bonus Round
| | |
| --- | --- |
| Score: | 85/100 |
| Argument: | Money Train 2 has lots to offer players in rewards |
| Game name: | Money Train 2 |
| Provider: | Relax Gaming |
| Game type: | Video slot games |
| Volatility: | High volatility |
| RTP: | 96.40% |
| Features: | Respin feature, Money Cart, Bonus Round, Buy Feature |
| Paylines: | 40 |
| Reels: | 5 |
| Min bet (all lines covered): | $0.10 (C$0.13) |
| Max bet: | $20 (C$25.31) |
| Supporting currencies: | USD |
| Top win: | 50,000x |
How I Tested Money Train 2
Here's a quick look at the criteria we go through to conclude our Money Train 2 review.
Design, sound and graphics
We start by taking a look at how appealing the game is. We assess the quality of the graphics used and look into how well the sound complements the theme as a whole.
The details
During this step, we have a look at the details concerning the game. So, in this case, we look at what RTP, hit frequency, volatility, and jackpot Relax Gaming have implemented to increase those winning chances while playing.
Is it beginner-friendly?
We look at the navigation and layout of the game to see if any beginner can work their way around the game without needing an informative guide. What does the layout look like, and are the icons clear and well-organized to avoid clutter or confusion?
Bonus features
We look at what bonus features Relax Gaming has implemented to make the experience rewarding. It's time to put the game studio's creativity levels to the test and see what exciting features have been added beyond the base game.
Play Money Train 2 With the Best Bonus
Finding the best Canadian online casino to play Money Train 2 can be a task of its own, especially if you're still new to the game. Here's a list of our top 10:
Money Train 2 Symbols & Payouts
Now let's look at the characters that bring the game to life and see what rewards they have in store for us.
The symbols
Money Train 2 has eight main symbols in the game. The diamond, spade, heart, and club are the lowest paying symbols, while the character symbols are the highest paying.
You can expect to see wild symbols and added symbols as well. But, we'll be discussing those in the next section of the review.
Paytable
| Symbol | Combination | Payout (X the stake) |
| --- | --- | --- |
| Diamond | 3, 4, 5 | 0.20; 0.70; 3 |
| Club | 3, 4, 5 | 0.20; 0.70; 3.5 |
| Heart | 3, 4, 5 | 0.20; 1; 4 |
| Spade | 3, 4, 5 | 0.20; 1; 5 |
| Payer | 3, 4, 5 | 0.50; 2; 8 |
| Sniper | 3, 4, 5 | 0.5; 2.5; 9 |
| Collector | 3, 4, 5 | 0.60; 3; 10 |
| Necromancer | 3, 4, 5 | 0.80; 4; 20 |
| WILD symbol | 3, 4, 5 | 0.80; 4; 20 |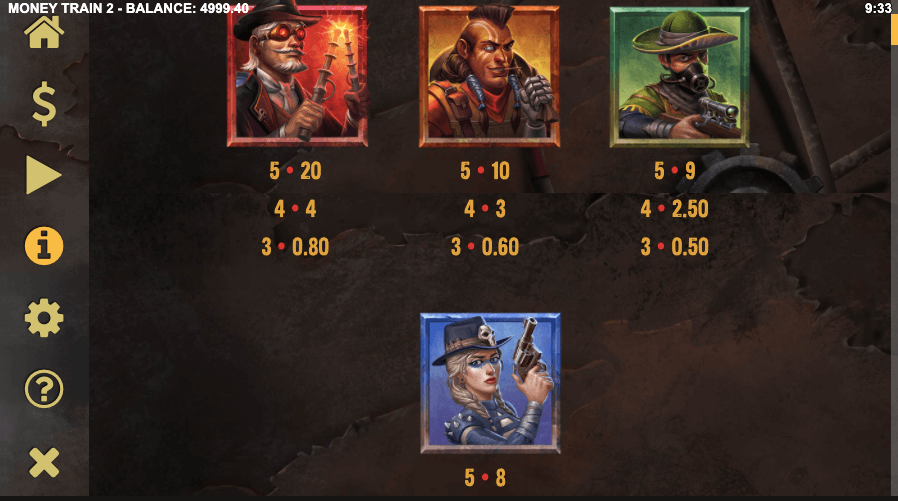 Min/max bet, autoplay option
Money Train 2 has a minimum and maximum bet of $0.10 (C$0.13) and $20 (C$25.31), respectively. The game also has an autoplay function that you can use. You can add settings to the function by choosing how many spins you'd like automated.
RTP
Money Train 2 has an RTP score of 96.40%.
Volatility
The game has high volatility.
Hit frequency
The hit frequency for Money Train 2 is 19.55%.
Jackpot and/or maximum win
Your jackpot for the game stands at 50,000x the stake.
Every ounce of this game is in favour of the player!
In comparison to other slots in its league, Money Train 2 has symbol payouts that are pretty average but somewhat decent. When looking at the betting range, its numbers stay within the standard range of most online slots.
Its RTP score of 96.40% is something to work with, but if you're looking to walk away with some real reward, you may want to hang around for a while since its high volatility means great returns during peak times.
Plus, with a super generous jackpot of 50,000x your stake, you may have a great shot at having your share of the money train.
Game Features
Let's now look at what element of excitement Relax Gaming has added to Money Train 2 to get you playing time and time again.
Wilds, re-spins and other features
Money Train 2 has two main bonus features. Let's explore them in detail.
The game has a wild symbol, which is the WILD icon with the skull. This can replace all the game symbols. There are also added symbols that come alive during the Money Cart Bonus Round, which are the:
Bonus Symbol
Golden Bonus Symbol
Reset Plus
Persistent Payer
Persistent Sniper
Persistent Collector
Respin feature
If you manage to score two standard bonus symbols while playing, you automatically trigger the Respin Feature. During this time, each bonus symbol will indicate a multiplier. With time, each multiplier will be added with the next, and you'll receive respins until a win is achieved. Each time you don't win a spin, you increase the multiplier by one until a win is made.
Money cart bonus round
When you score three or more bonus symbols, you trigger the Money Cart Bonus Round. During this time, all the Persistent Symbols can replace the bonus symbols. When the round starts, the symbols that had triggered the round will show a certain value. This value will multiply the bet and award an additional three spins. 
Each time you refresh the reel with new symbols, another reel will be opened a maximum of two times. If all the additional reels have been revealed, the round will come to an end and award the player 500x the bet.
During this round, it is possible to find other symbols landing on the reels, such as the:
Bonus Symbol which awards between 1x and 10x the bet.
Golden Bonus Symbol, which awards between 20x and 200x the bet.
Payer which reveals a multiplier and adds it to all the other symbols on the reels.
Collector which reveals a multiplier and collects all the values visible on your reels to add it to its own value.
Collector or Payer, which acts as a multiplier, adds all visible values and adds an updated value to all the other visible symbols.
Sniper acts as a multiplier and doubles the value of three to eight of the other bonus symbols while still performing on the same bonus symbol multiple times.
Necromancer acts as a multiplier, bringing life to between two to seven non-persistent symbols that have already been used.
Reset Plus which acts as a multiplier and increases the initial value of the remaining spins by 1.
Persistent Payer which doesn't pay itself but acts as a multiplier and adds to all visible symbols.
Persistent Sniper, which acts as a multiplier, doubles the value of three to eight bonus symbols at the beginning and end of each spin while still performing on the same symbol several times.
Persistent Collector, which acts as a multiplier, collects all visible values and adds the values to its own value at the start and end of each spin.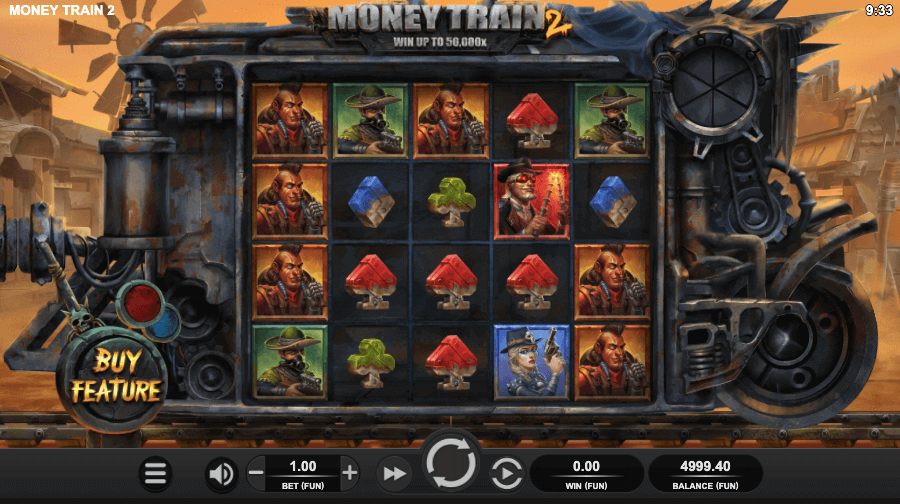 Bonus buy
Yes, Money Train 2 offers a Bonus Buy Feature that awards the bonus round for the price displayed.
Tricky rather than fun!
On the creative side, perhaps we can commend Relax Gaming for bringing an innovative approach to game features even with just two to offer. On the other hand, the Money Cart Bonus Rounds seems rather rewarding but tricky to grasp and understand in a single reading.
Money Train 2 Graphics & Sound
Let's have a look at the design, sound and layout of the game.
| | |
| --- | --- |
| Graphics: | 3D animation with the use of high-quality graphics |
| Optimized for mobile: | Yes |
| Music: | Yes |
| Special Features: | None |
It's worth visiting with its design!
The sound is vibrant while able to add thrilling energy to the experience. The graphics are appealing and add to the Wild West theme. It's a notable job well done.
Solutions If You Have Some Issues With a Game
Before heading off to consult a customer care line over any issues that you may be having with your game, make sure of the following:
Your internet connection is well set up
Your Java and Flash are updated
You refresh the tab if the session has expired
Verdict
Based on our criteria, it's clear that all four steps offer impressive feedback to players in every way possible. It's an ideal game for beginners or any experienced player solely looking to have a good time. Though the game features may be a little tricky to figure out, you can surely work around it with enough practice. For this reason, we're giving Money Train 2 a solid 85/100.
Other Slots to Play If You Like Money Train 2 Slot
If Money Train 2 happens to tickle your fancy, you may find interest in these:
Thunder Shields
Big Bounty Bill
Apocalypse Quest
Space Stallion