Offer details
If you're a fan of daily offers, low risk games with high stakes, and playing games for free, you don't want to miss the opportunity to sign up at High 5 Casino.
High 5 Casino is not your average online casino, as it's a platform where all gameplay is completely free.
You won't be able to win any real money rewards on the site, but you will, however, be able to earn a high amount of credits that you can use to participate in different tournaments, and to unlock various games.
Currently, you'll be awarded $100K credits once you register an account at High 5 Casino, and from there you can look forward to a reward on each login and starting your journey towards filling your treasure chest with valuable points.
Earn VIP points through ongoing tournaments
High 5 Casino is filled with exciting and ongoing tournaments, and what's interesting is that you not only get to win extra credits when you manage to outperform your fellow competitors, you also get the opportunity to collect VIP points.
Some of the tournaments that you'll find on the site — that are limited to a certain number of players — are tournaments like:
Prize Party Tournament where 100 players get 50 points to compete for a spot among the top 25.
Cash Blast Tournament where 50 players get 25 points to compete for a spot among the top 5.
Colossal Cash Tournament where
To enter each tournament will cost you a certain amount of credits, but the rewards are quite sweet in comparison, so you'll hardly feel like you've spent anything.
Plenty of credits for a small amount of money
Even though you are highly unlikely to quickly run out of the first credits you are gifted when you register an account on the site, you will find that you are able to pay a small amount of real money in exchange for a large amount of credits.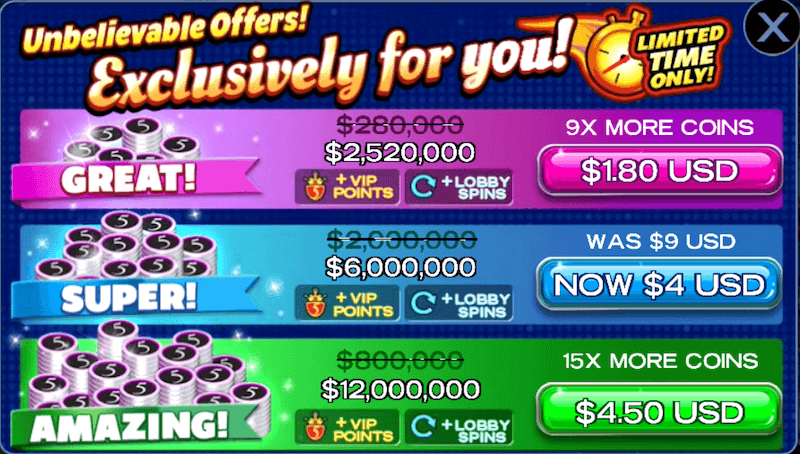 About High 5 Casino
High 5 Casino is a subsidiary of High 5 Games, and is a social gaming platform that allows you to play games completely free while enjoying daily rewards and exciting tournaments.
Signing up is quite quick, and you are given the alternative between signing up via Facebook, an Apple account, or with an email and password.
There are no real money rewards on the site, so if you are looking for an online casino with actual gambling involved, High 5 Casino may not be the one for you.
On the other hand, if you enjoy playing games just for fun, and collecting exciting points and prizes while doing so, you might find registering an account on the site to be quite rewarding.